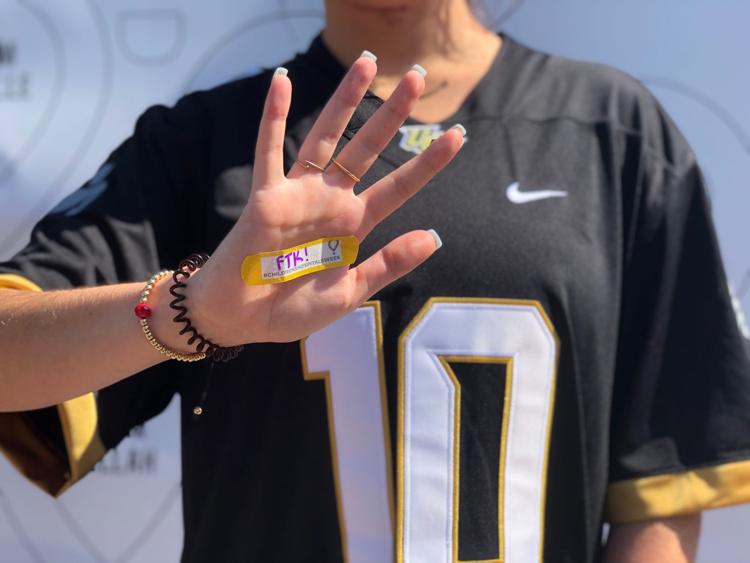 Knight-Thon, UCF's largest student-run philanthropy event, is less than one day away.
The 23rd annual event is the big finale after a year-long fundraising effort for Arnold Palmer Hospital for Children. It will start at noon on Saturday and last for 20 hours.
During this 20-hour stand, students will dance every hour to keep up morale. Participants are also able to take part in games and activities to stay awake and entertained, according to Knight-Thon's website. 
During the event, students will meet and hear the stories of the Miracle Children and their families. Families talk about diagnosis, defeat and newfound hope to inspire students to keep dancing, according to the event's website.
The website also mentions that the purpose of the stand is to give participants a greater understanding of the mental and physical struggles that these kids go though everyday.
The students standing are celebrating their fundraising efforts and celebrating the kids they are raising money to support, according to Knight-Thon's website.
"There is still plenty of time to fundraise and reach your goal before the stand," said Gabriella Macario, Knight-Thon morale impact team member. 
Macario and other Knight-Thon veterans are now sharing ideas for last-minute ideas to raise money.
According to Macario, one of the easiest ways to make some quick cash in your spare time is to check out a bucket from Knight-Thon's office in the Office of Student Involvement in the Student Union.
Macario said she recommends finding a busy spot on campus to ask for donations and said that students are sometimes more successful when they make signs or wear costumes to grab the attention of passersby. 
Macario said she buckets at least once every two weeks, and a lot of people will use the excuse, "Sorry, I don't have cash." She always responds with, "I accept Venmo," and said it works a lot more than people would think.
"You may be surprised by how many people will stop and send you a few dollars through Venmo," Macario said. 
Knight-Thon Communications Manager Candice Lucian said she often goes to a nearby clinic and donates plasma in exchange for money that she puts in her Knight-Thon donor drive.
"Students can walk away with anything in between $40 [and] $60 for their first donation," Lucian said.
Morale Impact Team Member Alanis Alpizar said she will often sell clothes she no longer wears and donates the money to her donor drive.
"I post clothes on Facebook swap pages to be sold for Knight-Thon donations," Alpizar said.
She said gently used clothing can be taken to stores such as Plato's Closet or Style Encore and they will offer cash in exchange. 
Macario said another idea for students to use is to cook dinner for a group of friends and charge $5 per person, instead of eating out.
"This is a fun idea because students can donate profits to Knight-Thon, get to spend time with friends and everyone gets a meal out of the deal," Macario said. 
However, Lucian said she believes in taking a more personal approach to fundraising.
"Personally messaging people though text, Instagram, email and Facebook goes a long way," Lucian said. "I get most of my donations that way."
Macario said that every bit of fundraising adds up.
"All of the money raised is helping the children we are dancing for in some way," said Macario.