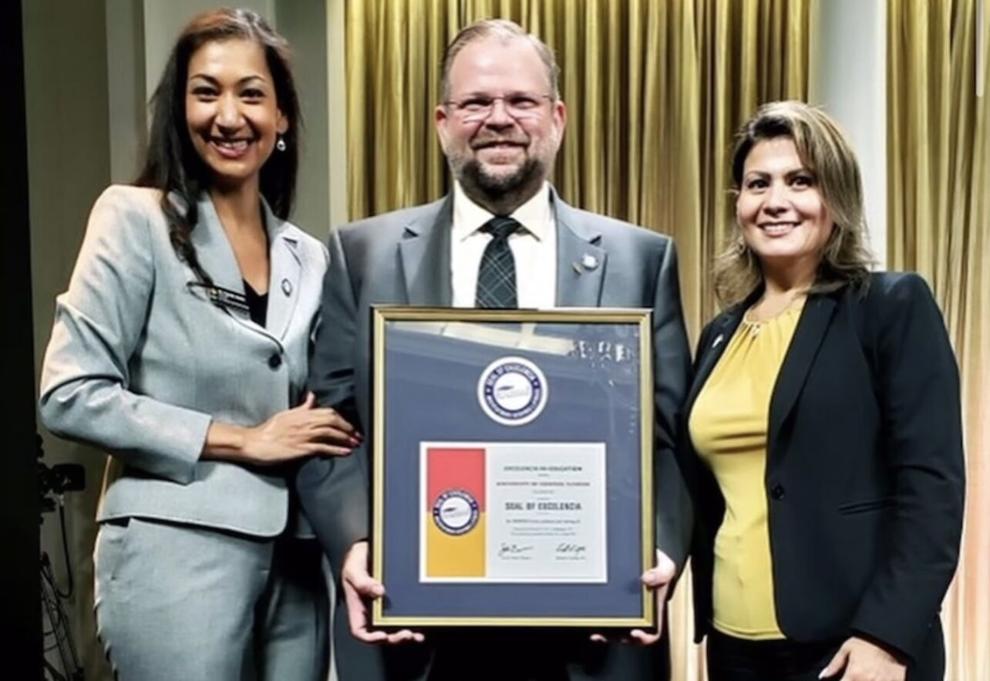 UCF earned the Seal of Excelencia as a postsecondary institution for "intentionally serving Latino students and demonstrating positive student outcomes," according to the Excelencia in Education program.
A part of Excelencia in Education's mission is to identify and promote universities increasing academic opportunities and improved achievement for Latino students in higher education, according to the organization's official website. UCF was awarded the honor Oct. 29. Cyndia Muñiz, director of Hispanic Serving Institution (HSI) Culture and Partnerships, attended the ceremony in Washington, D.C., with UCF President Alexander Cartwright to receive the Seal of Excelencia certificate. 
Muñiz said UCF received this distinction because of the university's hard work in serving Latinx students and not solely because of its status as an HSI. 
"Becoming an HSI was mirroring our population, but the work that has taken place in the past five years at least has taken a lot of work in refining purposeful intention and intention to do more and to do better," Muñiz said.
UCF has been HSI-certified since 2019 and now joins 23 other universities to receive the certification, Muñiz said. This year, UCF is part of a national cohort featuring nine other universities that were also certified, the Excelencia website states. 
Muñiz said the difference between this certification and others is its focus on Latinx students. She also said UCF provided five years worth of data showing its efforts and accomplishments regarding the Latinx community on campus.
"They looked at enrollment rates, retention, graduation, financial aid supports, representation and leadership," Muñiz said. "In addition to that, we provided examples of programs for each of those categories." 
Muñiz said UCF highlighted several programs and initiatives, such as access and peer mentoring programs like Crear Futuros, as well as a Latinx leadership course for Puerto Rican students affected by Hurricane María. Fernando Rivera, sociology professor and director of the Puerto Rico Research Hub, said UCF put in a lot of work to help students after Hurricane María hit Puerto Rico.
"UCF was able to take many students after the hurricane hit, and that shows the impact UCF had on Puerto Rican students at the time," Rivera said.
Hispanic alumni have found it touching the way UCF shows its intentions toward the Latinx community, such as alumnus Carlos Guevara who said UCF helped him throughout his years as a student by providing resources for him to succeed in his college career. 
"It just comes to show how much UCF does for its Latinx students and how they are always striving for more resources toward us," Guevara said.
After working at the university for 13 years, Muñiz said she has seen an incredible change when it comes to the growth of the Latinx community and the resources available to them. She also said UCF wants to be an example for other universities to follow, especially at a national level.
"Throughout those years, I have seen before my very own eyes the transformation," Muñiz said. "I have seen the expansion of programs that you can see today compared to more than 10 years ago."
Rivera said he also has seen the impact and growth UCF has gone through over the years, going as far back as 2005. 
"I have seen profound changes, such as seeing all of the student associations that are now on campus," Rivera said. "I hear all the time that people feel like UCF is recognizing the Latino community." 
Rivera said this seal will give UCF a sense of accountability, as well as provide a blueprint to other universities.
"UCF will continue to develop programs and recognize all the work that has been done and needs to be done to make sure that we are serving our Hispanic student population," Rivera said.
Muñiz said the university is excited about doing more to aid Latinx students' academic growth and believes the work is still "not done." 
"We have to keep the work going to strengthen what we are doing and continue to implement new things," Muñiz said. 
Cartwright also told Excelencia he believes the certification is an illustration of UCF's "longstanding commitment" to Latinx students' success. 
"By investing in leadership, programs and practices that support Latina/o/x student success, we enhance the educational experiences and opportunities of all students," Cartwright said. "This has a powerful and lasting impact at UCF and for our community."