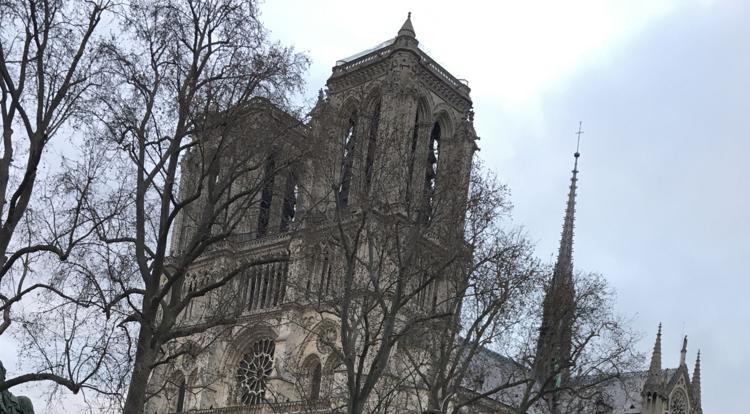 The Notre Dame cathedral went up in flames in Paris on April 15, and French President Emmanuel Macron vowed it will be restored in five years.
"We will rebuild Notre Dame even more beautifully, and I want it to be completed in five years — we can do it," Macron said in a translated television address Tuesday.
However, some experts believe the five year estimation is a bit optimistic.
French native Coralie Claeysen-Gleyzon is the associate curator at the Orlando Art Museum. She said she believes the French president was just trying to provide hope to the people of France during such tragedy. 
"I think five years is the dream, and I think really what the president is trying to say is to give hope to the people," she said. "Giving a timeline of five years is very bold. I don't know if it can be achieved."
French officials estimate the rebuild will cost $1 billion. 
So far, nearly $1 billion have been donated to the rebuild the cathedral, and donations are still rolling in.
The Walt Disney Co. pledged $5 million to support the rebuilding of the Notre Dame cathedral.
"The Walt Disney Company stands with our friends and neighbors in the community, offering our heartfelt support as well as a $5 million donation for the restoration of this irreplaceable masterpiece," The Walt Disney Co. Chairman and Chief Executive Officer Robert A. Iger said in a statement released by The Walt Disney Co. 
French native and UCF associate professor in the Department of Modern Languages and Literature Marie Léticée said when she first learned of the fire, she was in complete and utter disbelief. 
"It was something visceral — it got me in my gut," Léticée said. "I'm like, 'This cannot be happening, this cannot be true.' I am in total denial."
During the fire, the roof, made mostly of wood, suffered severe damage which resulted in the spire falling into the blaze. 
Léticée said Notre Dame cannot be exactly as it was, but that's what made it so unique. 
"They call it a Gothic cathedral because it has different types of architecture, so I wouldn't be surprised that the [French officials] would rebuild, and it would have stuff that represents the 21st century," she said. 
Léticée said the new additions will come from "the essence of the people of the land."