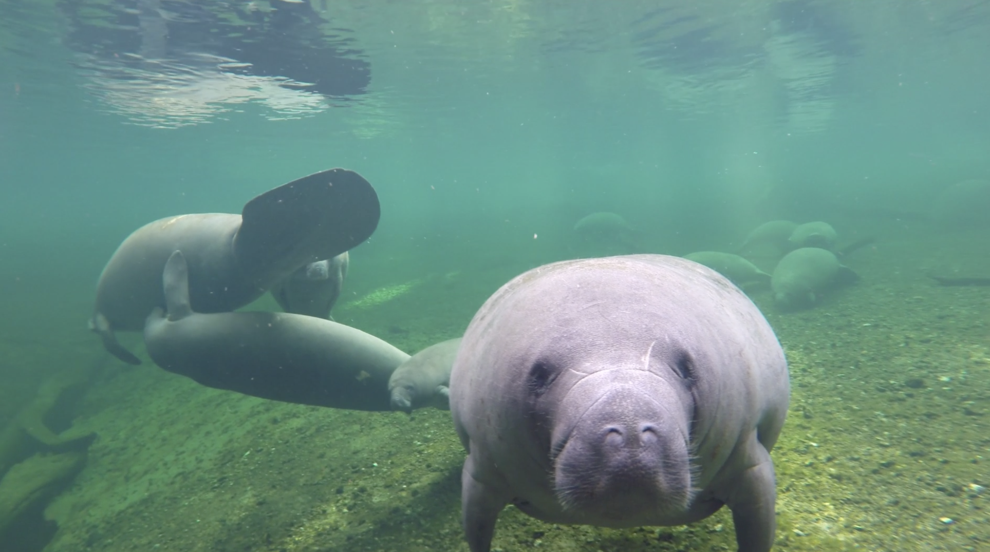 Over 500 manatees have died in the first three months of this year, with the majority of deaths coming out of the Indian River Lagoon in Brevard County.
The Florida Fish and Wildlife Conservation Commission has recovered 248 dead manatees this year in Brevard County. Graham Worthy, director of UCF's Coastal team, has worked with manatees for over 30-years. He said this year they are dying at a three-times faster rate, partly because the manatees appear to be starving.
"What we are seeing with all these dead manatees is that they are starving, they're emaciated, they're skinny, there is no food in their gut, and so they are not finding the food they eat," Worthy said.
Worthy said manatees prefer to eat seagrass, which once grew abundantly in the Indian River Lagoon. He said that in recent years there has been a rapid decline in the amount of seagrass found in the Indian River Lagoon due to the brown and red tides. 
Ann Spellman, a marine biologist and graduate from UCF in 2014, said that the algae blooms, which caused the brown and red tides, are due to foreign nutrients being introduced into the water.
"These nutrients include fertilizers from residential landscaping as well as from agriculture, leaking septic tanks, and from non-point source pollution," Spellman said. "As the algal bloom flourishes, it blocks the sunlight necessary for the seagrass to photosynthesize."
Spellman also noted that manatees typically do not do well in the winter time due to the colder water temperatures. She said that because of the lack of seagrass beds and the cold water temperatures, the manatees were hit with the "perfect storm" this year. 
Worthy said that the manatees are drawn to the Indian River Lagoon especially in the winter because of the power plant that generates a warmer water temperature.
Chairman of the Brevard County Indian River Lagoon Coalition Vince Lamb said that residents of Brevard County has made an effort to clean up the lagoon. In 2016, Brevard County residents voted to implement a half-cent sales tax for restoration of the Indian River Lagoon. He said this will provide nearly $500 million dollars over ten-years.
"We have authorized over $200 million dollars so far, so a lot is going on, but probably not enough," Lamb said. 
Lamb said the projects include muck-removal, storm-water run-off improvement projects, and converting septic tanks into sewer systems.
Worthy said that the warmer weather should help slow the death rate of the manatees, but damage to the Indian River Lagoon will take years to repair. 
"We can't stop manatees from dying tomorrow, but we can cut back on pollutants, fertilizer use, switching off of septic systems," Worthy said. "These are things that the people of Brevard are doing, but people just need to keep pushing and working that way."
To find out more about how to help the manatees visit the Florida Fish and Wildlife website.
If you see a sick, injured, dead or tagged manatee call FWC's Wildlife Alert toll-free number: 1-888-404-FWCC (1-888-404-3922) or #FWC on a cellphone .