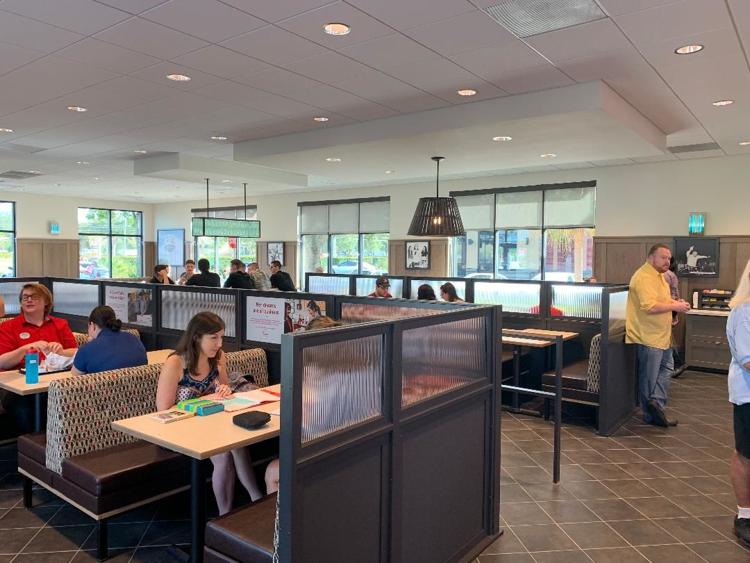 The Chick-fil-A on University Boulevard and Rouse Road is officially open.
This Chick-fil-A was previously torn down right as summer started and was completely renovated. The grand re-opening was on Oct. 23.
Jose Segarra, the franchise owner of this location, said they were able to build it so quickly because they deal with a couple of contractors who have a lot of experience.
"The gentlemen who built this store has built 52 other Chick-fil-A's and knew exactly what they needed to do and they work very quickly," Segarra said.
This new Chick-fil-A features a two lane drive thru, newly decorated lobby and an expanded kitchen. 
Segarra said the kitchen has doubled in size and the improvements will help employees handle a higher customer volume. 
The biggest renovation in this new Chick-Fil-A is their drive thru. Drive thru director Karin Folwell said they can push twice as many cars through and having the extra help outside really helps the cars fly by the line.
The drive thru features new canopies, fans and a double lane drive in.
"Having twice as many people outside now we're able to get the line down quicker, and it also helps having the double drive thru," Folwell said. "Because that was a problem we had before, where the line used to get so long it would back into the gas station into the road sometimes."
The Chick-Fil-A on University and Rouse Road has a much bigger space for its employees to work more efficiently. 
"Our issue before was not really the lack of help, it was more or less having enough space to fit everybody," Folwell said.
With the new renovations, the Chick-Fil-A staff is now able to help twice as many guests without putting a strain on themselves. 
The Chick-fil-A also has also marketed in the area by direct mailing promotional cards for free sandwiches or 8-piece nuggets. They distributed "Be our Guests" cards throughout the community. On social media they will be making offers periodically. 
The re-opening of this location helps open up jobs as well. Most of the staff who work at this location are UCF students and Segarra said they will continue to hire students from UCF and the local high schools.