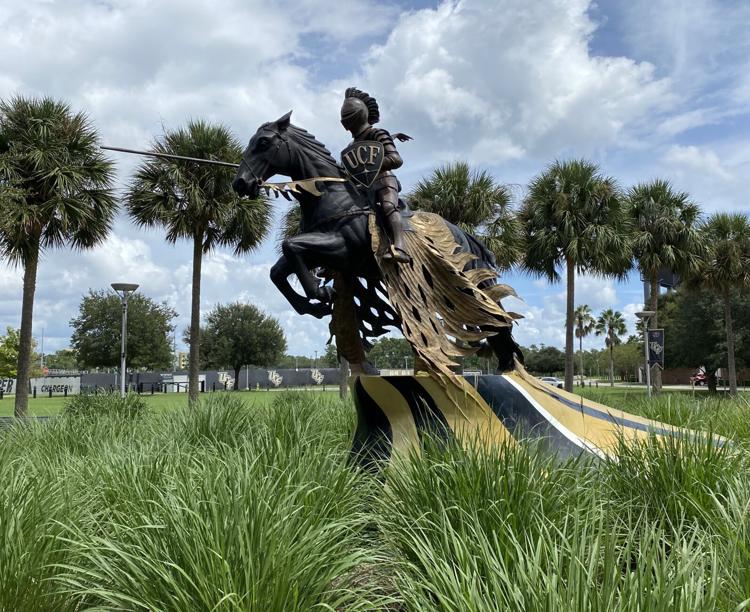 This fall semester, the new Knights adjust to life during COVID-19.
Some campus changes include main events canceled or moved on to Zoom, according to UCF. 
In any typical semester, most classes are conducted in person. Now the university has moved many classes to remote instruction, several clubs are also following the new normal. Well-known UCF events, such as Pegasus Palooza and homecoming week, were adjusted or canceled. 
Sofi Mendoza, a freshmen art history major, said she is doing her best to adjust to a semester she did not expect would happen.
Mendoza said while she is grateful to see the university trying to make events safer, she said she is sad she will not see the full experience of events during her freshman year.  
"Homecoming was something I was excited for, Spirit Splash and all of that," Mendoza said. "But it's not really the same even though they're trying to do Pegasus Palooza through Zoom — it's just not the same."
Mendoza said she had done her best to remain positive. She said running errands and meeting with friends always uplifts her spirits.
Dominique Evans, a freshman communication sciences and disorders major, said she felt the same disappointing sentiment regarding the events and not participating in sports activities.
"I was really looking forward to the traditional events," Evans said. "There were many clubs I wanted to join, and I wanted to do intramural sports, soccer and basketball."  
Evans said she hopes to play her favorite sports and try to join UCF's marching band. As a band player with seven years of experience under her belt, she said she wants to wait to get fully involved once the pandemic ends.  
For these two, they said the transition from high school to college was easier than expected. 
Mendoza said she had to balance a heavy course load with advanced placement classes when she was in high school. 
"I was used to it, especially because some of my classes were difficult in senior year," Mendoza said. "We also did the last semester for the most part online."  
Evans said the transition from in-class to remote was a surprise in her final high school year. At first, she said she struggled, but over time she got used to it. Now Evans said, the COVID-19 college workload is more manageable.
"I knew what I was getting into once I got into college, so I didn't feel as shocked to start a remote learning class," Evans said. 
Evans and Mendoza said they hope to see the full college experience after the pandemic ends. For now, UCF said it would continue to provide a safe environment for first-year and returning students.