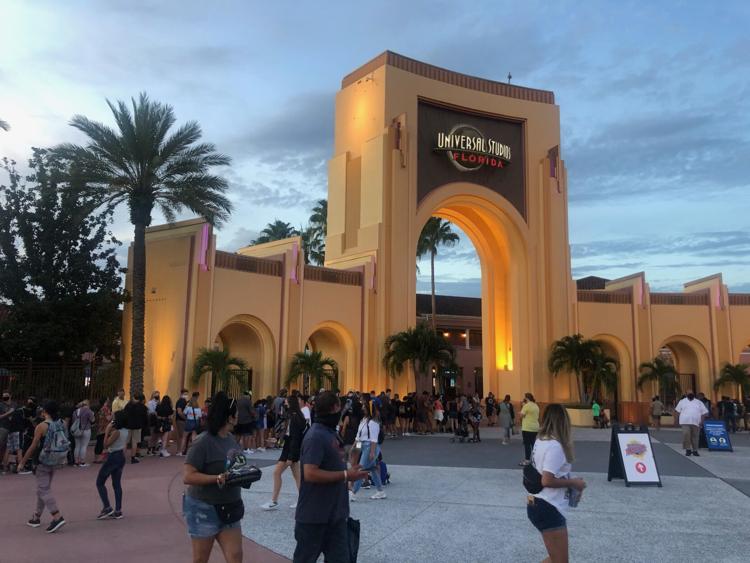 The scariest time for Universal Studios is being moved up a notch. With Halloween Horror Nights canceled, Universal decided to satisfy those who still hunger for a good scare by opening up two haunted houses.
"The Bride of Frankenstein" and "The Revenge of the Tooth Fairy" were open to all who still wanted to have a good scare from Sept. 26 until Nov. 1.
However, for some UCF students, it's not really worth going there.
Freshman biomedical sciences major Vincenzo Vall-llobera said he was looking forward to experiencing his first Halloween Horror Nights, but that all changed due to COVID-19.
Even with the adjustments, he believed his time over there would be dulled down, especially if his only free days are on the weekdays.
"I think the experience would certainly be dulled due it to not being nighttime," Vall-llobera said. "I think during the daytime, it loses that feel; so I don't think I would go."
Vall-llobera said he commends Universal for keeping the event going. Though, he said he believes Halloween events should always be at night.
If Vall-llobera is a new upcoming Halloween Horror Nights fan, Anna Araujo is a seasoned veteran of this event.
Anna Araujo, a recent graduate student from UCF, has been to four straight Halloween Horror Nights. She said for her, Halloween was a time to go outside, be with friends, take a break from classes and just have fun. 
Now with COVID-19, Araujo wanted to think about the safety of herself first. She said she understands why they are adopting a new way to celebrate Halloween at the resort, but she still wouldn't go there.
"As someone who loves Halloween Horror Nights, I wouldn't go," Araujo said. "I don't think it's a good time right now to be opening. Especially when people would be in such close proximity to each other; I know that would make me nervous."
One student and his friends felt comfortable to go and celebrate the Halloween event.
Steven Hill, senior forensic science major, had the opportunity to go to the Halloween event before it ended. He said the daytime setting didn't ruin much for this event, and instead he had a fun time.
Hill said he was also was surprised about how organized Universal was for the event. He previously went to Busch Gardens' Halloween event, and said he didn't feel like many people were following the health guidelines.
"I preferred to go at night, of course, but I would definitely recommend going in the daytime," Hill said. "I went with a group; we didn't mention that we were upset it was daytime or turned away. It was still such an awesome fun experience that trumped over everything."