The streets of Cienfuegos, Cuba are full of art, music, and history.
But there is one art workshop that stands out among the rest.
Every Tuesday for the past 10 years, the Graphic Society has housed special needs students, most with Down syndrome, and has helped them learn to express themselves by creating art.
Rafael Caceres Valladares is the owner of the Graphic Society. His original intention was to help his brother-in-law, Ivan, who also had Down syndrome, develop social skills through art.
Later, a member of the Catholic Church approached him and told him about Caritas, a program that acts as a school for special needs students, and how they lacked an art department. Caceres and Caritas began to collaborate, starting with six students.
"We started to see how we could work with them. It was very complex work because we are artists that don't have any knowledge on how to teach special needs students," Valladares said.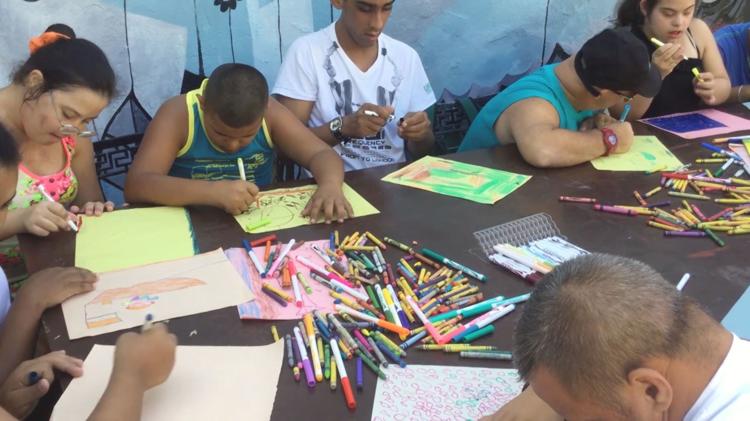 Caritas Cuba is part of an international crisis relief organization called Caritas Internationalis. In Cuba, there is a Caritas branch in each province, except for the Isla de Juventud, according to Mariela Salas Cordina, who is the coordinator for the Caritas workshop in Cienfuegos.
According to their official website, "Caritas shares the mission of the Catholic Church to serve the poor and to promote charity and justice throughout the world."
Jennifer Deljado Beito is a member of the Graphic Society and explains how the students are given tasks to complete every day that help them become more independent, such as how to buy food from the market, cook and button up a shirt.
Valladares emphasizes that he does not call the students disabled and instead prefers to use the word "special" because he believes that what makes the students special does not affect their ability to create art.
"This is my life," said Valladares. "We as artists cannot turn our backs on reality. There are people that need - even if its five minutes -  art, and we must be the ones to help them."