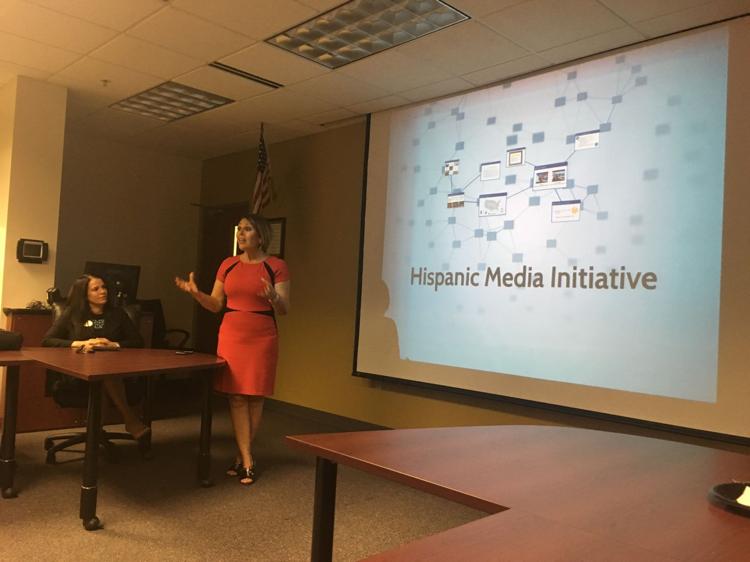 UCF's Nicholson School of Communication hosted a luncheon with Univision's broadcast journalist, María Elena Salinas, Friday as part of Hispanic Heritage Month.
The event was held in the College of Sciences building and gave board members of the Latino Faculty and Staff Association,Latin American Studies, and Women and Gender Studies, as well as select faculty and students from the Nicholson School of Communication, an opportunity to talk with Salinas.  
The event began with a presentation by Instructor Katie Coronado and Dr. Erica Kight on the Hispanic Media Initiative in the Nicholson School of Communication.
The initiative is to bring more focus to topics of Hispanic Media in the U.S. in courses within UCF.
The presentation followed up with a conversation with Salinas about her career, documentary projects, and finding her place as a Hispanic in the media.
One story Salinas told explained the difficulties she faced in the beginning of her journalism career.
Salinas said she remembered being turned down for a job early in her career because of her accent and lack of ethnic looks for the job.
Despite the difficulties, Salinas emphasized the importance of embracing your culture and staying true to yourself.
Another main focus of the conversation concentrated on the rapid growth of Latinos in the U.S.
Salinas said Latino population will be growing within the next few years, impacting the presence of Latinos in the U.S.
Salinas also explained that with this turnout, younger generations of Latinos will have a bigger role in the community and workforce.
Salinas showed a preview of her newest documentary, "LatiNación", focusing on the growth of Hispanic immigration and its impact in the U.S.
The documentary followed with a Q&A session held by Salinas.
The main topic of the Q&A session was about the struggles of Hispanics in the media.
Salinas also had the chance to visit the taping of Knightly News and had a discussion with the crew afterwards. In this discussion, she talked about life in the newsroom and what to expect in their first reporting job.
Salinas concluded the talk with a piece of advice for students on how to stay true to yourself when beginning their journalism careers.
"The most difficult thing is to be natural, but the most important thing is to also be natural", said Salinas.
Hispanic Heritage Month celebrations will continue until Oct. 15th.