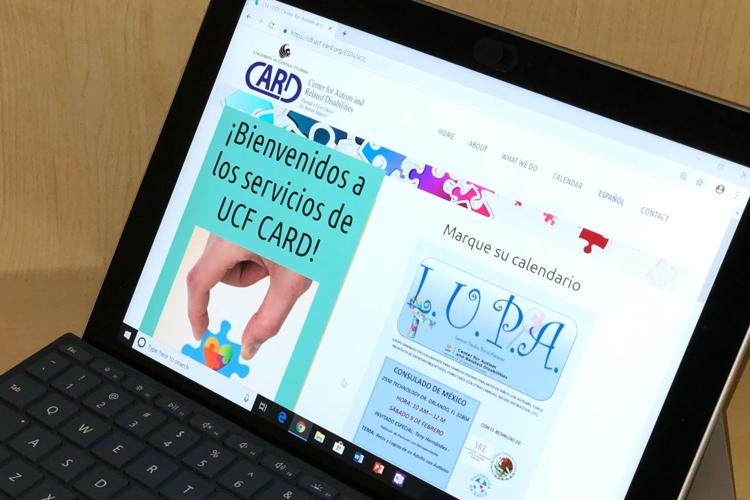 When a child is diagnosed with autism spectrum disorder, families might feel in the dark and unsure of what steps to take. At UCF's Center for Autism and Related Disabilities, families said there's a light at the end of the tunnel.  
UCF CARD provides support, assistance and awareness to families learning the ropes about ASD in both English and Spanish. 
For UCF CARD Hispanic Family Liaison Aimara Rodriguez, offering these services hits close to home.
"I am a parent of an individual with ASD," Rodriguez said. "Our family has been constituents of the CARD Center since my son was diagnosed in 1998." 
Theresa Daly, director of UCF CARD for over 20 years, said the center serves almost 14,000 families and individuals in the Central Florida community who have autism and other disorders — impairments or disabilities — by providing them with the tools needed to receive assistance, training programs and public education activities. 
ASD is a complex developmental disability that may include certain behaviors like language delay, difficulty making eye contact and poor motor skills, according to The Autism Society, a national organization that provides autism awareness. 
Many of the UCF CARD services can be provided right at home. Monthly online workshops are hosted through Adobe Connect and aimed directly toward parents. Some topics include basic conduct, understanding individualized education plans and navigating local resources.  
The program offers training and consultation with Spanish interpretation because about 36 percent of their constituency identifies as Hispanic or Latino, Daly said.  
UCF CARD offers Spanish interpretation to families that need the assistance and are not sure what steps to take because of potential language barriers.  
"There is a need for information in Spanish, and I help provide this information," Rodriguez said. "Our center serves more than 3,000 Spanish-speaking families." 
UCF students can also be a part of helping ASD families and making a difference in the Central Florida community.
Daly said UCF CARD currently has 16 students working with them because they employ both graduate and undergraduate student assistants to provide visual and communication support for verbal and nonverbal children with ASD.
UCF CARD strives to provide and educate both families and students about autism spectrum disorders because the need is great, and they do a great deal with very little funding.
"It is rewarding to hear how families, children and adults have achieved progress and improved their quality of life based on our support," Daly said.