The growing club hosts its first Brazilian Jiu Jitsu tournament.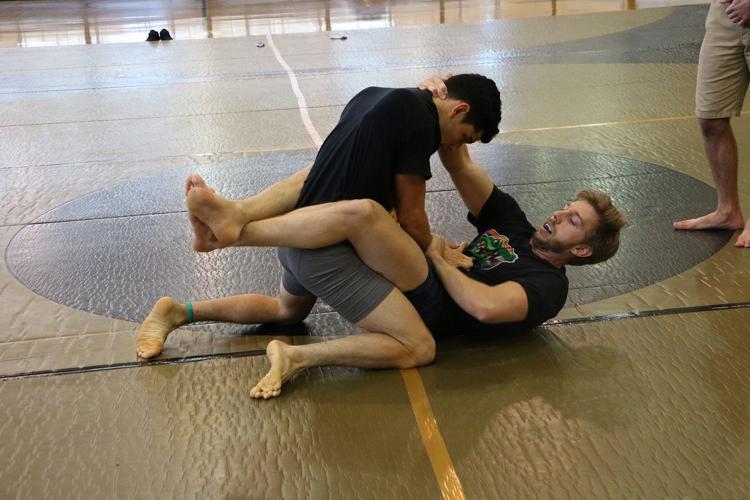 The University of Central Florida's Mixed Martial Arts, or MMA, Club hosted their first Brazilian Jiu Jitsu (BJJ) tournament in its history Sunday as a step toward the club's goal of becoming a more prominent on campus organization.
While the club has only ever been to one BJJ tournament and has a large population of new members, it managed to hold a winning record for the tournament. UCF won 28 out of the 46 matches and won eight of their 16 matches against opposition from the University of Florida and University of South Florida.
"They did really good, in particular some kids," said head coach and pre-law sophomore Armand Violi, who has been doing BJJ for four years. "Something was messed up with the bracket-making and it put some lesser experienced kids in more experienced groups, but they still ended up performing well."
Violi won in the coach division against coaches from UF and USF, and he was not the only member of UCF's club to win. Despite the mistakes in the brackets, UCF's John Smith won in the lightweight class of the Novice and Beginner brackets, Dylan Burke and Arman Badrudeen won heavyweight and super lightweight in the Beginner bracket respectively, and Erik Gaitan won both the Beginner and Intermediate brackets in the super heavyweight class despite actually being in the heavyweight class.
"I was actually able to make people tap," said Gaitan, a biomedical sciences sophomore who has only been practicing BJJ for three weeks. "I used to be a wrestler, so I wasn't able to tap as many people when I came in, but now I can do it."
Gaitan, as well as others on his team, made many of their opponents from UF and USF tap, or submit in the round and give UCF competitors the win.
With their first tournament over, the club is already looking forward to the future of the team. Gaitan, as well as others on the team, are using the mistakes they made in their rounds to improve their technique for the future.
"As far as this match that I lost in, I was able to recognize the mistakes that I made, and now I can use that as a learning experience to not make that mistake again, so that's pretty much how I'm looking at this loss" said health services administration junior Zach Perez, who won two of his three matches in the advanced division.
Advertising and public relations sophomore Jenna Shankman, president of the MMA Club, is also planning how to continue to change the club for the better. Her goal is to not only host one tournament, but also to attend one tournament outside of UCF per semester.
"The future goals are always along the lines of I hope we win more because winning more means that not only is their technique better, their stamina's better, they're training has gotten more solidified, they're not as panicky," Shankman said.
Shankman's goal to see the team continue to improve is a common one among the team's leadership and for the team's individual members. With one tournament under their belt, the officers are already planning the next one and are looking forward to watching their club continue to grow.