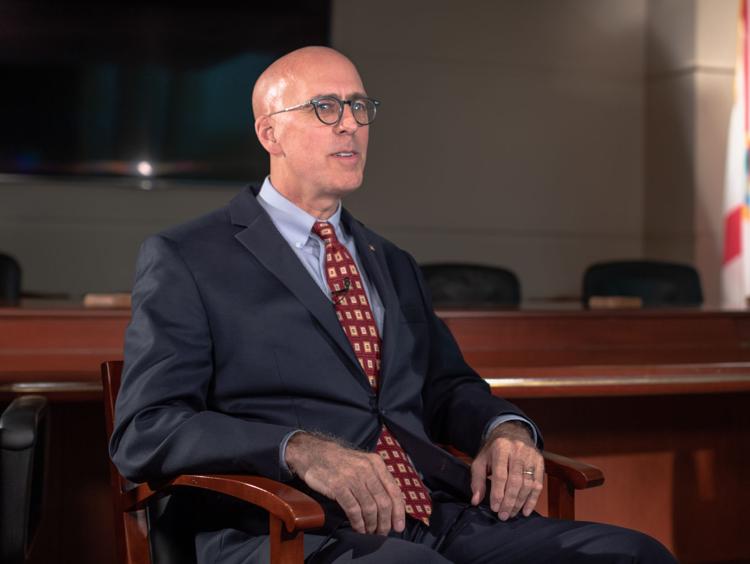 Since UCF became a Hispanic-Serving Institution in February, UCF interim president Thad Seymour said it gives the university some unique advantages as it moves forward.
"What a great accomplishment, but in so many ways we're just getting started," Seymour said.
A HSI is defined as an institution of higher education that has at least 25 percent Hispanic students enrolled as undergraduate full-time equivalent students, according to the Department of Education.
Seymour said that out of the almost 500 HSI universities in the country, UCF is the sixth largest in Hispanic student enrollment size. 
"We're the rookies in that group," he said.
According to the Institutional Knowledge Management, over 26 percent of the student population at UCF is Hispanic or Latino. However, only 7.1 percent of the faculty is of the same classification.
Seymour said the university has done a better job in developing the student population than it has in its faculty and staff diversity.
"That's one of the reasons we're heading down the path of a vice president for diversity inclusion," he said. "So that the faculty and staff more equally match exactly what it will look like in several years ahead. But that should reflect more of the student population."
Seymour said that he does not have a specific timeline for when the faculty at UCF will more closely match the student population.
"That's absolutely the direction we're headed, and the question is how quickly can we get there," he said.
According to an article by Journalist's Resource, which is based at Harvard Kennedy School's Shorenstein Center on Media, Politics and Public Policy, research shows minority students benefit from having teachers of the same race. 
Junior biomedical sciences major and Colombian student Kimberly Castillo said she believes UCF should have a greater amount of faculty that students can relate to.
"It's easier for us to not break barriers or feel like we're gonna be judged or unable to communicate in a more personal matter," Castillo said.
Gerson Cartagena, junior industrial engineering major from Puerto Rico, said he believes that a great deal of Hispanic students at UCF hold back from talking to their professors on a one-on-one level.
"People won't go to their professors' office hours because maybe they get embarrassed about their accent or stuff that you don't think about," Cartagena said.
However, Society of Hispanic Professional Engineers at UCF member Francisca Freire said that she wouldn't want people to think that Hispanic students with a Hispanic professor will automatically have a better chance at passing the class.
"But you are [going to] have that extra communication with them because you know that they're open to it," Freire, senior industrial engineering major said.
Freire said she feels that people from other countries get discouraged because they're afraid they'll get rejected from the university or from getting a student visa in the U.S.
"They have to work twice as hard here, but because they work harder, they might take your spot at a job," Freire said.
Seymour said he's focused on expanding the school's international student population as well.
"Having students from other backgrounds and other countries in a classroom experience is where you get exposed to broader ideas and perspectives," he said. 
Seymour said that he and his wife have been hosting a Seminole State College student from the Dominican Republic in their home for the past two years. The student plans to transfer to UCF next year.
"We're constantly learning from each other," he said. "And that's the beauty of life."