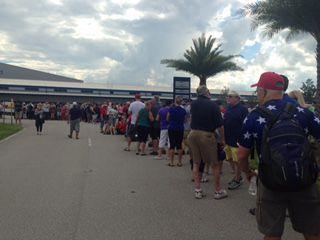 Republican candidate, Donald Trump will be making his first stop in Central Florida today after last night's  presidential debate. 
Hundreds waited anxiously in line for hours in the heat of the afternoon for the presidential candidate to speak about policies and how he will make "American Great Again". 
Knightly Latino spoke with Elaine Scott Bridgman, PR chairwoman for the Federation for Republican Women, on her thoughts about last night's debate, "the goal was for Trump to be a good boy and sound presidential and let Hillary talk enough to hang herself" Bridgman said. 
People cheered and shouted as Bridgman led a group of women holding a "Women for Trump" sign down the street for all to see.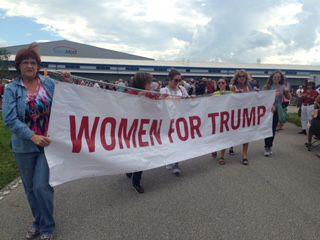 After being asked about the expectations for tonight's rally Brigman said that she expects him to talk about media bias and "to be as presidential as he can". 
Trump is scheduled to speak at AeroMod International Hanger in Melbourne at 7pm. 
Knightly Latino will have more updates soon.