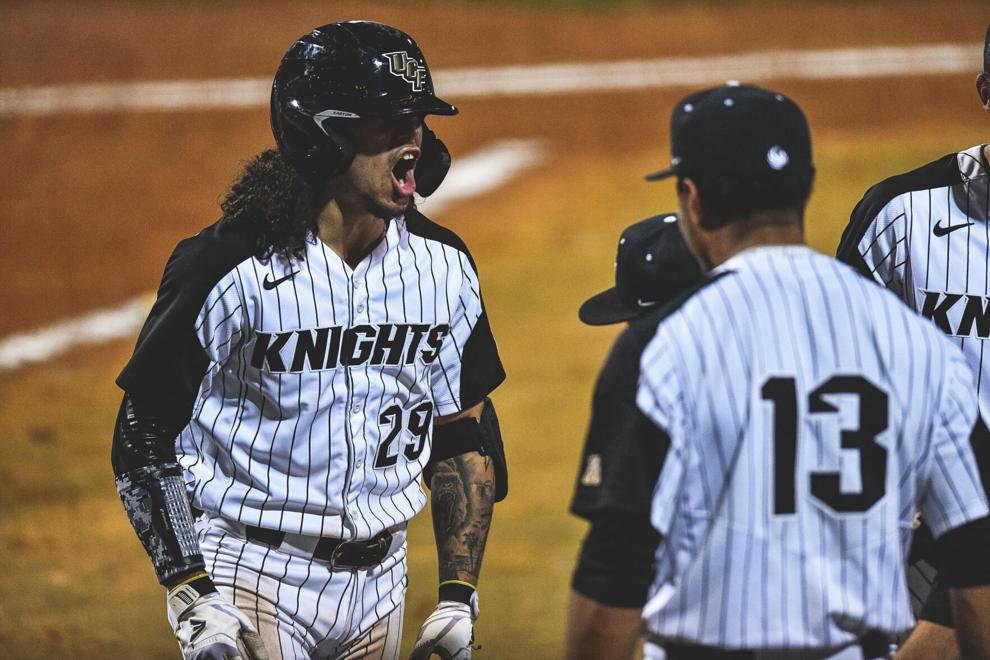 Hispanic and Latino athletes at UCF said there is a lack of representation for student athletes in the NCAA.
"You don't see people like you, so sometimes you doubt yourself," said Pablo Ruiz, redshirt sophomore UCF baseball player. "You think to yourself, 'is what I'm doing, is it right?' And you start doubting yourself."
Ruiz is from Havana and is only one of three international Hispanic and Latino players out of 38 total for UCF baseball.
According to NCAA research, only about 6% of all college athletes in the nation are Hispanic and Latino.
Ruiz said people don't see a lot of Latino baseball players until they look at professional baseball. He said most of the Hispanic athletes he knows back home skip out on college in the United States and don't leave home until it is time for them to go to the pros. 
UCF is a Hispanic Serving Institution as of 2019, according to the U.S. Department of Education. An HSI is a federal designation that acknowledges colleges and universities that have 25% or more students who are Hispanic, according to UCF's Office of Diversity and Inclusion website.
There are over 19,000 Hispanic or Latino students enrolled at UCF as of fall 2021, making up almost 30% of the UCF student population, according to UCF's Institutional Knowledge Management.
Hispanics and Latinos are the second most seen demographic on the field as of 2020, making up 25% of the league's talent, according to Major League Baseball.
Despite the growing presence of Latinos and Hispanics in professional sports, relatively few Latinos play sports in college, even in baseball and soccer where they are represented at the professional level, according to Minority News.
Junior UCF soccer player Marta Estupiñán said that soccer, commonly known as fútbol, is a very popular sport in Spain.
"Everyone loves it, but college is also a big deal in my country," Estupiñán said. "It's so hard to do a sport and also a degree. For example, here at a university, you can play any sport and study. In Spain, you just study or play.
"So, when I decided to come to the U.S because I wanted to be able to do both, I thought I would see more people like me on the team who chose to do the same, but I didn't." 
The lack of representation in college is something that the NCAA said it have been working on for the past few years.
UCF alumnus Ben Rodriguez is the founder of Latinx Association for Collegiate Athletics Administrators and Student-Athletes, an association that is currently working with the NCAA in hopes that the new group can increase Hispanic and Latino representation in college athletics.
Rodriguez is also the associate director for Major Gifts at Georgia Southern University. Before he decided to get his master's degree at UCF, Rodriguez played football at Stony Brook University and said he did the research, noting there were not many Hispanics in many athletic programs.
"I remember walking into a locker room and seeing our white teammates on one side and our Black teammates on the other side. And me being Hispanic, not knowing really where to go," Rodriguez said. "It puts you in a space where you don't know where exactly you fit in. That feeling has followed me to the boardroom. Walking in, you don't really see people that look like you."
That's where he came up with the idea of LA CAASA with a mission statement to "encourage, inspire and empower Latinx/Hispanic student-athletes and administrators to pursue opportunities in collegiate athletics by providing spaces for conversation, resources for knowledge and networking opportunities for growth."
Although there is a lack of representation of Hispanic and Latino athletes in college sports, studies show that the number of Latino and Hispanic athletes in the NCAA is slowly increasing. People such as Rodriguez are committed to making sure there is more representation in the NCAA so that players such as Ruiz and Estupiñán don't feel alone.
"It can be lonely being only one of few international Latino players on the team,'' Ruiz said. "But it goes to show that you just have to have the right mind set to show others that there are Hispanics playing sports in college and encourage others to do it. And in doing so, it will prepare you for the professional level."