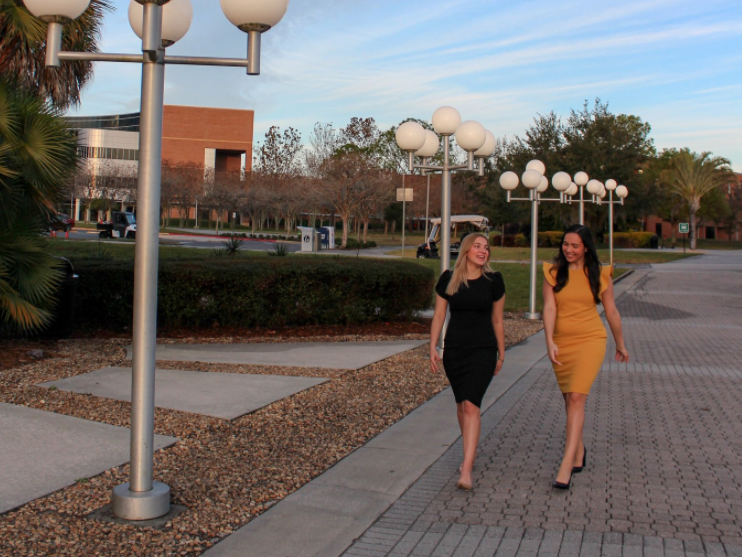 The presidential candidate and vice-presidential candidates for Student Government made an appearance at a Cuban American Student Association meeting to greet their constituents and promote their campaign on Monday.
While only a handful of students attended the meeting, Daniella Lopez and Xelayris 'Xely' Martinez, respectively the presidential and vice-presidential candidates, pushed ahead and held a close-knit conversation with those in attendance. They discussed their platform, their background in Student Government, and they addressed concerns brought up by students.
Their platform consists of five subject areas: diversity and inclusion; academics; student experience; downtown, Rosen, and Lake Nona campus life; and innovation.
Lopez and Martinez are currently running unopposed, according to the SG Election Commission website. Even though the pair does not have any competition, Lopez said that it does not mean that campaigning is any easier.
"People might think that 'oh you got it in the bag. It's the most stress-free election,'" Lopez said. "But honestly, you kind of struggle with the perception of people thinking that we just stumbled upon here."
Still, Lopez and Martinez said that it is their responsibility as candidates to get out and meet the student body by attending events and meetings such as the one Monday night.
"Because at the end of the day, we're here to serve the students and you can't do that without getting to know and interacting with the students," Lopez said.
One initiative that Martinez said she is very excited about getting done are free access to LSAT, MCAT, and GRE preparation courses for students seeking to go to graduate school. She also said she was excited to offer testing waivers for students who need to go to the testing center for CLEP or exit course exams.
"Realistically, these tests are so expensive it's just the regular student just doesn't have the money to pay," Martinez said.
Brenda Martinez Rodriguez, secretary of CASA, said that the candidates' focus on improving safety in off-campus housing was important due to her own experiences.
"Currently, I live in Campus Crossings, and since the beginning of last semester, the gates have not been working," Rodriguez said. "They're always open. There's no way to know if a person driving around in a car is a person that actually lives there or is actually someone that's going in there."
Lopez, who is a Cuban American student herself, stayed behind after the meeting and talked about the importance of having Hispanic and Latino people represented in SG.
"We're a Hispanic Serving Institution. Over 25% of our student body is Hispanic or Latinx," Lopez said. "So having someone who is from that community I think is really powerful. You have shared experiences, shared identities."
Lopez also emphasized some initiatives that she felt would directly benefit the Hispanic and Latino communities such as the translation of the UCF website into Spanish and Portuguese. Lopez also said she wanted to host a minority leadership summit.
Martinez said the summit would be an opportunity for students to meet students such as themselves and settle into the UCF community.
Lopez said that at the end of the day, if students take nothing else away from their campaign, she hopes that she can inspire other students to get involved at a time when student engagement has hit an all-time low.
"Regardless of what you choose to join, whether it's Student Government or whether it's an RSO, pick something," Lopez said. "Pick something that makes UCF feel like home. Pick something that gives you a reason to come back."
The election will be held from Feb. 28 until March 2. Voting will take place on MyUCF and at polling places across campus.