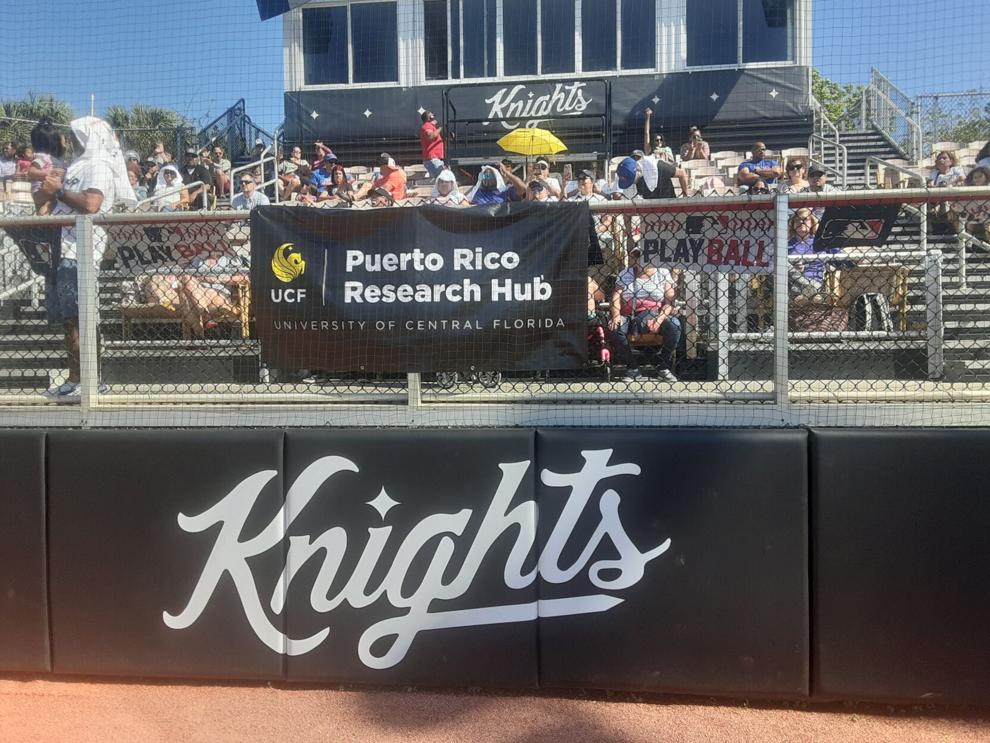 The UCF Puerto Rico Research Hub hosted the first annual Puerto Rico Baseball Day alongside MLB, UCF Athletics and UCF Global on Saturday. 
The event, which was held at the UCF Softball Complex, featured a free MLB "Play Ball" Baseball Clinic for children between the ages of 5 to 12.
The event also included celebrity guest appearances from several Puerto Rican professional baseball players, including former Puerto Rican Olympic Softball player Eve Soto, Diamilette Quiles, a former member of the Puerto Rico Women's National Baseball Team and former major leaguers Ivan de Jesus and Carlos Baerga.
Before the clinic, Baerga took the opportunity to speak to the young children present.
"What an honor God gave me to be here today," Baerga said. "Every time I come to events like this, God gives me the opportunity to remind me when I was this little."
Baerga took some time to reflect on his time in the Major Leagues and some of the challenges he faced coming up in the league.
"God gave me the opportunity to play in the big leagues for 15 years," Baerga said. "It wasn't easy, but you know what? That was a good thing that happened to me, because it made me work harder."
Baerga, who is a three-time MLB All-Star, also took some time to recount some of his greatest accomplishments in the major leagues. But Baerga said that he wasn't simply trying to brag, but rather serve as an example for a good work ethic.
"I'm not saying this just to put myself on top, no," Baerga said. "I'm saying this because you know why I did it? Because people that say that I don't have the ability to do it helped me to work hard every day, to have work habits, to go hard every day and get something for myself.
"They don't give it to me. I work hard to get it."
During the clinic, Baerga spoke about the impact that he hopes to have teaching younger generations.
"This is something very special, and it reminds me of when I used to be a kid," Baerga said. "When I used to see guys like Ivan de Jesus because I learned so much from that time. There was something special.
"And I've been here today. I talked today about hitting, I talked today about fielding. Talked today about life and studying. To stay in school. It's always important."
Baerga also reflected on the differences between playing baseball when he was growing up in Santurce, Puerto Rico and growing up playing baseball now.
"It's changed a lot, you know," Baerga said. "You see the ballparks, you see everything they have. We didn't used to have this.
"We didn't used to have a lot of balls, a lot of bats. It was a tough time when we came up, but we did have was desire, what we had was passion."
During the event, Dr. Fernando Rivera, director of the Puerto Rico Research Hub, was presented with a proclamation from Orange County Mayor Jerry Demings, recognizing Puerto Rico Baseball Day.
Rivera said that the purpose of Puerto Rico Baseball Day is to bring members of the community and Major League Baseball together with the Puerto Rico Research Hub and UCF.
"We have 15 major league baseball teams that come here all the time," Rivera said. "In February and March, they come to Spring Training and there's a big representation of Puerto Rican players. All stars out there, they're here.
"So the idea was how do we bring them to campus? And at the same time, how do we engage them with the community as well."
Rivera also spoke of the importance of an event like this for tying kids from the community to the university.
"The memory that the kids are going to have in terms of this like 'Yeah, remember that time I went to UCF?'" Rivera said. "Hopefully, five to 10 years from now, these kids are going to be UCF Students. These kids are going to be our next generation of athletes.
"These kids are going to be the next generation of leaders here in our community."
Rivera said that the events like this help to further the Puerto Rico Research Hub and UCF's goal as a Hispanic Serving Institution, serving as a community for Central Florida's Hispanic and Latino Population.
"Providing a space where they feel safe, where they know that they can feel at ease," Rivera said. "I think that's the purpose of all that we're doing. And obviously, we have more than a million Puerto Ricans here in Florida, so it becomes an important issue as well."
Rivera is looking forward to a future in which the Puerto Rico Research hub will remain as a staple for Central Florida's Hispanic Community.
"Obviously, the first event is the 'nervous event,' right?" Rivera said. "Because we don't know what's going to be the turnout, what's going to be some of the issues that's going to be happening, but we're hoping that by next year we can bring more players, have more advertising, more community members, all sorts of things.
"So hopefully this is the beginning of a great tradition here at UCF."