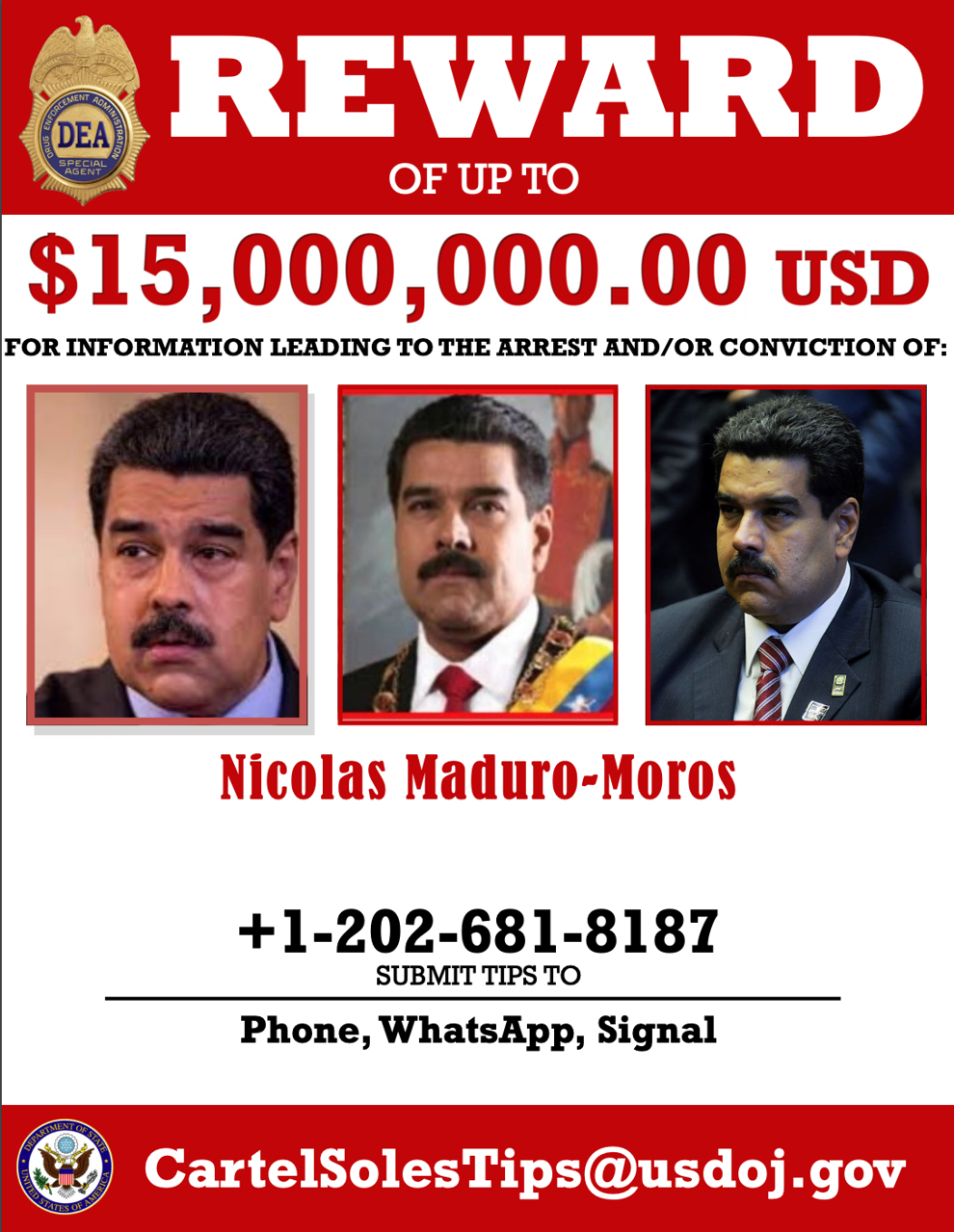 President of Venezuela Nicolás Maduro Moros and other government officials were charged March 26 with drug-trafficking, money-laundering and corruption charges, the U.S. Department of Justice said in a press conference. 
So far, there are 14 defendants, including the current president and the head of the national constituent assembly, Diosdado Cabello.
UCF junior French major Gerardo Moreno emigrated from Venezuela to Central Florida in August 2015. Moreno is under political asylum fleeing the Madurista regime and said he has mixed feelings due to this situation.
"If at any time the Venezuelan government changes the status of an asylee, it would no longer be the same," Moreno said. "I am more interested in the situation in my country despite making a new life again, that it improves and that justice is done."
Moreno said he would like to stay in the U.S. after having uprooted his life upon arrival from Venezuela. However, he says he would have no problem starting from scratch if justice prevails.
Lesly Simon, Venezuelan-American chamber of commerce president, said she is not surprised by the news about Moreno.
"Before the news was released, we had already received information that we had to be aware of the press conference," Simon said. "However, the consequences of that measure does not affect us because the dynamics that the chamber has at the moment given the situation of the coronavirus is to provide support to our affiliates."
Simon says that because these accusations are directed personally at Maduro, the country itself is not under any accusation. She said that Venezuelan trade will not be affected.
"Since our affiliates are here in South Florida and are registered American companies run here by Venezuelans, and as such have American and Latin American employees, it doesn't affect them either," Simon said.
Simon said that the American government has been taking provisions against certain Venezuelan government officials in the last year and a half. Some of them include the sanctions that the U.S government has made to these officials and the suspension of direct flights to and from Venezuela.
Former Vice President of Venezuela Tareck El Aissami and Clíver Antonio Alcalá Cordones, the former general of the Venezuelan armed forces, are also involved in the accusations. Aissami has separate charges with a series of crimes related to sanctions against Venezuelan government officials. Alcalá is now in DEA custody and was transferred to the U.S, on Friday, according to the Associated Press. 
During the press conference, U.S. Attorney General William P. Barr said that Maduro and high-ranking government officials, including members of the Colombian Revolutionary Armed Forces, have brought tons of cocaine into the United States for more than 20 years.
"The Venezuelan regime, once led by Nicolás Maduro Moros, is still plagued by crime and corruption," Barr said. "The United States will not allow these corrupt Venezuelan officials to use the American banking system to move their illicit profits from South America or promote their criminal schemes."
According to the report, what they are most concerned about is damage to the U.S., because it indicates that Maduro used cocaine as a weapon to break the health and well-being of the American community.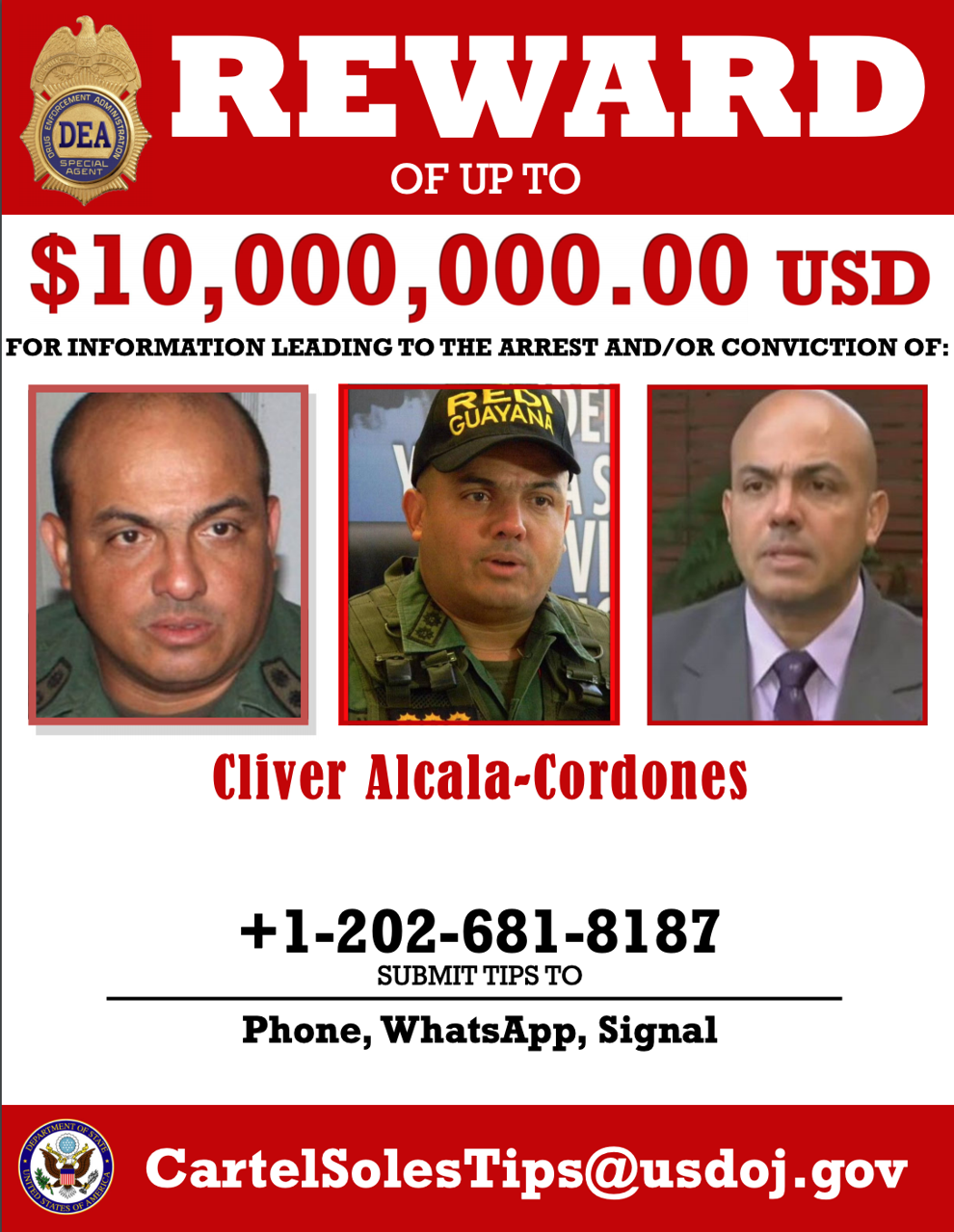 The case is pending under the federal District Judge Alvin K. Hellerstein, according to the report.
This story was translated from its original Spanish form. 
El Departamento de Justicia de los Estados Unidos reveló en una conferencia de prensa los cargos por los que el presidente de la República Bolivariana de Venezuela, Nicolás Maduro Moros y otros funcionarios del gobierno fueron acusados el pasado jueves.
Hasta el momento, son 14 los acusados además del actual presidente, entre ellos el jefe de la asamblea nacional constituyente, Diosdado Cabello.
El estudiante venezolano del último año de francés en UCF, Gerardo Moreno, emigró a Florida Central en agosto de 2015. Moreno se encuentra bajo un asilo político huyendo del régimen madurista y dice que tiene sentimientos encontrados debido a esta situación.
"Si en algún momento el gobierno de Venezuela cambia el estatus de asilado, ya no sería el mismo," dijo Moreno. "Me interesa mas antes de hacer una nueva vida otra vez la situación de mi país, que se mejore y se haga justicia."
Moreno dice que le gustaría quedarse en los Estados Unidos luego de haber rehecho su vida al llegar de Venezuela. Sin embargo, dice que no tendría ningún problema en volver a empezar de cero si se hace justicia.
Entre los cargos criminales que se les acusa está el narco-terrorismo, tráfico de drogas, corrupción, y otros. El vicepresidente de economía, Tareck El Aissami Maddah, también está involucrado y tiene acusaciones separadas con una serie de crímenes relacionados con las sanciones en contra de los funcionarios del gobierno venezolano.
La presidenta de la cámara de comercio venezolano-americana, Lesly Simon, dice que no le sorprende la noticia.
"Desde antes que se diera la noticia, ya nosotros habíamos recibido información de que estuviéramos pendientes de esa rueda de prensa," dijo Simon. "Sin embargo, las consecuencias de esa medida no nos afectan porque la dinámica que tiene la cámara en estos momentos dadas la situación del coronavirus en que estamos es prestarle apoyo a nuestros afiliados."
Simon dice que debido a que estas acusaciones van dirigidas personalmente a Maduro; el resto del país, como tal no está bajo ninguna acusación. Ella dice que el comercio venezolano no se verá afectado.
"Como nuestros afiliados están aquí en el sur de la Florida y son empresas americanas registradas aquí dirigidas por venezolanos, y como tal, tienen empleados americanos y latinoamericanos, no les afecta," dijo Simon.
Simon dice que esta situación se veía venir desde que el gobierno americano ha venido tomando disposiciones contra ciertos funcionarios del gobierno venezolano, como lo son las sanciones emitidas y la suspensión de vuelos directos desde y hacia Venezuela en el último año y medio.
Durante la conferencia de prensa, el abogado William P. Barr, dijo que Maduro y los funcionarios de alto rango del gobierno, entre ellos miembros de las fuerzas armadas revolucionarias de Colombia (FARC), han ingresado toneladas de cocaína a los Estados Unidos por mas de 20 años.
"El régimen venezolano, una vez dirigido por Nicolás Maduro Moros, sigue plagado de criminalidad y corrupción," dijo Barr. "Estados Unidos no permitirá que estos funcionarios venezolanos corruptos usen el sistema bancario estadounidense para mover sus ganancias ilícitas de Sudamérica ni promover sus esquemas criminales."
Según el reporte, lo que mas les preocupa es el daño a la nación, ya que indica que Maduro utilizó la cocaína como un arma para quebrantar la salud y el bienestar de la comunidad americana.
El ex general de las fuerzas armadas venezolanas, Clíver Antonio Alcalá Cordones, también está involucrado en las acusaciones. Alcalá luego de hacer frente a las responsabilidades de sus actos por vía de sus redes sociales, ahora se encuentra bajo custodia de la DEA y fue trasladado el pasado viernes a los Estados Unidos según fuentes AP.
El caso está pendiente ante el juez federal de distrito Alvin K. Hellerstein, según indica el reporte.