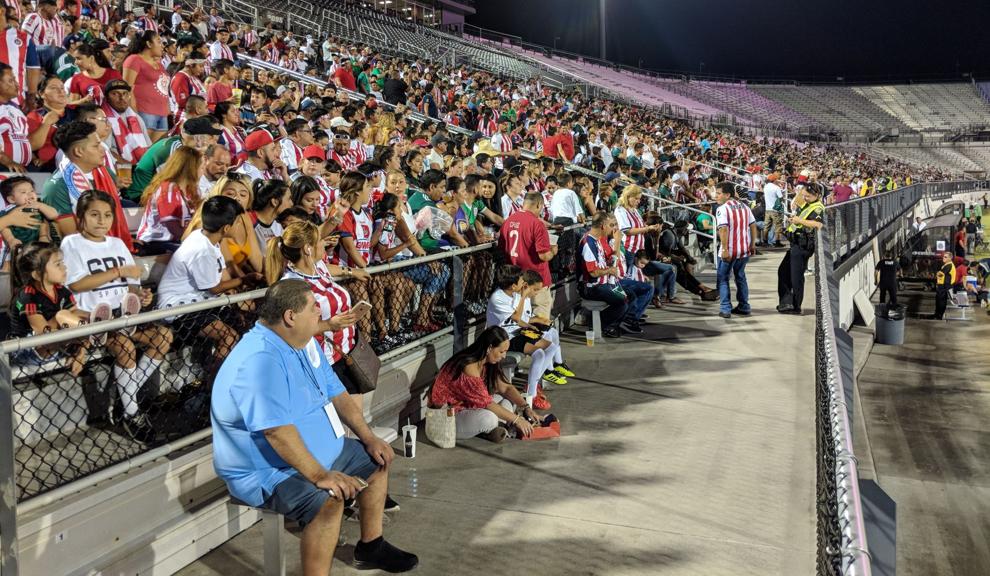 For more than two hours on Thursday, the stands of Spectrum Stadium looked like an extension of Latin America.
Two of Latin America's most popular professional teams, Club Guadalajara from Mexico and Atlético Nacional from Colombia, visited Orlando for a friendly match as part of their preparations before their respective regular seasons.
The match ended in a dramatic 2-2 draw that saw Club Guadalajara come back in the last minutes of the game after having their goalkeeper sent off in the 73rd minute. The teams then proceeded to a penalty shootout to break the tie. Atlético Nacional won the shootout by a score of 5-4. 
The match presented many members of Orlando's Hispanic community with an opportunity to watch their lifelong teams live at UCF.
In 2014, the Orlando-Kissimmee-Sanford metropolitan area had a Hispanic population of 645,000. People of Mexican and Colombian origin were among five of the largest Hispanic subgroups in the area with the former having 66,000 residents and the latter 39,000 residents, according to the Pew Research Center. 
Alejandro De La Rosa was one of those fans. He drove two-and-half-hours from Clearwater Beach to attend Thursday's match. He said he doesn't get that many opportunities to watch live his lifelong team, Club Guadalajara, outside of Mexico, something he regularly did before moving to the United States 13 years ago.
"I feel an immense happiness," said De La Rosa. "I watched them live in Guadalajara and Mexico City, but this is the first time that I see them live since I came into the U.S." 
Club Guadalajara's 12 titles in Mexico's top league make them the country's most successful professional team. They are also Mexico's most valuable club, according to Fox Sports. 
Atlético Nacional also holds the record for the most titles in their domestic league with 16. They have been one of the most successful teams on the continent over the past decade and have the highest continental ranking for any Colombian team for the past ten years, according to South America's soccer governing body CONMEBOL.
Gallery: Club Guadalajara vs Atlético Nacional
Alex Ardila was one of Atlético Nacional's fans in attendance. He is from Medellin, Colombia but lives in Orlando. Ardila said this is not the first time he has attended an Atlético Nacional game in Orlando and that he enjoys how their games bring many Colombians together.
"I get be around a lot of people [from my country] and that's great," said Ardila. "I can feel the warmth of the people from my homeland."
Ardila attended Thursday's match with his wife Dania and daughter Maria. All three of them were wearing Atlético Nacional's green jersey.
But for some people the match was more personal than for others. Raúl Aguilar was not only watching the game as an Atlético Nacional fan, but also as a proud father. His son, Felipe Aguilar, plays for the Medellín-based club as a central defender.
Aguilar said watching his son play professionally is a validation of all the years he has been supporting his son.
"I have been supporting my kid for the past 18 years," said Aguilar. "When I see him jump into the pitch I just feel happy. I feel that his success is also my success."
Aguilar will follow his son for the club's summer tour around the United States.  After their match in Orlando, Atlético Nacional will play two more friendlies in Houston and New Jersey.
Aguilar said that even though there are still two more matches to be played, the one in Orlando would be the most important one because of family ties with the city. His sister Diana, who has lived in Orlando for the past 15 years, was also in attendance.
Raúl Aguilar said having his son play for Atlético Nacional caused his siblings to switch alliances from their favorite club.
"I have been a lifelong Atlético Nacional fan. I have six siblings and all of them used to root for [Independiente] Medellín," said Raúl Aguilar. "They now wear the green jersey because their nephew plays there."
Independiente Medellín are Atlético Nacional's biggest rivals.
Diana Aguilar said she doesn't mind rooting for a new team if it means showing support for her family.
"I've known him since he was born and I'm just happy to see him fulfilling his dream," said Diana Aguilar. "It doesn't matter for which team he plays, what's important is to be here for him."
Correction: A previous version of this article incorrectly stated the match happened on Wednesday. The match was played on Thursday.