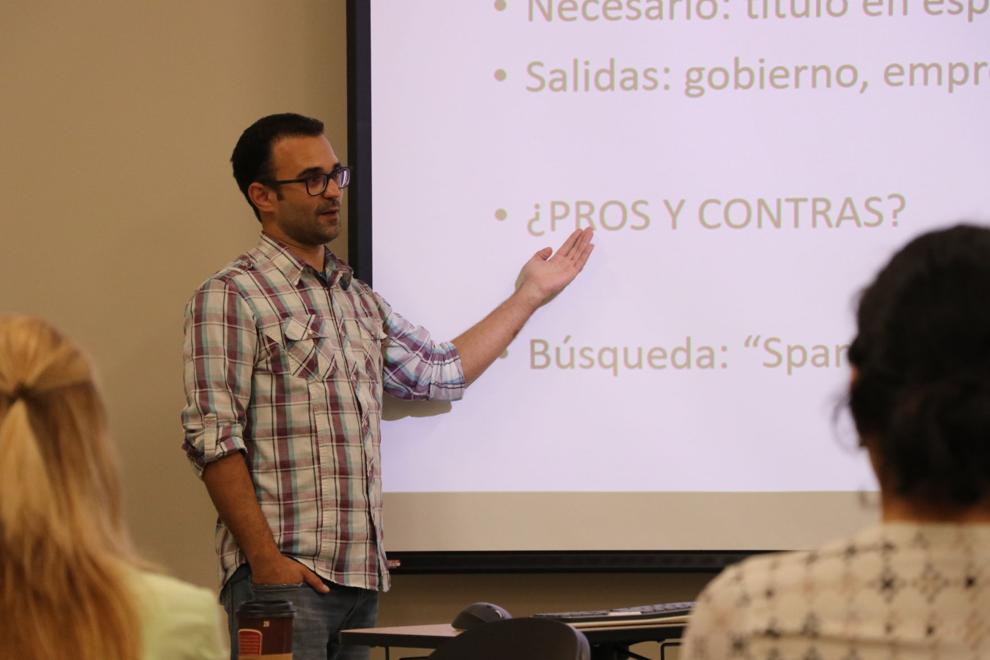 Spanish language filled the room as students and faculty discussed different ways to prepare for jobs that require employees to be bilingual. 
UCF Spanish Linguistics professor Alvaro Villegas hosted a "Jobs in Spanish!" event at Trevor Colbourn Hall Wednesday afternoon to help students improve their Spanish-speaking skills in order to acquire jobs after graduation.
"Whatever you do, continue training," Villegas said to the audience. "Your training does not end at the university."
His research focuses on psycholinguistics — the study of the relationships between linguistic behavior and psychological processes — and bilingualism, according to his biography on the Department of Modern Languages and Literatures website.
Villegas said he also works with bilingual communities in Orlando to inform them about the benefits of bilingualism and to promote bilingual education.
Yuderka Brito, a UCF graduate student focusing on Latin American literature said the "Jobs in Spanish!" event provided her with more opportunities to find jobs that utilize the Spanish language.
"It helps me because [there were] quite a few things I already knew since I'm about to graduate," Brito said. "I've been looking for jobs and all the opportunities out there. He gave me a lot more information that I wasn't aware of."
Brito graduated with an architecture degree from a university in the Dominican Republic. Brito said Orlando did not offer architecture in higher education when she moved here seven years ago.  
That's when she said she decided to change her career path. 
"I needed to study something else, and that's when I decided to study Spanish," she said. "So, I started with a bachelor's here at UCF. Now, I continue with my masters in Latin American literature." 
Brito said she can now "concentrate" on many other job titles apart from a Spanish teacher. 
A 2018 Center for Immigration Studies report said that almost 22 percent of U.S. residents speak a foreign language at home — roughly double the 11 percent in 1980. In 2017, a record 66.6 million U.S. residents ages 5 and older spoke a language other than English at home — more than double since 1990.
An example of jobs that require a person to have a native-level proficiency in English and at least one other language are interpreters and translators, according to the U.S. Bureau of Labor Statistics.
The U.S. Bureau of Labor Statistics also said employment of interpreters and translators is projected to grow 18 percent from 2016 to 2026 — much faster than the average for all occupations.
The report states that globalization and large increases in the number of non-English speaking people in the U.S. will drive employment growth.
Norma Ledesma, Modern Languages and Literature department professor, said the event helps students speak the language more clearly in the job field.
"I think it's very important to be bilingual in any field," Ledesma said. "We have more opportunities to find jobs that specialize in Spanish."