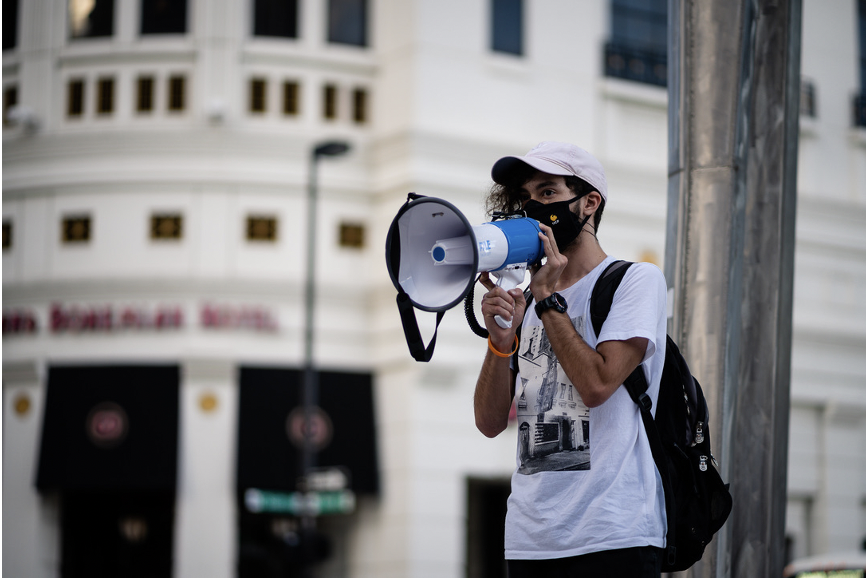 The Latino demographic is a constantly growing population that will have an everlasting effect on government in the United States, according to a UCF political science professor.
An estimated one million Latinos are expected to turn eighteen every year for the next two decades. Latinos are the nation's largest share of nonwhite voters; a record 32 million Latinos make up thirteen percent  of all eligible voters, according to Pew Research Center. 
UCF Associate Professor of Political Science Aubrey Jewett described the Latino demographic as a "pivoting group of highly politically active people."
 "The Latino demographic is constantly growing, and their impact on government policies this past election is only the beginning," Jewett said.  
 Jewett said the increase in Latino voters is due to the rapid growth of their overall population in the last decade and in the near future. Jewett also explained the reason the Latino demographic is impacting government is because they are mobilizing and turning out for big elections.
 "Latinos are very impactful and politicians gaining their demographic vote holds a lot of weight," Jewett said.
 Jewett described the Latino vote during the 2020 election this year and elections to come, as a "decisive impact" for not only the state of Florida, but for across the country.
 In all 50 states, Hispanic voters make up increasingly larger shares of the electorate, according to Pew Research Center.  In battleground states, Hispanics grew more than other racial or ethnic groups as a share of eligible voters between 2000 and 2018.
 "Political parties realize that this is a fast-growing demographic," Jewett said. "If they want to stay competitive and win elections, they have to recruit, attract and mobilize these voters."
 Jewett also said immigration is not the "end all and be all" issue for the Hispanic/Latino community. Jewett emphasized Latinos interests in topics including the pandemic, affordable healthcare and education.
 Diego Molina, UCF senior political science major, said he is not only passionate about immigration,  but also education in America.
 "My family is Puerto Rican and with me being first generation, Biden's promise to excuse student loans and promote a better educational system is important to me and will affect my future voting decision," Molina said.
 For the 2020-2021 UCF Facts, The Hispanic/Latino demographic is the second largest population on campus making up nearly 20% overall with more than 19,000 Hispanic/Latino students enrolled.
 Molina said he will be holding President Joe Biden accountable for all promises made towards the Latino demographic.
 "Biden talked a lot of talk, he better walk that whole walk," Molina said.
 Molina also classified the Latino demographic as the "game changers" due to the increase of Latino voters in recent elections. Molina described the Latino community as a "multifaceted ethnicity" due to the many backgrounds associated with the check box, Hispanic or Latino.
 Overall, the 10 largest Hispanic origin groups—Mexicans, Puerto Ricans, Cubans, Salvadorans, Dominicans, Guatemalans, Colombians, Hondurans, Ecuadorians and Peruvians—make up 92% of the U.S. Hispanic population, according to Pew Research Center.
 UCF History Professor Luis Martinez-Fernandez, said the increase in Latinos holding prestigious positions as administrators, principals, activist, politicians and cabinet members is the result of the Latino population forcefully demanding they are represented.
 Amongst minorities represented in the U.S. Census categories, Biden appointed the highest number of Latinos (Xavier Becerra – Health and Human Services; Alejandro Mayorkas – Homeland Security; Miguel Cardona – Education) reports Brookings Institution.
 "I really think Biden has done a great job with including Latinos in his cabinet," Martinez-Hernandez said.  "They will help pivot and navigate the ideas of the Latino demographic now and in the future, especially in education."
 Martinez-Hernandez noted the fact Biden selected Miguel Cardona as the Department of Education secretary because he is an "example of Latinos leading the country." Cardona is a former teacher and Connecticut's first Latino education commissioner.
 Martinez-Hernandez said the overall increase of the Latino population in the United States is allowing the demographic to become more familiar with the electoral college system.
Martinez-Hernandez said Latinos are also acting on their knowledge because many of them escaped communists' countries resulting in a pivoting and impactful demographic. 
"Latinos will continue to grow in terms of population and political involvement," Martinez-Hernandez said. "Latinos are the demographic of the future."