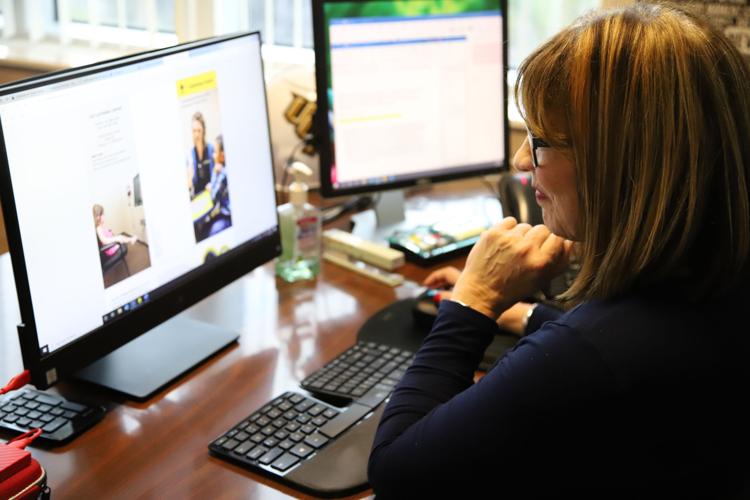 As a role model and leader, associate professor Linda Rosa-Lugo, is someone who inspires her students to aspire to greater things.
Rosa-Lugo will be recognized in April for the Excellence in Diversity Award by the Council of Academic Programs in Communication Sciences and Disorders.
The Excellence in Diversity Award is presented to an individual making significant contributions to achieve diversity and increase the presence of under-represented populations in the field of Communication Sciences and Disorders, according to CAPCSD website.
Making a difference in the community
Rosa-Lugo's research interests include language and literacy development in Hispanic youths. She said she assists children with hearing loss who come from linguistically diverse homes.
For the last 24 years, Rosa-Lugo said she has worked at UCF. Her career has been dedicated to increasing the presence of under-represented populations, she said.
She served as interim assistant dean from August 2017 to July 2019, under the College of Health and Public Affairs. She was then appointed in August as the associate dean of Global Affairs for the College of Health Professions and Sciences.
As the director of the UCF Listening Center, Rosa-Lugo said she helped create this specialty clinic to provide listening and spoken language services to children with hearing loss.
"I would say one of the proudest things I have ever done is that I was able to establish the Listening Center, and obtain federal grants to prepare students to work with children with hearing loss who come from culturally and linguistically diverse homes," Rosa-Lugo said.
To help graduate students complete their 400 clinical hours, which are required in order to gradute from the Communication Science and Disorders master's program, Rosa-Lugo created "SPA 6327 Aural Rehabilitation," a master's course for students in CSD. In the course, students work with deaf and hard-of-hearing children under the supervision of a clinical educator.
She also wrote two grants to better prepare students in the field. The first grant prepares students to work with English Learners in language and literacy Rosa-Lugo said. She said the second grant focuses on preparing students to develop listening and spoken language in children with hearing loss who come from culturally and linguistically diverse homes.
Paving a path for Latinos 
After meeting at the National Association of Latino Healthcare Executives conference, CSD senior Karina Garcia said Rosa-Lugo revealed to her the importance of having Latino professionals in the field of health care.  
"Linda has also been a positive mentor for me when it comes to preparing for graduate school," Garcia said. "She provided me with multiple volunteer opportunities that would help with my future experience in graduate school."
Garcia said that, without guidance, she probably would not have applied to graduate school so soon. Rosa-Lugo gave her the drive to apply to a CSD graduate program. Garcia said Hispanic speech-language pathologists are critically needed to work with bilingual individuals with communication disorders in educational and medical settings.
American Sign Language Instructor for Orange County Virtual School Carrie Ann Woods said Rosa-Lugo inspired her throughout her career.
"While I had always planned to be a teacher, she pushed me to seek more opportunities for myself which have ultimately allowed me to impact the profession in ways I had never considered," Woods said. "She paved the way for me to move into higher education, where I have been able to impact pre-service teachers."
When asked to select a mentor for her doctorate program, Woods said she couldn't fathom a better choice than Rosa-Lugo because she was a great resource throughout her grad research. Rosa-Lugo's feedback pushed her to think deeper about her studies, Woods said.
Happy to have positively impacted her students, Rosa-Lugo said she's proud that they continue to bring a good name to the program.
"My greatest joy is I always hear from my students over the years," Rosa-Lugo said.
Diversity in communication
As a Latina faculty member, Rosa-Lugo said her upbringing in New York City helped her see things from a different lens.
"I think being Latina allows me to serve as a mentor to students who are under-represented," Rosa-Lugo said.
Although her background has been an asset in supporting students and underrepresented faculty, she said it's not the only reason for her work.
As an educator and a speech-language pathologist, Rosa-lugo said being a bilingual Latina might have provided her a different way of looking at the world. But her clinical work and research with bilingual children who can't communicate has provided special insight on their challenges.
"I don't think being Latina qualifies me for my job, I have a degree in the area of bilingual education and that makes a difference," Rosa-Lugo said.
Rosa-Lugo is a co-principal investigator on a third grant that allows her to work with her colleagues in the College of Community Innovation and Education.
With this grant, special education teachers and speech-language pathologists will be trained to work collaboratively to serve children with high-intensity needs and provide tuition support for approximately 42 students over a period of five years, she said.
Within the next few years, Rosa-Lugo said she looks forward to retirement, but her plans include remaining active as a speech-language pathologist and serving children with hearing loss in some capacity.
"I want to go out doing the things I love and that bring me joy," Rosa-Lugo said. "I appreciate my students and I want to ensure that I have somehow made a difference in their lives."