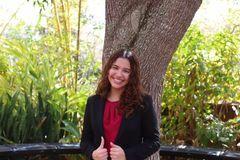 Freshman marketing major Anabela Alvarez recalls her home country of Venezuela fondly.
Alvarez, 19, remembers growing up in the state of Lara, Venezuela. When she turned 14, her stepfather had the opportunity to travel to the United States.
A year later, Alvarez and her family joined her him in Florida, where they've remained since.
"I was born and raised in Venezuela. I lived there for 15 years of my life," Alvarez said. "But of course, the country isn't in the best economic situation or political situation. So, when my stepdad claimed us, we were able to come here with him." 
Venezuelan students make up the largest international student body at UCF, according to UCF's Institutional Knowledge Management.
After coming to UCF, Alvarez said she found herself looking to both make connections in her new environment and begin getting ready for her future career as soon as possible. She said she found that through the Association of Latino Professionals for America.
"I also wanted to get to know how the business works," Alvarez said. "So, the main reason I joined is because I wanted to learn. And so far, I've learned so much."
Alvarez immigrated to the U.S. four years ago. She said she has come a long way since that time but remembers the difficulties she faced when first trying to adjust to the U.S.
"When I moved here, it was hard since I knew English, but I didn't know the extent that I do today," Alvarez said. "And I didn't know how the system, like educational system, especially worked. So, I didn't know anything about how the GPA worked here, SATs, ACTs, none of that."
Alvarez said that with time, she began to move past the language barrier and found herself in groups such as her high school junior ROTC program.
"I joined my sophomore year in high school, and they helped me a lot in getting to know how everything works and how to be less shy," Alvarez said. "And over my senior year, I was already well-established knowing how everything worked, and I was able to apply to UCF."
Sarah Rueda, 20, currently serves as the vice president of marketing for UCF ALPFA and as a mentor to Alvarez. The marketing major said the association helps to connect the Latino student community and others with opportunities to help them find success.
"I thought [ALPFA] kind of stood out to me just because they really felt based on helping people," Rueda said. "Like their resumes or LinkedIn, their interview skills and just providing that professional assistance to those who need it."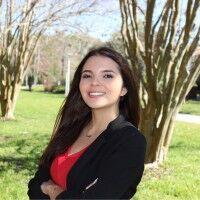 Alvarez has already found success as a freshman through the association with an externship as a branding strategy and business analytics extern with the audio products manufacturer Beats by Dre.
"I am super excited," Alvarez said. "I just started two weeks ago, and it really has been a great experience."
Rueda was paired with Alvarez as her mentor for the spring 2022 semester through the association's mentorship program. The two have become close, and Rueda said the news of Alvarez's externship was great to hear as both her mentor and friend.  
"When she when she got that externship, I was so happy for her, like, it literally made my entire day," Rueda said. "We're constantly together. She goes to everything in ALPFA which is great."
Alvarez said Rueda's support of her efforts in ALPFA and beyond means a lot to her. 
"She has been wonderful," Alvarez said. "She has helped me so much. Every time I need something, I know I'm gonna reach out to her, and she will always be there for me. And we have been able to, like, grow super close and become really good friends."
Though Alvarez is excited for and enjoys her current externship, she said she's looking toward the future, and freshman year is just the beginning. Her first step is to run for ALPFA officer elections in the next few weeks.
"I'm looking forward to that," Alvarez said. "And I'm just looking forward to, like, get more opportunities to extend myself and get internships and use that experience."