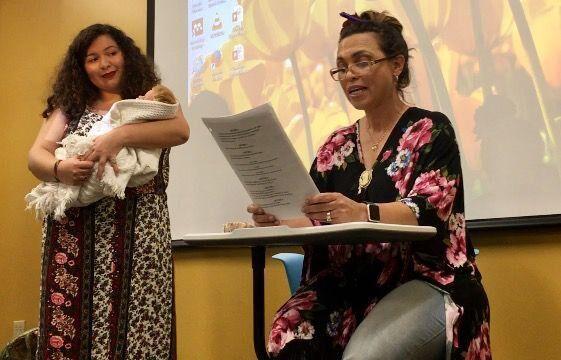 UCF alumna Ibis Enid Rodriguez mixed her Puerto Rican heritage and her love for theater as she worked her way toward her master's degree, eventually becoming an actress.
Rodriguez graduated from UCF in December 2021 with a master's degree in Spanish literature. However, she said she concentrated her master's degree in her second love of theater.
"The professors let me focus my studies into something that I was interested in—theatre," Rodriguez said. "There, I was able to connect my bachelor's in theater with my master's in Spanish literature."
The United States contains notable Spanish influence, and Orlando is no exception. Rodriguez's Latino heritage is reflected in Orlando's own cultural demographics.
The Latino population in Orlando makes up 37.8% of residents, and over 25% of UCF's student body identify as Latino, according to a UCF Facts.
S. Kent Butler, interim chief equity, inclusion and diversity officer, said UCF takes pride in being a Hispanic Serving Institution, noting over 4,000 total Latino graduates in both the bachelor's and master's degree programs, one of those graduates being Rodriguez.
Rodriguez said that when searching for roles, she prefers ones specifically made for Puerto Ricans but has played characters from other Hispanic countries. Rodriguez said there are enticing roles she is interested in, but the casting call does not fit her description.
"I need to look as a performer at what I can be able to perform and audition," Rodriguez said. "It has to be based on my looks and my background."
Rodriguez said that more opportunities need to be given to actors, playwrights and directors of color for inclusivity to thrive.
"Give to everyone the opportunity," Rodriguez said. "People can't act in plays that aren't related to them, which is why we also need to see more Latin American playwrights."
Ana Patricia Camacho, president of the Spanish Graduate Association, said that hiring a more culturally inclusive workforce can actually benefit the company.
"The culture in America asks people to know specific skills," Camacho said. "If you have people from other cultures, you would see that they have some other skills you can actually use for the company's benefit." 
Both Camacho and Rodriguez see the benefits of hiring a more diverse workforce, and with a growing demand for bilingual Spanish speakers, they feel hopeful.
"So many people now are looking to hire bilingual graduates," Camacho said. "This brings opportunities for Latino students."