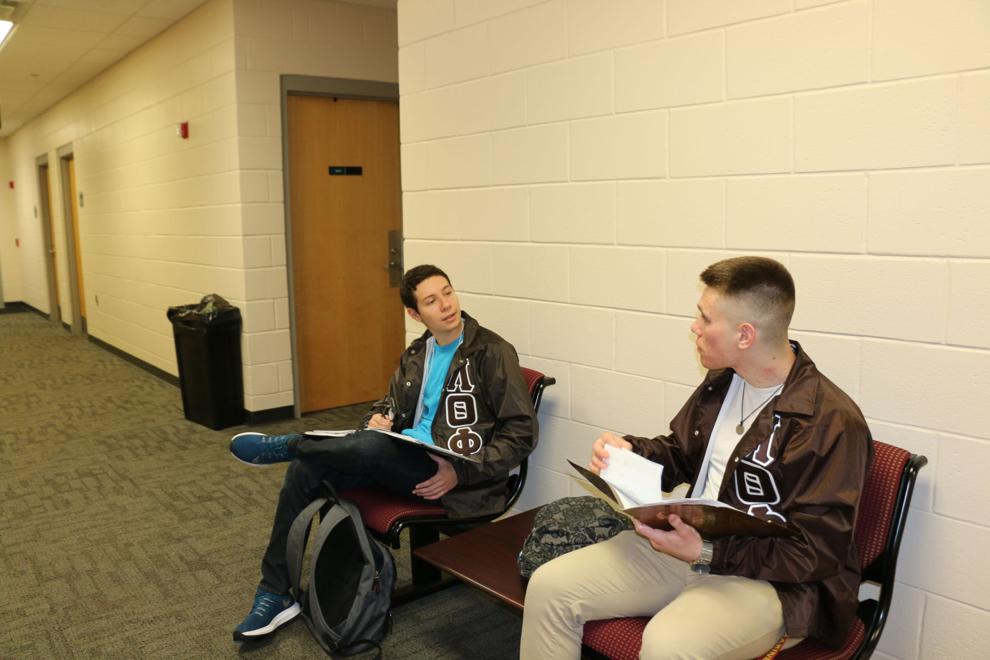 It's been two years since Luis Pantoja left Venezuela to continue his education in a safer environment and three years since he protested against the Venezuelan government for voting fraud.
Now, Pantoja is a junior computer engineering major attending UCF with his sister, Camila. The siblings left behind their mother and grandmother in Venezuela and Pantoja now finds comfort in the brotherhood of Lambda Theta Phi, he said.   
Lambda Theta Phi is UCF's only Latino fraternity on campus, said Kevin Pardo, Lambda Theta Phi president and senior criminal justice major. Members are given the opportunity to network amongst each other and with alumni across the nation. The fraternity chapter has 13 members.
For Pantoja, he said the fraternity gave him a new outlook on his abilities to trust others and has aided his self-improvement. He works harder for what he wants, he said.  
"One of the things I wanted out of coming to UCF was finding a family, finding the people that I can be close around" Pantoja said. "That no matter what, I can give them a call, give them a shout."

After realizing the amount of stigma surrounding Greek life, Pantoja said the fraternity caught his attention his freshmen year in Miami Dade College. Now, he is the Vice President of Lamda Theta Phi.

"I've always been a person to live by experience," Pantoja said. "If you haven't tried it, I feel like you have no right to judge it until you try it."
Pardo said the organization has turned into a lifetime of brotherhood that welcomes everyone.
"We have a lot of people coming in [to the U.S.] that don't feel comfortable or at home," Pardo said. "It was hard for [Luis]. Now, he says that this fraternity is his home away from home." 
Before joining the fraternity, Pantoja said he was a bit more reserved. The change in his attitude and social life did not go unnoticed, Camila said. The freshman business economics major said the difference she saw in her brother was immediate.  
"They're kind of like his own makeshift family that he's made at UCF, which I'm so happy for him just because being away from home is not easy," Camila said.
The fraternity has allowed her brother to open up and learn about people who come form different backgrounds. In Venezuela, most people were Venezuelen and Colombian, she said. 
"I can totally tell that he has a lot of people that support him now," Camila said. "He really feels like somebody's got his back here. If something goes wrong, he knows he has somebody to call." 
Since joining the fraternity, Pantoja said he has seen an influx in job offers and internships. He attributes this to his relationships with his frat brothers. 
"Right now, thanks to one of the brothers, I work for a sub company in development for Lockheed Martin," Panjota said. 

Pardo said that Lambda Theta Phi hopes to continue its growth and have an impact on UCF's Latino community.
For Luis Pantoja, this means he wants to make a home for those who have escaped the horrors of their country. 
"I personally am very prideful of my Latino heritage," Pantoja said. "I wanted something that hit home, something I could represent."

Correction: An earlier version of this article misspelled Miami Dade College and a misspelling of the name Zachary Freis in the cutline.