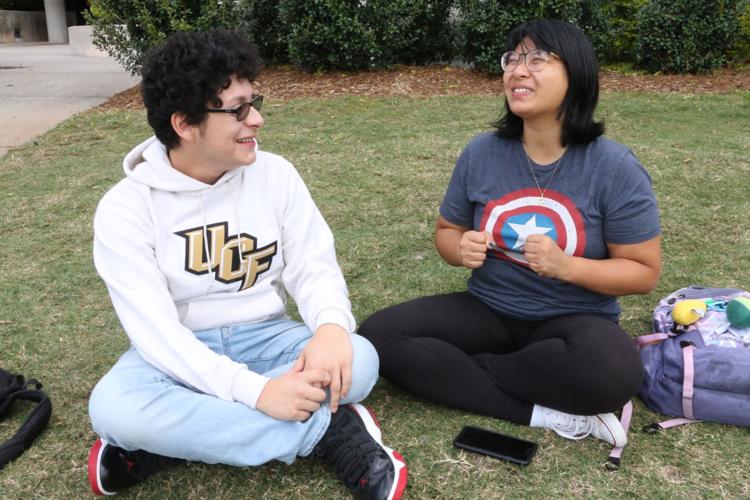 Attending college as a first-generation student can already be difficult, but Bradley Aguilar said coming from a Latino background can add to that challenge.
"People view Latino people as marginalized criminals, lazy and that we expect handouts," Aguilar said. "I have worked hard for everything I have achieved up to this point in my life." 
Aguilar, a freshman psychology major, said no one at home could give him college advice. He said that being a first-generation student in a new environment can be scary, confusing and chaotic.
According to retention and graduation rates on UCF's Institutional Knowledge Management website, about 70% of Latino first-generation students take six years to graduate.
On a national level, more than half of the Latino first-generation population who attend a four-year college earn a bachelor's degree within six years, according to The Education Trust.
Aguilar said he feels like one a drop in the ocean because he is struggling to adapt to the college lifestyle.
"Being at a big university with thousands of students I think is what makes it difficult," Aguilar said. "My parents try to help me understand how that is an essence of how life works. Eventually the world gets bigger and bigger, and you just got to roll with the punches."
Aguilar said his dad arrived in the U.S. from Nicaragua in the 80s and his mother arrived from Guatemala in the 90s. He said they did not have the luxury to attend college, so they quickly had to enter the industrial construction work force.
Aguilar said they made many sacrifices so he could pursue higher education. His parents worked long hours, and often times they lived off of little resources to ensure he could have a successful and happy future.
According to the U.S. Census Bureau, one in five college students are of Hispanic descent; and 70% of Latino college-goers are first-generation students, according to Unidos US.
Similar to Aguilar, this population of Latino first-generation college-goers will face certain obstacles to complete their college education such as college readiness, familial support and financial stability.  
Despite never attending college, Aguilar said his parents try their best to help him as much as they can. They advise him to not let fear hold him back and to take every opportunity given.
Aguilar said that college can be hard and he sometimes wants to give up, but he works hard find solutions to his problems. Aguilar said when he can't find the answers to his problems on his own, then he turns to his professors for advice, which has been helpful. 
Associate Instructor Michelle Adams said that Aguilar was a hard worker in her U.S. history class, and part of that could be because of his Hispanic origin.
"Given the unfortunate times we are currently living in, there is a far too negative attitude on the part of many toward those who can speak Spanish," Adams said. "Combine first-generation with wanting to dispel stereotypes, makes for a winning motivation combination."
Sophomore psychology major Marielle Garvey is close friends with Aguilar.  She said she sees how hard Aguilar works to do well in college because of the pressures he faces as a Latino first-generation student. 
"I usually find him at the library studying or doing assignments on the computer," Garvey said. "He works hard, and he knows the importance of receiving his degree."
UCF's First-Generation Program helps students who are the first in their family to attend college. The program offers one-on-one guidance, advising and the opportunity to work with other students, faculty, staff, community professionals and alumni. 
The Multicultural Academic and Support Services also offers UCF's Latino first-generation students the resources and scholarship opportunities to help them be successful.
Aguilar said that he does not just go to class but works hard to get good grades. After completing first semester in college this past fall, Aguilar said he ended with a 3.5 GPA. He said he wants to work hard so everything his parents have done for him will be worth it.
"They have told me how they are proud that I've made it this far," Aguilar said. "All the sacrifices they have made, all the hard choices are paying off in a way, that they are not going to waste."