Con el huracán Matthew aproximándose más a la Florida, la comunidad hispana de UCF se prepara para recibir su llegada.
Autoridades como el Weather Channel y las Oficinas de Administración de Salud y Seguridad Ambiental de UCF han mencionado que es crucial retener documentos importantes, como por ejemplo pasaportes, licencias y cualquier otra documentación vulnerable.
Jessica Sánchez, estudiante de psicología de UCF, comentó que ha decidido regresar a su hogar en Auburndale, Florida a pasar el huracán con su familia.
"Me llevo mi computadora y mis asignaciones de la universidad para poder trabajar en ello mientras espero que pase el huracán", dijo Sánchez.
El sistema de alerta de UCF envió la noticia de que el recinto primordial de la universidad cerrará hoy a las 5pm y que permanecerá cerrado de jueves a sábado.
Daniela Diaz, estudiante del programa de animación de personajes de UCF, nos comentó que desde el día de ayer, ella y su familia han tomado medidas para prepararse para el huracán. 
 Estas medidas incluyen cargar todo equipo electrónico, llenar los tanques de sus carros con suficiente gasolina y comprar los alimentos necesarios. 
Al estar bajo estado de alerta, la comunidad hispana que habita la Florida Central debe tomar en cuenta que esta tormenta puede ocasionar serios daños y por eso, se les recomienda ser precavidos y tomar esta alerta con seriedad.
"Creo que los hispanos toman los huracanes seriamente, pues mi mamá está hablando sobre ello constantemente y de cómo cree que todos debemos de estar preparados", dijo Diaz.
En menos de cuarenta y ocho horas el huracán Matthew impactara la Florida central deacuerdo a  los reporters del tiempo. 
Algunos estudiantes que tienen la posibilidad de irse y pasar la tormenta al lado de sus seres queridos, lo están haciendo. 
"Todas las personas que conozco se han ido de la universidad, de hecho tengo una amiga que se fue esta mañana a Nueva York", dijo Sánchez. 
Residentes de la Florida Central aún no saben cual será la intensidad de la tormenta cuando llegue a Orlando, si se mantendrá en categoría 3 o si aumentará a categoría 4.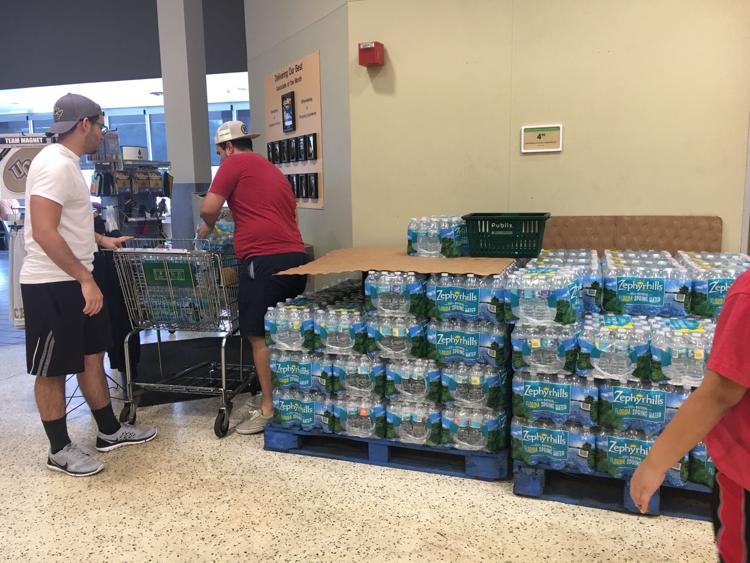 Autoridades recomiendan comprar agua y viveres que no necesiten refrigeracion como la comida enlatada, lo mas pronto posible. 
La ciudad de Orlando estará ofreciendo bolsas de arena hoy hasta las siete de la noche y mañana desde las siete de la mañana hasta el medio día en City of Orlando Streets and Stormwater Division, 1010 Woods Avenue. 
Y para aquellos estudiantes que se quedarán en la universidad, UCF está ofreciendo transporte gratis para ir a comprar agua y comestibles a tiendas cercanas.