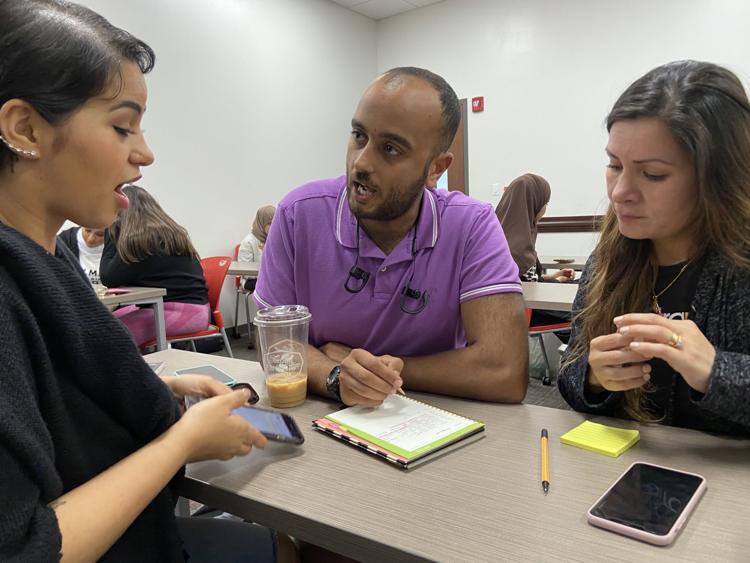 to
According the ELI website, the program is divided in two tracks: an intensive track and an undergraduate track. The intensive track involves a face to face curriculum that aims to teach students English. The undergraduate track combines the intensive track with undergraduate classes to make the transition to an American university easier.
ELI Director Noumane Rahouti said the program began in the late 1980s because there was an increase in the demand for an American education. He says being able to understand English is vital to obtaining an American education.
"The quality of education in American universities is perceived as being one of the best, so students from all over the world started to come here to get an American degree," Rahouti said.
Prices for the program vary depending on the track a student chooses. The intensive class lasts eight weeks and costs around $3,000, while the 16-week undergraduate track costs about $7,000.
Rahouti said . They are determined by the situations and needs of certain students, but he says the quality of instruction the program offers is worth the money. ELI gives students funding for activities and allows them to interact with native speakers, he said.
"The quality is ensured by what we invest," Rahouti said. "Just the fact that we have a brand-new building in the middle of campus, just this is a plus."
The ELI program is certified by the Commission on English Language Accreditation. Rahouti said an accreditation from the CEA is one of the best a program can receive. The program combines the CEA curriculum with ideas from professors to ensure success.
 "Our curriculum has goals that are broken down in objectives and for each class you have goals and objectives that you follow week after week," Rahouti said.
Students have the option to enroll in other programs if they choose; however, Rahouti said they do their best to make sure they don't. He said students want the quality and experiences that UCF's ELI program offers.
Rahouti said the ELI Program has an average enrollment of 280 students each semester with a success rate of 92 percent.
is a student in the ELI Program and said the program forces him to communicate with people who do not speak his native language. He believes this is a large factor in the program's success.
Eid said the classes and the grammar are all important but having the chance to live on such a large campus and being able to communicate with such a large number of students is how he learns best.