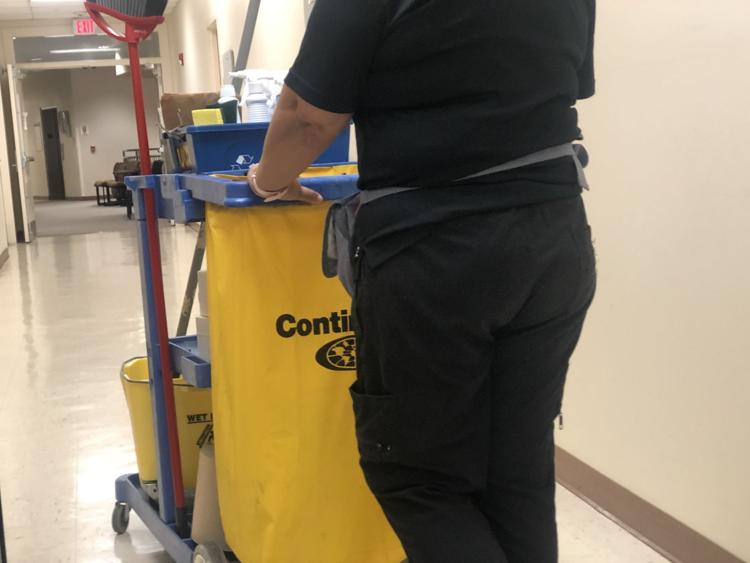 Eunise Aguillón, 67, works the nightshift as a janitor at UCF. With tears in her eyes, she said her daughter tells her every day that she does not need to do this kind of work. 
Aguillón, however, said she does it as a lesson. 
"I do it to let people see that we have the strength, that we are a good country, and we are people of effort and work," Aguillón said.  
Aguillón and Rosa Vargas, 47, met each other at work because they have the same schedule in the same building. They both decided to uproot their entire lives in Venezuela due to the economic crisis the country is going through and immigrate to the United States. 
Aguillón used to manage the administration of her family-based business in Venezuela and is now responsible for cleaning the Human and Public Affairs II building.
The women work from 4 p.m to 11 p.m in a field that is not their expertise, different than the one they used to do as professionals in Venezuela. However, they consider that despite not being in the same environment, they are grateful for having the jobs they do now.
In addition to being grateful for the opportunities this country has given Aguillón, she said she is pleasantly surprised at how the UCF community has treated her since her arrival.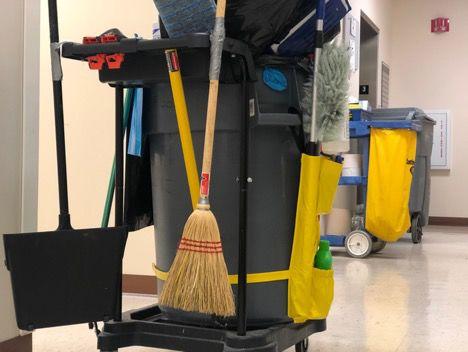 "I admire how here on campus they look for us and whoever speaks Spanish talks to us in Spanish," Aguillón said.
Vargas acknowledges that after four years, staying in the United States was the best decision. She arrived in the U.S in April 2015, she said.
"I have a degree in business administration, but given that the economic situation in Venezuela worsened, I came here to do something totally different, nothing to do with my profession," Vargas said.
Vargas said that she lost approximately 20 pounds after she arrived because she had to walk everywhere. Vargas used to have a car in Venezuela, but she did not have enough money to buy one here, she said.
"I had to live with people I had never lived with before, I had to share a room with two and three other people, I had to sleep on carpets," Vargas said.
Dr. Tyler Fisher, the director of Latin American studies and an assistant professor at UCF, has been aware of the situation in Venezuela and said he is interested to know how UCF can kindly welcome each immigrant that comes to the community despite their nationality.
In November 2019, Fisher held the Voices of Venezuela event in the modern languages department at UCF, where Venezuelan immigrants had the opportunity to tell their stories and share how they ended up in Central Florida.
Fisher said personal stories add light to the whole process that each immigrant has to go through. He also considers that Venezuelans stories are peculiar.
"Nowadays, I get to know way more Venezuelans here on campus," Fisher said. "The Venezuelans topic is more glowing, more actual and maybe more complex than the other migration circumstances."
This story has been translated from its original Spanish form.
Eunise Aguillón, de 67 años, trabaja turnos nocturnos como conserje en la Universidad de Florida Central. Con lágrimas en sus ojos, dijo que su hija le dice todos los días que no necesita hacer ese tipo de trabajo.
Aguillón, sin embargo, dijo que lo hace como una lección.
"Lo hago para que la gente vea que tenemos la fortaleza, que somos un buen país y que somos personas de esfuerzo y trabajo", dijo Aguillón.
Aguillón y Rosa Vargas, de 47 años, se conocieron en el trabajo ya que tienen el mismo horario en el mismo edificio. Ambas decidieron dejar atrás toda su vida en Venezuela debido a la crisis económica que atraviesa el país e emigrar a los Estados Unidos.
Aguillón solía administrar su negocio familiar en Venezuela y ahora es responsable de limpiar el edificio de Asuntos Humanos y Públicos II.
Trabajan de 4 p.m. a 11 p.m. en un campo que no es su experiencia, totalmente diferente al que solían hacer como profesionales en Venezuela. Sin embargo, consideran que a pesar de no estar en el mismo entorno, están agradecidas por tener el trabajo que tienen ahora.
Además de estar agradecida por las oportunidades que este país le ha dado a Aguillón, dijo que está placenteramente sorprendida de como la comunidad de la Universidad de Florida Central la ha tratado desde su llegada.
"Admiro como aquí, en el recinto universitario, nos buscan y el que habla español nos habla en español", dijo Aguillón.
Vargas actualmente reconoce que después de cuatro años, quedarse en los Estados Unidos fue la mejor decisión. Ella llegó a los E.U. en abril de 2015.
"Tengo un título en administración de empresas, pero dado que la situación económica en Venezuela empeoró, vine a hacer algo totalmente diferente, nada que ver con mi profesión", dijo Vargas.
Vargas dijo que perdió aproximadamente 20 libras después de llegar, ya que tenía que caminar a cualquier lugar que tuviese que ir. Vargas solía tener un automóvil en Venezuela, pero no tenía suficiente dinero para comprar uno aquí.
"Me tocó convivir con personas que en mi vida yo había convivido, me tocó compartir habitación con dos y tres personas más, me tocó dormir en alfombras," dijo Vargas.
El director de estudios latinoamericanos y profesor asistente de la Universidad de Florida Central, Dr. Tyler Fisher, ha estado al pendiente de la situación del país y dijo que está interesado en saber como dicha universidad puede acoger amablemente a cada inmigrante que llega a la comunidad sin importar su nacionalidad.
En noviembre de 2019, Fisher dirigió el evento Voces de Venezuela en el departamento de idiomas modernos de la Universidad, donde los inmigrantes venezolanos tuvieron la oportunidad de contar sus historias y compartir como terminaron en la Florida Central.
Fisher dijo que las historias personales añaden luz a todo el proceso por el que tuvo que pasar cada inmigrante. También considera que las historias de venezolanos son peculiares.
"Hoy en día, conozco mas venezolanos aquí en el recinto universitario", dijo Fisher. "El tema de los venezolanos es más brillante, más actual, y quizás más complejo que las otras circunstancias migratorias.