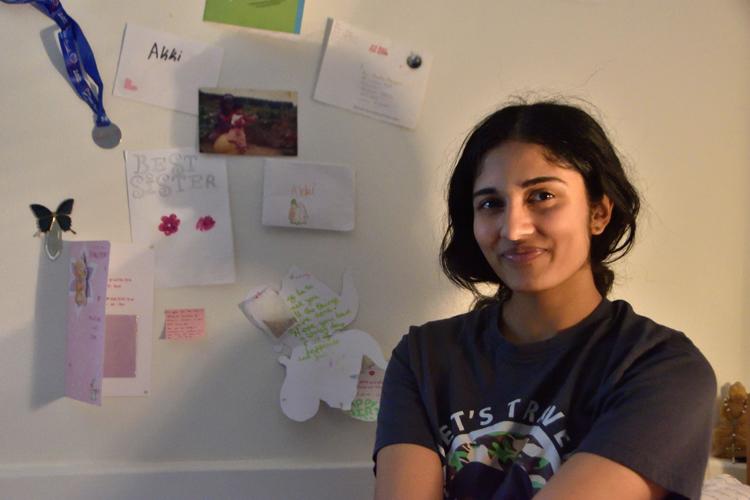 Amasha Rajaguru can recall the exact moment she ended the chapter on her childhood and started planning out her life: 9:31 p.m. on April 1, 2012.
It was also the exact same moment that she walked into the hospital room after her mother passed away from cancer.
Standing in shock in a hospital room with her father crying next to her, she didn't react the way people thought a 12-year-old would. Instead of mourning, she started worrying about how she was going to support her family and defining the kind of life she wanted to lead.
"My mom had a Ph.D and she couldn't stop time. She had just gotten her Ph.D when she passed away and she didn't get to do anything with it," Rajaguru said. "Knowing that now I don't have time to mess around was good, because it fueled all of these cool things. I became a lot more proactive with my future. It was a big wake up call, because life is very short."
Rajaguru, 18, is now a freshman at UCF studying mechanical engineering. She said she wants to get her bachelor's and have enough capital to kick-start her life goal, which is to go back to Sri Lanka, where she was born, and invest her money into helping others.
Using her degree, Rajaguru wants to build up the infrastructure of Sri Lanka and to help advance the developing country.
Rajaguru said that being close to her culture grounds her and that, as an immigrant, it's important to represent other parts of the world in a changing society.   
"You may be made to think you are not as advanced and that you are different. If you have the will to create change in any part of the world and you are here, you deserve to say, 'I'm from this part of the world,' and then contribute from your perspective," Rajaguru said.
During the summer of 2018, Rajaguru saved up enough money to visit Sri Lanka for a month to expose herself to parts of the culture she had not seen before.
On Nov. 15, 2018, Rajaguru attended the International Expo held in the Student Union. During the event, Rajaguru wore her traditional Sri Lankan garments and showed a video she made during her summer trip.
Rajaguru said she plans to study abroad in Mexico during the summer of 2019 as part of the Burnett Honors College to help less developed parts of the country.
"Learning how to plan a humanitarian venture like that will be really important to someone like me who wants to do that in life," she said. "It teaches me fundraising and planning skills which is right up my alley."
Rajaguru is no stranger to traveling and has had to overcome many obstacles in her life. She moved to Reading, England from her home town, Ragama, on a student visa when she was three so her mother could pursue her doctorate.
After Rajaguru's mother died, her father lost his job at the hospital due to visa complications. When her father eventually re-married when she was 15, the family moved to the U.S.
She has had many conversations with her friends and 13-year-old sister, Tharusha, about how much she is willing to sacrifice for her goals.
"Me and my sister got really close, especially when my dad was working nights. We wouldn't want to sleep in our own beds, so we climbed into my dad's bed and watched movies," Rajaguru said. "We both knew the responsibility we had at that point and how much our parents had given up."
Rajaguru's only thought when her mother passed was how to provide her sister with the same kind of childhood she had: care-free and full of opportunities like participating in extra-curricular activities or traveling. When her sister was young she would give Rajaguru letters that are still to this day on Rajaguru's wall.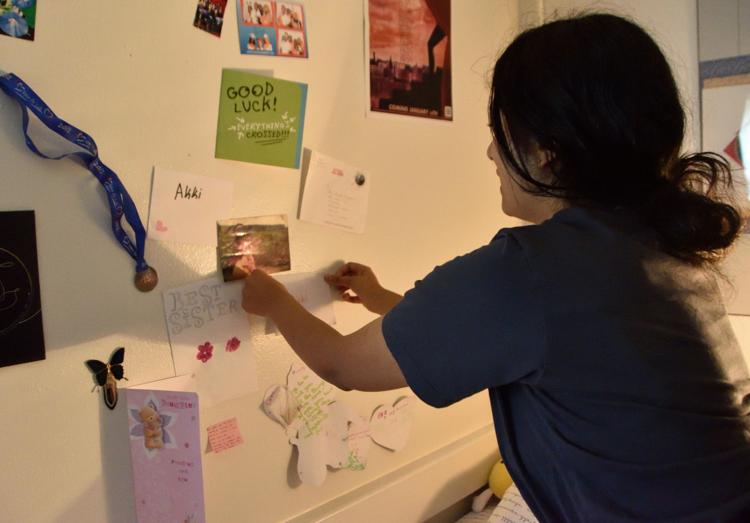 As Rajaguru became more thoughtful toward her future and her situation, she began focusing more on her education and her goals, even while being a mother-figure to her sister.
Rajaguru sacrificed stability to follow her dad and step-mom to the U.S where her home-life deteriorated. Rajaguru said that while she could return to Sri Lanka where her extended family lives, education is better in the U.S.
Even throughout all of this hardship she has remained selfless and dedicated toward her goals, according to close friends like Anezi Bueno, 18.
According to Bueno, she would gladly sacrifice her free time to study and reach her goals or help friends.
"Amasha has been placed into very unfair situations that were out of her control," said Bueno. "Although it was unfortunate, I think she's learned a lot about how to persevere even when it gets extremely tough. Her heart never runs out of love and it's evident in her goals and how she treats her friends. She's one of the most hard-working people I know."
Rajaguru never lived in one place for more than a few years and while in high school she met Bueno.
Even though Bueno attends the University of Chicago, her and Rajaguru are still close. Bueno said she aspires to be more like Rajaguru who always puts her whole heart into her goals and combines a hardworking ethic with immense kindness.
The steps the young engineer takes here are strides towards a better future.