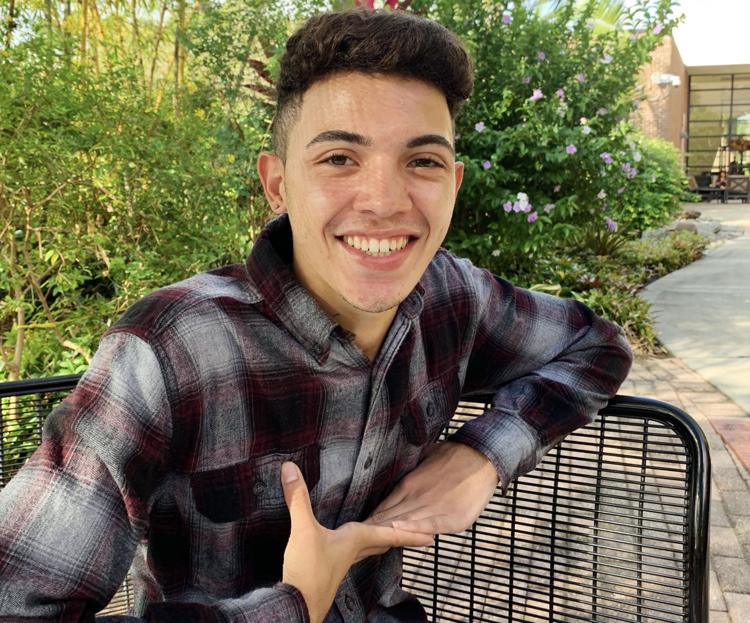 Early mornings at Foxtail Coffee Co. in the UCF Bookstore are riddled with loud coffee machines churning coffee beans and the multiple conversations from students sitting at tables or standing in line.
Darrion Smith can be spotted waiting in line to get an iced coffee. He stands at an average height, but has a tall demeanor adorned with a warm smile and a hopeful disposition.
Despite being an out-of-state student from Texas, Smith, a freshman human communications major, said he's feeling right at home at UCF — even though it's only his second semester.
"My favorite thing about UCF is the amount of diversity and inclusivity that they have on campus," Smith said.
These two factors led to Smith becoming a part of Lavender Council and the LGBTQ+ Services. This also brought Smith to the Conscious Thought Cafe, which takes place in the Student Justice and Advocacy Lounge in the Student Union.
"[Conscious Thought Cafe] gives a platform for students to discuss what's on their mind," said Jay Stein, graduate assistant for LGBTQ+ Services. "This isn't specifically for one type of person, this is for everyone to talk about whatever you want."
Stein said that students can hopefully learn from one another and know their opinions are valid through this safe space that focuses around loose topics.
According to the LGBTQ+ Services website, their mission is to connect UCF students to opportunities, resources and each other to create an equal world for LGBTQ+ people.
One of these resources is the Lavender Council, which is a student advisory board that serves as a liaison between students, faculty and staff at UCF.
A meeting earlier this month at the Conscious Thought Cafe included an open discussion exploring the LGBTQ+ intersectional struggles with faith, religion, identity and family. Smith was a part of this conversation, sitting on the right side of the circle and listening intently to what everyone had to say.
Conscious Thought Cafe's open conversation hit close to Smith, because of his personal experience with coming to terms with both his sexual orientation and faith.
Religion was something that Smith was raised around — something forced on him because of his parents.
"As I came out, the process of me still identifying with my religion and my relationship with God has been a rocky road," Smith said. "But I do still hold myself accountable to my beliefs and my religion."
Now, Smith said he has built his faith on a personal relationship between him and God. This is very different compared to before, where every Sunday would be filled with going to church.
He said his personal relationship has come from a gradual process of ignoring outside sources and instead reflecting on his own thoughts and beliefs.
"I drew the line listening to what I could and couldn't believe in on my relationship with God," Smith said. "At the end of the day, it's you and Him."
By forming his own personal relationship with God, Smith said he pulled away from the church. He vividly remembers one church that he used to go to because of the ignorant preaching that helped him develop his own beliefs.
Even in this journey of growth, Smith has never felt closer to God and his faith than when he was growing up. It all still feels the same to him but that doesn't mean that this journey didn't come without healing.
"I do pray a lot. I talk to God and reflect on everything," Smith said.
Despite his personal struggle with his sexual orientation and religion, Smith hopes that anyone going through the same thing takes time to themselves.
"You can go through asking other people, and getting their beliefs, but at the end of the day, what I feel is most important is that you can figure out what you want," Smith said. "Or what you believe in, personally within yourself."
Even in a large, and diverse student population, UCF offers services that do more than provide students with a safe space to talk about issues — it helps students, including Smith, guide themselves to form their own identity.