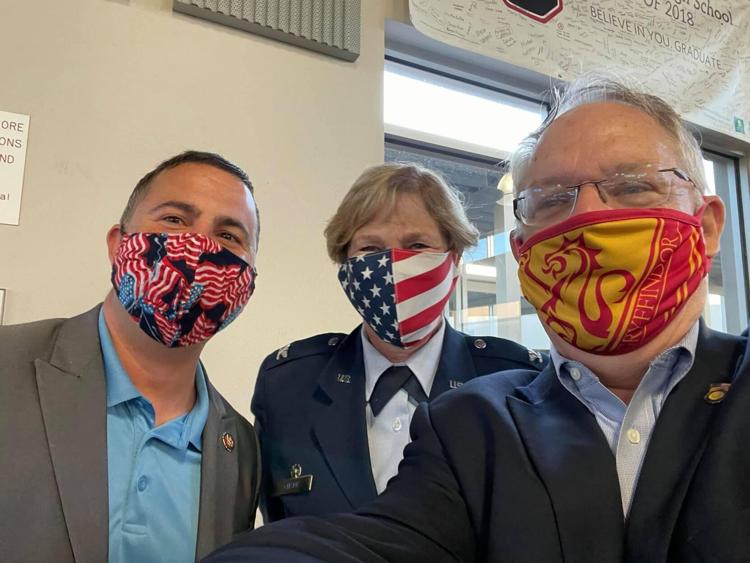 Although her mother was very ill and practically bedridden, a little girl was taught how to give a needle injection with an orange. 
As her mother grew weak, the little girl and her siblings took care of her with all their might. They would give her bed baths, injections of medication and catered to her needs until she passed away from lupus in 1967.
Those same skills would later assist in life as that same little girl, by the name of Paulette Schank, would grow up to not only be a nurse in the Air Force but also during a global pandemic.
Schank had enlisted in the Air Force after being inspired by her father, who was a retired Navy petty officer and had served for 25 years.
During those years of active duty, Schank was sent to an Air Force hospital in Iraq as a field hospital surgical nurse where she was given the rank of lieutenant colonel and saved countless lives from military personnel to civilians.
While there, she had also sparked the attention of CBS news correspondent Scott Pelley, who interviewed Schank for a story on "60 Minutes" and later went on to write about her in his memoir.
In his book, "A Truth Worth Telling," Pelley describes Schank as selfless after witnessing her extract blood from her arm in order to save a soldier's life because the hospital had run out.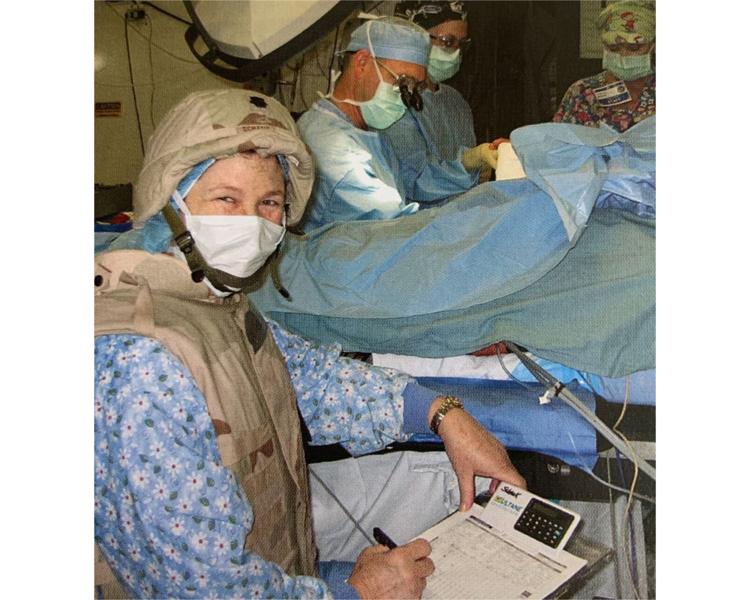 At the start of the pandemic, Schank worked as a nurse anesthetist at Osceola Regional Medical Center in Kissimmee while also taking classes at UCF.
As the pandemic worsened, there was a limit on masks and personal protective equipment in the hospital. Schank and her peers were given one mask to wear for 24 hours instead of having to change them after every operation.
With the continuing rise in cases, the hospital closed all the wards except for emergency surgeries. Since there was not much need for elective surgeries, many of Shank's peers chose to work in other departments so they could receive work hours.
"There wasn't anybody in nursing that I know of in our department or in our hospital that said, 'See ya, I'll be back after the pandemic,'" Schank said.
Schank decided to take time off in order to have more time dedicated to studying and focus on the two graduate level classes she said she struggled with due to the coursework.
After a month, the hospital started regular operation again. This meant Schank could go back to work — with a few changes in protocol.  
First, patients who need surgery are tested for COVID-19. Whether the patient has tested positive or not, they must go under anesthesia and are hooked up to a ventilator with a breathing tube. 
Individuals in the operating room are asked to leave before Schank takes out the breathing tube as a way to decrease exposure since the patient will cough afterwards.
Once a COVID-19 positive patient who was operated on leaves the room, another cannot be let in for another several hours. Air exchanges in the room are measured per hour and there has to be a certain amount before anyone can be let in to clean the room, including instruments used during operation.
As a way of contributing, Schank signed up to receive a clinical trial of the COVID-19 vaccine after hearing about it on the news. However, it was postponed due to a patient having transverse myelitis, inflammation on both sides of a section in the spinal cord. 
Also, Schank made plans over the summer to go on an annual medical missionary trip to Peru. Every year, Schank goes to either Haiti or the high mountains of Peru to perform pediatric surgery on children who have suffered through burn injuries, cleft lip and palate.
This began after she visited Haiti in 2010 to participate in the earthquake relief. Schank said she saw the extreme poverty its citizens faced after witnessing many resources demolished, such as hospitals, and having to perform surgery in the middle of a field with no anesthesia.
Schank said there is a lack of medical care and healthcare providers in Haiti due to nursing schools only having a bachelor's degree program. The cost for students to receive a master's in nursing would be around $10,000. 
That doesn't mean steps aren't in place. Schank said the reason why she decided to go back to school was to eventually open an advanced nursing school in Haiti. By educating more nurse practitioners, she hopes it will improve the medical care situation within the country.
Dr. Raul Masing, an anesthesiologist at Osceola Regional Medical Center who works closely with Schank, said he was also planning to join the medical mission in Peru after being inspired by Schank. 
"If you think about it, she doesn't need to do it, she can probably go on a cruise," Masing said. "She doesn't need to work, that's the bottom line — but she still finds her purpose."
Although Schank had to cancel her trip, it did not stop her from pushing forward or trying to achieve her goal. 
To be able to open the school, Schank must obtain a certificate in nurse education, a nurse practitioner degree and a doctorate in nursing.
After retiring from the Air Force, Schank looked at many other schools before settling on UCF. She chose to attend after discovering all three programs were available there.
Schank's husband, Bob Schank, said his wife's drive to pursue an education is not the matter of earning a degree or test score, but being able to obtain knowledge and using it to help people.
"She just has an extreme thirst for knowledge," Bob Schank said. "I think in her mind, she will never stop going to school in some form or another."
In January of 2020, Schank began taking classes at UCF and has since completed her certificate in nurse education and nurse practitioner degree. Currently, she is in the midst of completing her doctorate in nursing and plans to graduate in December of 2022.
As for the future — besides the opening of the nursing school in Haiti — Schank has always relished what the younger generation has to bring in terms of ideas and different perspectives. Yet, she wants to demonstrate to her students nursing is more than just another job and they should connect with their patient.
"It's your ability to connect with your patient before you ever separate them back into the OR," Schank said. "It's just the essence of nursing."