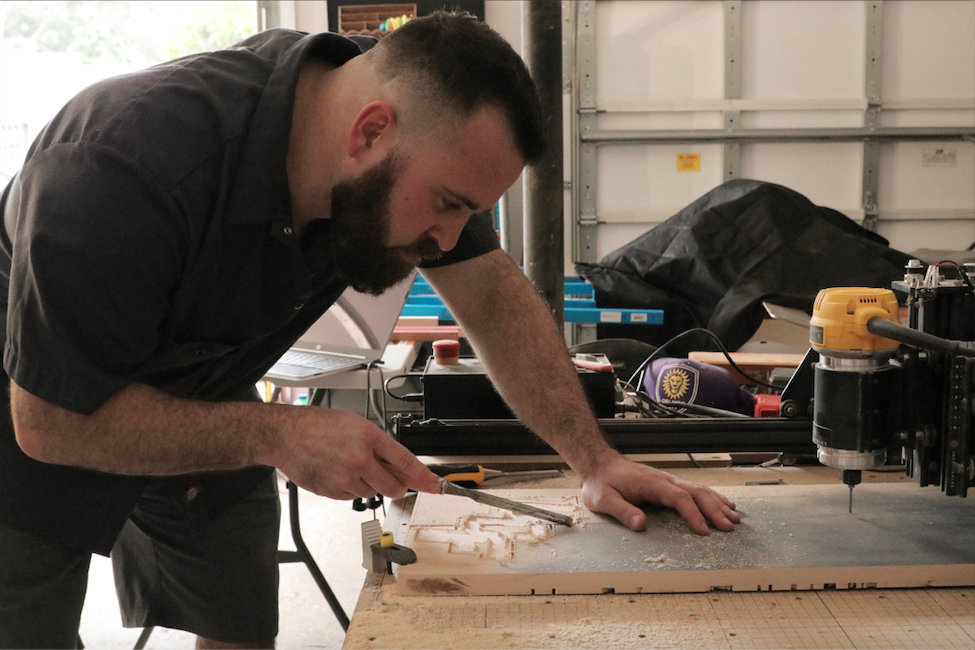 After being kicked out of bars for wearing a UCF polo and watching a rival team's fan attack the opposing team's band director, Keith Casiano said he decided to chisel out a new tradition that calls for one thing: hospitality.
At the past two UCF football home games this season, Casiano gathered pieces of scrap wood from previous projects to create woodworkings of the Stanford University and University of Connecticut logos and presented them to fans of the opposing team.
"I just thought it would be something nice," Casiano said. "I'm not a representative of UCF, but I'm a fan. There's fans that are horrible so why not be an outstanding one?"
Casiano said he chooses the recipients at random and leaves it up to happenstance.
While tailgating before the game against the Stanford Cardinal on Sept. 14, he said he went up to a group of fans wearing T-shirts with the number of a Cardinal player and chatted them up for a bit.
After warning a Stanford mom against driving on Interstate 4 and reminding her that she's an hour away from "Mickey Mouse Land," Casiano handed her the wooden cardinal red "S" and said she had the biggest smile on her face.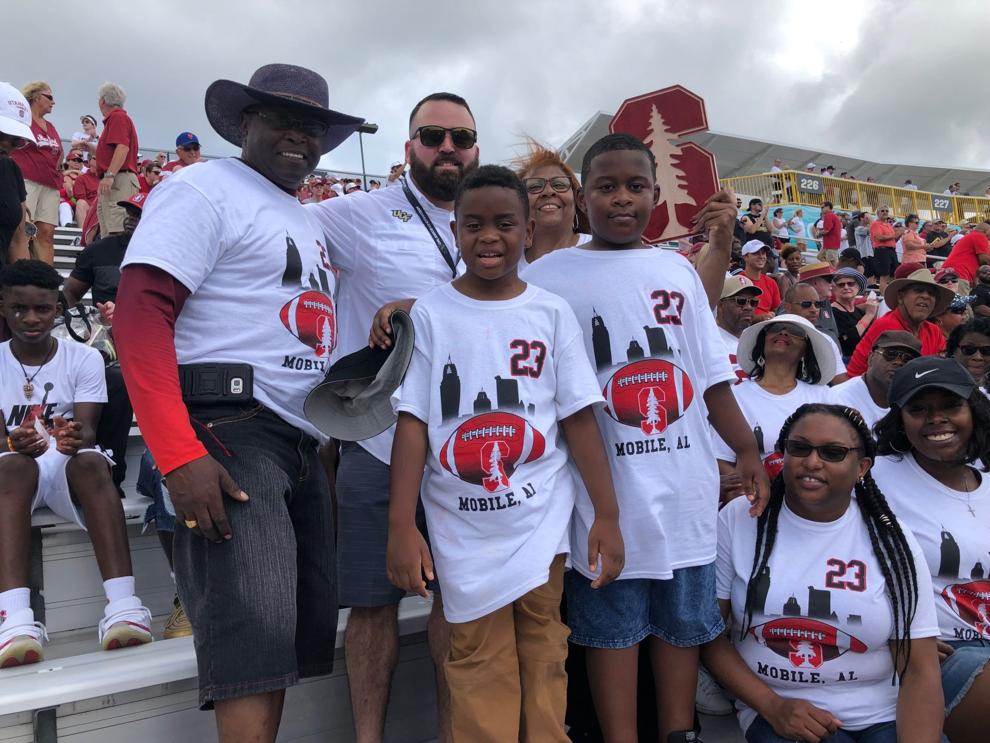 Two weeks later, at the game against the UConn Huskies, Casiano said he happened to be exiting the Carl Black and Gold Cabana where he said found a couple decked out in navy blue "who looked lost."
After talking for a few minutes, Casiano presented Dewlyne T. Williams with a wooden Husky and then showed them up to their seats at Spectrum Stadium.
"He said 'You know what, you guys got your UConn gear on and it was meant for me to meet you,'" Williams said. "He presented us with the Husky and told us why he was doing what he was doing — he didn't want a UConn family to feel like they were like other teams."
Williams said she was going to give the Husky to her son Kyle, a senior UConn running back, but instead kept it for the time being.
Although she has been traveling for her son's football games since his sophomore year, Williams said she was shocked at the gesture and hasn't seen anything like it. She said the other players' moms were raving about the experience.
And to think that this passion stemmed from making an American flag for a friend's wedding gift about four years ago.
The bride specifically asked Casiano for a gift that represents him. Since his friends refer to him as "Mr. America," he thought it would be perfect to make an American flag.
To Casiano's surprise, decent wooden American flags retail for about $350 online, and "they're not even that big and not even a nice wood."
"If I'm gonna get her something, I'm third-generation in the Army and I'm gonna give them something that I have a lot of pride in," Casiano said. "F*** it, I'm gonna build [an American flag] and it's gonna be as nice as can be."
He said he then went to Home Depot and used that $350 towards hammers and nails and figured it out on his own — for three months.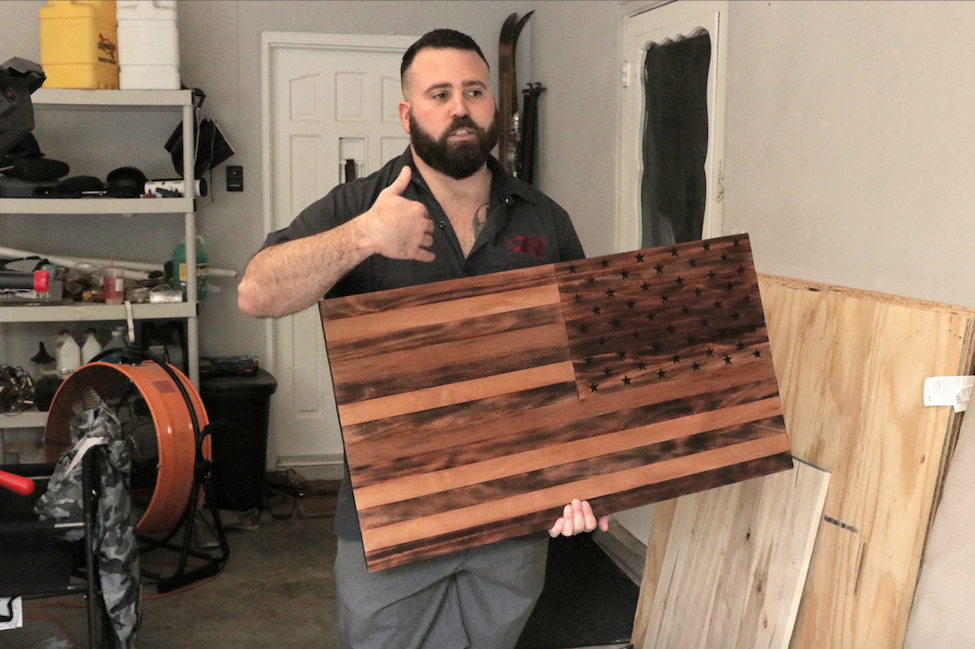 "It wasn't the greatest, but it was something that I built and I knew the quality they were getting and they loved it," Casiano said.
At the wedding, someone saw it and asked him to build another one.
And another one.
And another one.
And another one.
Casiano took this passion for woodworking and turned it into a worthwhile side gig, registered his hobby as a business with the state and started a tradition on UCF home game days.
"Everybody's been pleasant, everybody's been nice, but not like this gentleman," Williams said. "He is really for [UCF] — he has the spirit, yes he does."
Casiano and his three siblings all went to UCF and they have a "4FOR4" license plate to prove it.
He was the youngest of four and often sees a resemblance to UCF football when going up against schools like the University of Miami, University of Florida and Florida State University.
"UCF has always kind of been the forgotten little brother. UCF reminds me of myself, if you think about it," Casiano said. "You wanna be one of the cool kids, you wanna be at the dinner table, but someone's gotta slide over and offer you a seat."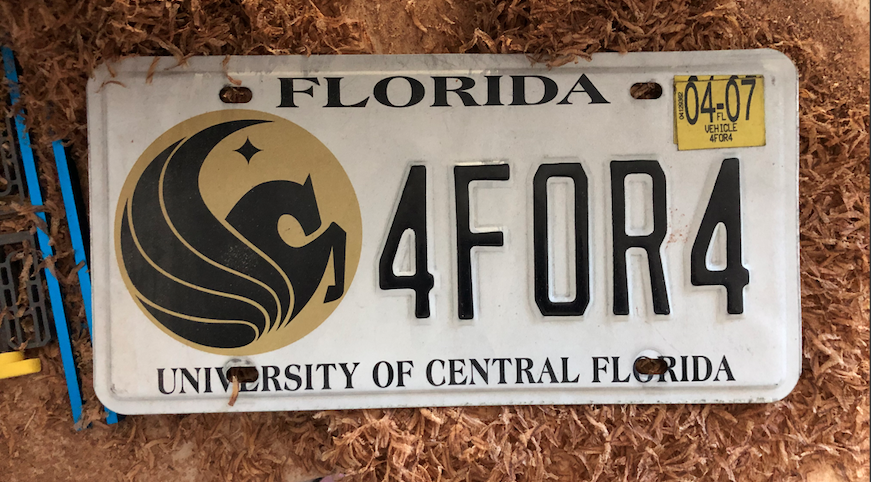 But surprisingly enough, he didn't graduate from UCF.
Casiano enrolled at UCF in 2004, but in spring 2006, he said his GPA tanked after failing four classes because he forgot to hit the submit button when trying to withdraw from them. He said he was also simultaneously working 70-hour work weeks at a mortgage company.
"I just looked at it like it was a mistake that I made that I can't necessarily rectify," Caisano said. "But I figured I can at least support a school that I believed in and own up to my mistakes."
In the same semester, Casiano's childhood best friend, Matt, died in a motorcycle accident a month after coming home from being injured on duty in Iraq and the mortgage company he worked for went under.
That summer, Casiano joined ROTC to "grow up" and "get his life together" while trying to boost his GPA to stay at UCF. But since he couldn't afford the textbook for his math class after the mortgage company went under, he wasn't able to pass the class to get off academic probation.
"Even though I got expelled, I owned up to those mistakes. That was my fault and I should have been more proactive," Casiano said. "But that's a part of learning as a kid and becoming an adult. You can either live in the past and hold on to that s***, or say 'OK that's in the past. What am I doing as of now to move forward and be better in my future?'"
He then decided to start fresh at Valencia College a year later.
"I realized that I need to figure out who I am in life and what I wanna do," Casiano said. "Knowing what Matt did for people in his unit, I was like 'I come from a long line of family in the military so maybe this military thing won't be so bad and then wound up enlisting."
At 22 years old, he enlisted in the National Guard Infantry Unit based out of Sanford in 2009. He then made the sniper team about a year and a half later.
Casiano later transferred to Rollins College in 2011 where he graduated with a Bachelor of Arts in international affairs with a minor in organizational behavior in 2013.
In 2012, Casiano was in a car accident, making it difficult for him to finish his degree. He said he spent 19 months in rehabilitation, with short-term memory loss, slurred speech, and severe herniated discs.
He said he remembers his Spanish professor giving him the option to drop the class, but he made the choice to stick it out and stay up late nights studying while going to rehab three days a week and attend school the remaining days.
Now, Casiano is a licensed financial consultant who said he just enjoys helping people reach their fullest potential, whether it be with their finances, woodworking, or rescuing dogs.
He grew up without a dog but said he always longed for one.
"Growing up without a dog, you don't realize what you miss out on, like companionship," Casiano said, as he rubbed his rescued American bulldog Tank's off-white head, which was covered in scars from dog bites. "I feel like it's my duty to be an even better person, for not only [Tank], but everyone else."
Casiano and his girlfriend, Caroline, have two other dogs in the house. Nala, a German shepherd, and Kayla, a pit bull mix.
He said their goal in life is to eventually move to a rural part of Georgia to have dogs running all over the place.
"It's nice to have a real partner," Casiano said about Caroline. "She wants me to essentially just do woodwork full time; leave my job, pursue my career and advance my passion. It's the first time I've ever had that in my life."
Casiano said he would eventually like to branch out and involve the UCF community in his woodworking tradition, but said he wants to focus on the opposing teams for now.
He is currently working on an East Carolina University woodworking to hand out to an unsuspecting visitor on Saturday to keep the tradition alive and to "make someone's day."
"You get in life what you put out. There are too many bad things in life," Casiano said. "How much effort would it take to just really be a good person?" 
PHOTOS: UCF fan carves into his free time, dedicates life to 'making someone's day'
Keith Casiano builds woodworkings from his garage workspace. His woodworking passion started when he built an American flag for a wedding gift, continued to sell more and registered his hobby as an LLC. Casiano now builds woodworkings of the opposing teams at UCF home football games and hands one out at random.