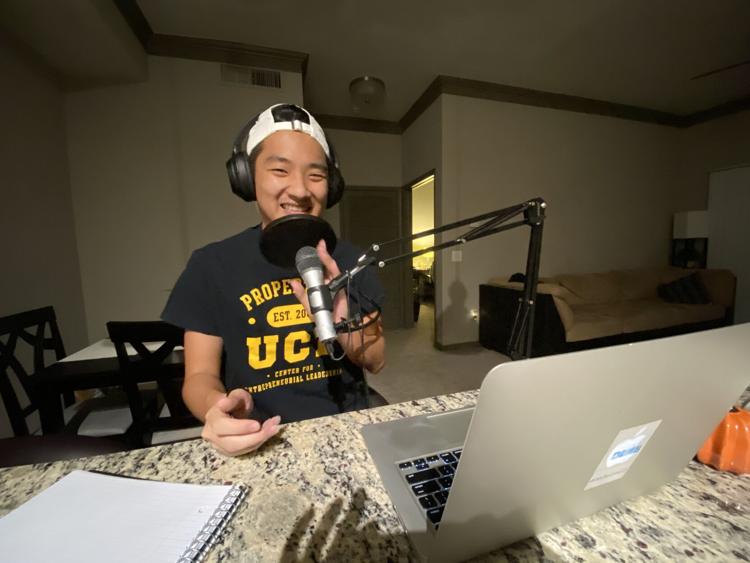 You sit in your room for hours googling how to create a bomb cover letter and what exactly needs to be on your resume, just to realize you're more confused than when you started. 
Whether it's how to find an internship or how to create a resume, UCF alumni Justin Nguyen provides the "cheat codes" of college with his podcast called Declassified College.
"My goal is to share these cheat codes with students like yourself," Nguyen said. "But also with students with my background, the immigrant parents or first generation students who don't have that advice to fallback on at home." 
Nguyen grew up with Asian immigrant parents who stressed the importance of going to school. To them it was simple, you get good grades, an internship and then your dream job. He said it was difficult being the child of immigrant parents and wanted to speak to his younger self when creating the podcast.
Nguyen said, "I hope that sons and daughters of immigrants find our show and can hear a similar story of their struggles and find inspiration to land their dream job or internship."
Not everyone will land their dream job or internship but the DC podcast dives into the realities of getting those positions and what it entails. The podcast consists of five to 15 minute episodes that include different speakers from various career backgrounds of the workforce. 
"It's not just my voice you're hearing. You get to hear from students and professionals around the world," Nguyen said. 
Although Nguyen plays a role in the podcast he has a team to help bring DC to life. Michelle Bultmann, a UCF psychology major and "head honcho" Usama Zeid Bashir Salim, a master's of business administration student at the European University of Lefke, located in the Turkish Republic of Northern Cyprus. 
Salim is part of the internship program which they named, Declassified College Growth Internship. It was created to provide internships to students all over the world, which is one of Nguyen's goals.
The internship program is run like a campus ambassadorship that allows students to network with others all over the world. Students are provided with real-world experience while also being in college. 
"I wholeheartedly enjoyed working with Justin, as he was very encouraging, supportive and always present to lend a hand in every step of the way," Salim said. "In all honesty, he is like a brother to me and I always look up to him."
Salim said he is eager to work for several organizations and gain a reasonable amount of experience followed by starting an online business.    
Bultman is the mastermind behind DC's TikToks and social media posts. She said she has decided to take a break from school and focus on nannying and contributing to the podcast.
"Social media has always been one of my passions and I love helping out creatively," Bultman said. "I help edit Justin's TikTok, LinkedIn posts and just overall help with the aesthetic of the brand."
Bultman said the DC podcast acts as a blueprint for students who need assistance with navigating college, careers and where to go.
"Our main goals are to help students as much as we can. I know that sounds super cliché but it's the truth. Helping students boosts our serotonin levels and  makes us feel good as a company," Bultman said. "We know how lost we felt back as freshmen or sophomores and having some sort of blueprint would've definitely helped a tremendous amount."