At a school with an enrollment of over 68,000, it's not difficult for a student to create their own path. But for twins who attend the same school, that's a whole different story — especially when finances and scholarships dictate their college decisions.  
To attend UCF, average costs for Florida residents add up to $17,589 when tuition, housing and books are factored in. That number nearly doubles for out-of-state students, at $33,688, according to UCF.
Now multiply each of those by two to estimate how much tuition is for a set of twins. 
Daniela Jahncke said she didn't originally want to attend UCF because it was too close to home and wanted to figure out who she was away from her twin. On the other hand, Alexis Jahncke said she knew it was the school for her. 
Daniela said she was frustrated at herself for ending up at UCF, but enrolled because it offered the best scholarship out of the other schools she had in mind. 
According to UCF, 72% of undergraduate students received some sort of financial aid last year. 
"I felt like the one deciding factor that I could use that would be totally unbiased was just to use scholarship money to rank the schools as I got accepted," Daniela said. 
She said it took some time for her to acclimate to UCF and she would not have been able to do it without her twin — her best friend. 
"I really don't think I would have made it without [Alexis] through college," Daniela said. "Obviously it's like a huge transition. And helping me through that was really good."
Even though Daniela said her father told her not to worry financially about college because he saved up for both twins to go away for school, she said another reason she chose UCF was because of housing. 
The fraternal twins lived together in an apartment by UCF Rosen campus since her parents already owned it. She said that was probably one of the reasons Alexis selected UCF and ultimately why she followed through with the same decision.
"The second closest school that gave me a really good scholarship was [the University of South Florida]," Daniela said. "I almost justified it to myself until the housing factor was factored in and then I was like 'UCF won by a landslide.'" 
Although Daniela said she is best friends with her sister, she said they have different personality traits. Their majors are even on complete opposite sides of the spectrum — Daniela is a senior industrial engineering major while Alexis graduated in May with a degree in English literature. Alexis now lives in Europe, teaching English in Montenegro through the Fulbright Program. 
While in college together, the Jahncke twins also elected to participate in different activities, an opportunity they didn't have growing up since their parents enrolled them in the same activities. Alexis opted to get involved in student government while Daniela decided to participate in engineering clubs.
While Alexis and Daniela kept their academic lives separate Mary and Olivia Barnes opted to room together and pursue the same major. The Barnes twins said they always knew they wanted to attend college together away from Arkansas, unlike their other siblings. 
"We knew we wanted to go to the same school, and we specifically were looking to go out of state because we lived in Arkansas our whole lives," Mary said. "I feel like it was easier for us going out of state versus our siblings who stayed in state, because we both knew we wanted to go together, and you know, it's a lot easier when you have your best friend going with you."
However, just like the Jahncke twins, finances factored into the Barnes twins'  decision to attend UCF since they received scholarships. 
"We were offered scholarships," Mary said. "Money was still something we had to consider though since we are out of state, but in the end we decided that UCF was the right choice for us."
The twins said they realized early on in their high school career they wanted to go out of state for school. Their parents supported their decision and had planned accordingly, the twins said. 
"Our parents were very awesome in the fact that they've been saving up our entire lives," Mary said. "Our parents saved up for [our college experience] and really prepared for it and everything."
Mary and Olivia said their parents were very supportive and even recognized the need for new experiences away from Arkansas — like rushing the same sorority, Chi Omega. 
Sorority dues and fees can vary from organization to organization, but according to UCF, average dues add up to about $400 per semester. 
"Our mom really encouraged us to go out of state, like she was really all for it," Olivia said.
This set of junior twins, who shared the same room during their first two years on campus, even chose the same health sciences major since they said medicine has always been a passion for them.  
"We both knew we wanted to do medical. I mean everyone knew — we thought it was so interesting all throughout high school and we did like medical camps and all that kind of thing," Olivia said. "It's just interesting how we just kind of both fell into the same things." 
Although the Jahncke and Barnes twins ended up at the same school as their siblings, the same doesn't hold true for the Ortiz twins.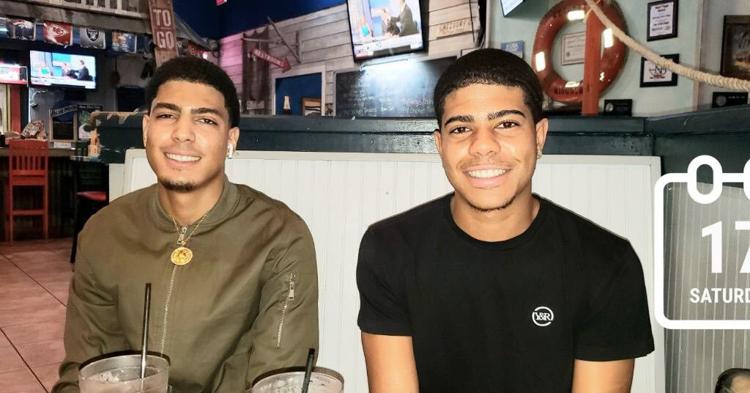 Christian Ortiz, freshman finance major, said he picked UCF since his fraternal twin brother Brandon, freshman computer engineering major, chose to attend Florida State University. 
Both brothers said they knew they wanted to stay in Florida because of their Florida Prepaid plan, but ultimately had the option of going to different schools. 
"We knew, whether we went to the same college or not, we wanted to be our own person and try to make our own friends and make our own way in college," Christian said.
The Ortiz twins said they would create their own unique path in school, but Christian said it has been hard being away from his brother.
"We [dropped Brandon off at] FSU first, so it was weird to kind of say goodbye and then know I wouldn't see him for months, and months and months," Christian said.
One common trait all these twins said regardless of their major or college is they all agree that their siblings are their best friend.
"It's a best friend times 10," Mary said. "Sometimes we could probably kill each other but I would also kill for her, you know. It's just really the strongest bond."