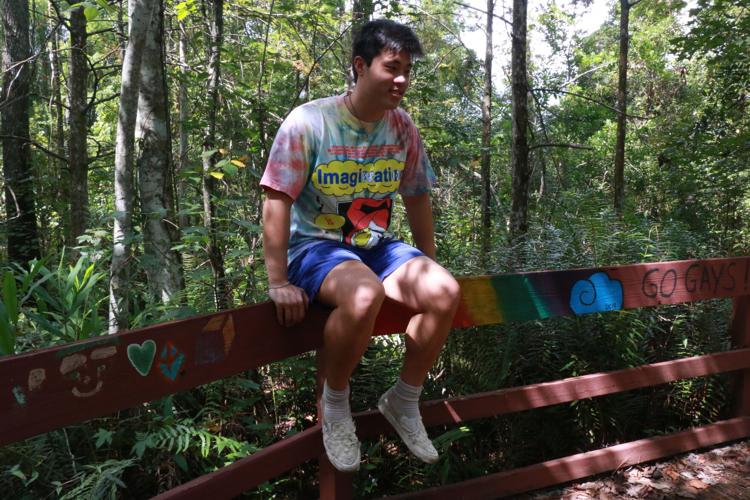 A UCF student walks around campus wearing dark blue trousers, a light blue button up with the sleeves rolled up just a bit, a delicate tank underneath for layering and some white shoes. To complete the look, he accessorizes with a pearl necklace and some vintage sunglasses.
Freshman interdisciplinary studies major Ian Elmowitz, has not let online classes disrupt him from carefully curating his distinctive outfits. 
"Dressing up makes me feel productive during the day and gives me a sense of efficiency. It just makes me feel like I did something," Elmowitz said.
For most students, Zoom means wearing your pajamas to class, but for Elmowitz this is not the case. One of his favorite things to do is picking out an outfit because it's his form of expression and "a projection of how he is feeling." His Instagram account dedicated to outfits styled by him is called "flamethrowerfashion."
"If I could have any job I would want to be a stylist because you get paid to play dress up," Elmowitz said.
He takes inspiration for his outfits from older eras such as the '70s, '80s, '90s and the early 2000s. When shopping for his clothes, he usually shops second hand because the clothes are more unique. He said he also likes to mix gender roles in his clothing. 
"I don't mind shopping in the women's section, as long as it fits well that's all that matters," Elmowitz said.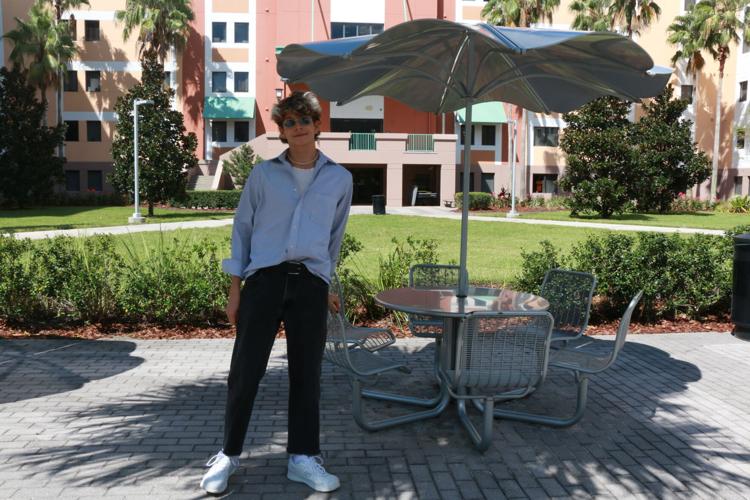 The Fashion Society club treasurer and production assistant puts together plaid pants, a black tank with a slit on its side that she added herself, and some combat boots for comfort and edge to finish the look. 
Zulmaris Garcia, a junior studying clinical psychology, loves fashion and despite today's impersonal Zoom meetings, they have yet to affect her fashion forward personality. 
Garcia said, "Expressing myself with my clothing is a big part of who I am."
Zoom classes have left her mental state in complete disarray. Garcia said she believes online instruction makes her feel extremely unproductive due to the lack of effort required to attend the class. 
"I feel like my attention span has decreased and I feel frustrated at myself because I am not as productive as I used to be," Garcia said.
She admits that she has dressed up for a test just so she can feel more confident. The infamous cliché, "look good, feel good," is extremely applicable to Garcia. She said she understands the value of dressing well, and uses her love of fashion to facilitate her success.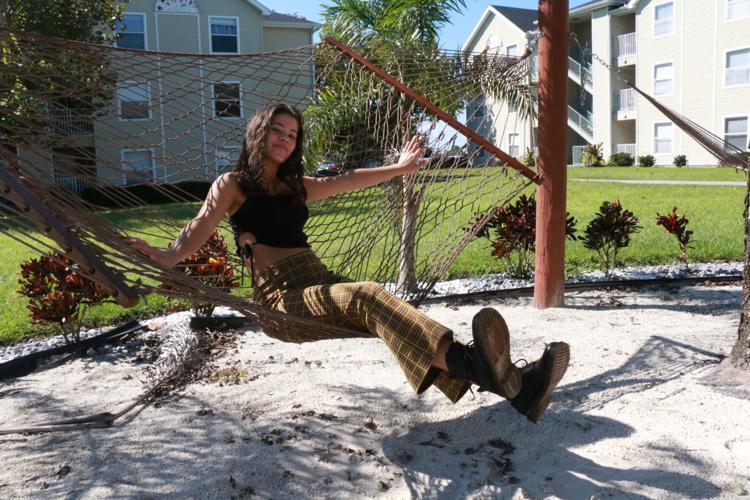 "Every time I would go to my physical classes I would always be dressed up, so dressing up for Zoom calls has been a way to combat this," Garcia said. "I like seeing people who dress confidently and it inspires me to want to do the same."
A laid back fashion society member sticks to what's comfortable when it comes to his outfits, he strolls around UCF wearing his daily go-to attire.
Jason Lam is a sophomore majoring in computer science. He said his Zoom calls have consisted of black screens as his teachers require him to turn off his camera for class. He admits that for the most part he just rolls out of bed and turns on the lecture. Nonetheless, Lam enjoys experimenting with fashion and looking nice. 
"I usually just stick to my uniform which is basically just short shorts, an oversized tee and scrunched up socks with some slip ons," Lam said.
Although he does not consider his outfits to be extremely "out there" and as intricate as others, Lam said he still believes dressing up leaves him feeling composed and self-assured. 
Lam said, "Whenever I dress up it makes me feel more confident and I feel like I can carry myself better."
Prior to the pandemic, Lam would always dress up for his in person classes. He said he believes that dressing up is a way you can communicate who you are.
Lam said,"I think dressing up is a way to express yourself and is one of the only ways to express yourself without actually talking to someone. You can judge someone a lot by how they dress."