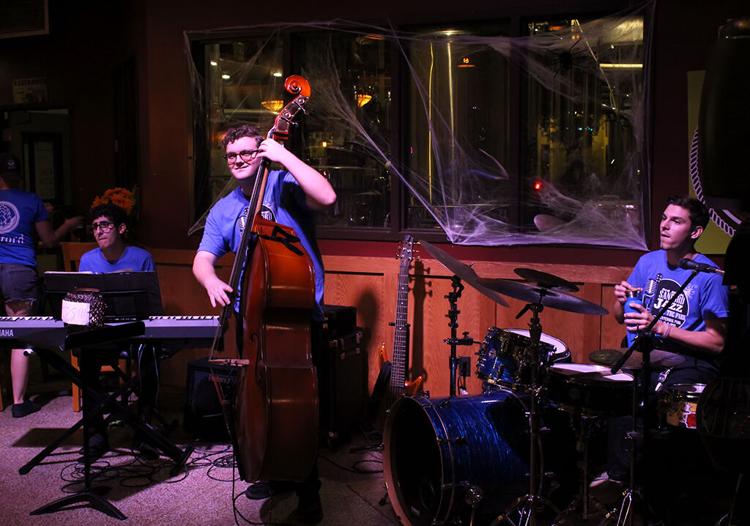 Music before COVID-19 was something we all took for granted. Whether it was going to rehearsal or a concert, it was never given a second thought as to how precious that would be.
Ever since the beginning of 2020, musicians have been required to be more creative than ever. Whether it is creating special masks that help the players keep safe while practicing trumpet or socially distanced concerts at the park. 
"When COVID hit, it was a bit of a mad scramble to figure out what we should do moving forward," UCF school of music assistant professor Alex Burtzos said. "But I'm happy to say, I'm very proud of the students for how they've handled the situation. The students have been motivated, they're doing excellent work, and have adjusted really well to the new changes."
UCF music major students have adjusted to practicing with new guidelines and equipment. Wind players and choir students are not allowed to perform indoors in the interest of safety. However, there is equipment that makes it even safer for students to play outdoors. Many students use bell covers over their horns to limit the spread of germs while blowing into their instrument.
Kelly Miller, the director of men and women's choir, has handled these adjustments in stride. Miller has been holding choir practices out in the Florida heat, but that isn't stopping them.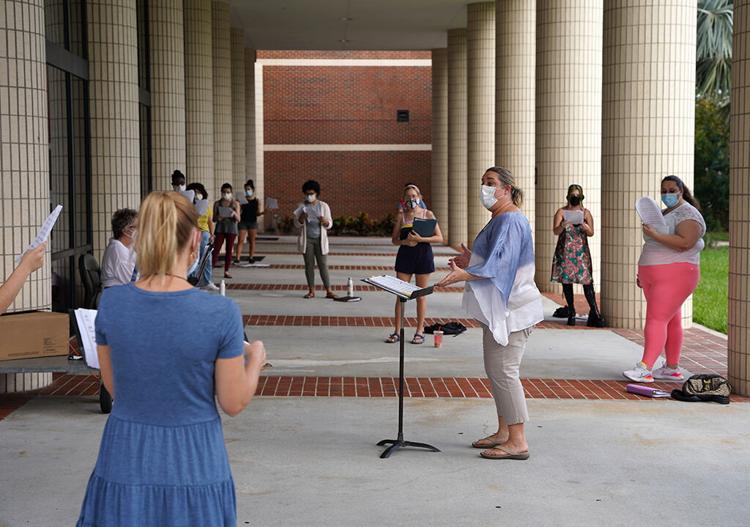 "When we're able to come together at least twice a week, it has been invaluable to us," Miller said. "To continue to do that in a safe and healthy way has meant the world to all of our singers, and we're extremely grateful that UCF has allowed us to keep going."
Even outside the UCF School of Performing Arts, musicians all around Central Florida have adjusted their musical output, which hasn't come out unscathed. Collateral, a punk rock band based out of Lake County, described the new challenges they face.
"It's been hard to find motivation without playing live shows," bassist Ian Meier said. "But it gave us time to really sit down and perfect every song."
Collateral has found new ways to do live shows and maintain audience safety. At their latest show, they played outdoors and had social distancing protocols in place to protect fans. Everyone found a way to have fun, whether it was dancing in place or singing along with the band.
"I feel like the future will be bright for not only us but all local bands," Meier said. "Everything goes back to normal, I feel like we will see a massive influx of people drawn towards the local music scene."
UCF junior biomedical sciences student, Robert Burns, is a jazz guitarist and bassist. He plays in various groups around Central Florida, including Rehearsal Upstairs and the Sal Manning Trio.
On Oct. 24, he performed with the Sal Manning Trio for Sanford Jazz at the Centennial Park. Dozens of people gathered there, sitting on folding chairs or laying a picnic mat on the grass, getting comfort while enjoying a live performance after all this time.
Burns gave the jazz show in front of a socially distant crowd, with dozens of the audience wearing masks and sitting on the lawn.
Burns said he will continue to play music in communities for the public, using the power of music to encourage people. Although the pandemic is still raging, the music has never stopped giving people solace.
"Music has been around since the beginning of time, so I think music will prevail," Burns said. "It's important to keep a song in your heart during these difficult times."