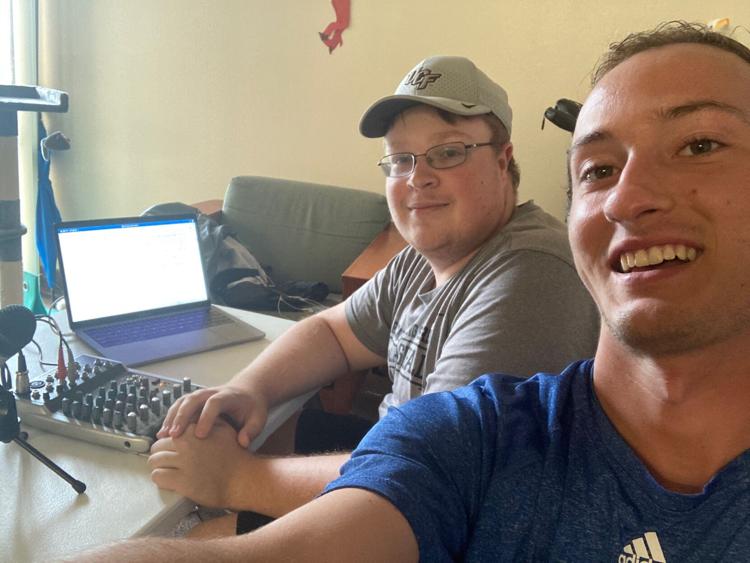 While most sports teams have had to forfeit their seasons this year because of COVID-19, two UCF students are refusing to throw in the towel. 
Zac Grant, junior hospitality major, and Joe Ugolini, senior hospitality management and professional tennis management major are co-hosts of the podcast UCF Sports Talk.
The podcast gives listeners game perspectives from the angle of players, commentators and referees. Grant said he and Ugolini have wanted to produce this podcast for a while but never had time until Florida's 'Stay at Home Order.' 
Grant said he has always had a passion for both radio and sports and has had two radio internships, commentated for the UCF hockey team and has refereed for some UCF club, adult club and high school sport games. He said his experience in radio and in sports has been beneficial for their podcast. 
"Having a passion for radio and for sports allows me to discuss different viewpoints that people don't normally get," Grant said. 
Grant said he wanted to co-host and produce the podcast with Ugolini because he played many different sports growing up and could discuss the player perspective on sports they cover. 
"When Zac first mentioned the idea I kind of laughed it off thinking that it was more his thing but I always listen to podcasts and sports shows and I always thought to myself that it would be fun to do that," Ugolini said. "I have always been told that I have a radio like voice too so why not." 
Ugolini said because he has played many different sports growing up such as football and tennis he sees a lot of similarities within sports. He said being able to compare sports he hasn't played before with the sports he has makes it easier for him to give player perspectives on them for the podcast.
Since COVID-19 ended the in-person spring semester at UCF, Grant and Ugolini produced the podcast remotely using Anchor. Grant said the app makes it easy to record and edit phone calls together as well as add in all the aftereffects.
Grant said when putting an episode together he looks at what type of format, the number of segments and what he wants the podcast to be like. He said the most important thing about creating an episode for the podcast is using everyone's strengths and figuring out what everyone is comfortable talking about. 
"I sit down with Joe and say 'look here is what I want to do, this is the format I want, what do you feel comfortable talking about this stuff'," Grant said.
Grant said junior and hospitality management major Matt Engel will soon also be a co-host on their podcast and bring his perspective on foul calls and rules. Matt said he is very thankful that Grant would like him to be a part of it since they have had many endless conversations about sports and rule calls. 
"I think working on the podcast would be a lot of fun to produce however, unfortunately my schedule just hasn't lined up yet," Engel said. "I have listened to the first few episodes and I absolutely love them and cannot wait to join in, hopefully soon." 
With the podcast being listened to by people worldwide Grant said the future of the podcast looks good if their lives continue to allow for it.
Grant said, "If we are getting listeners like we are, reaching this amount of people, and giving people some joy I don't see why we would stop."