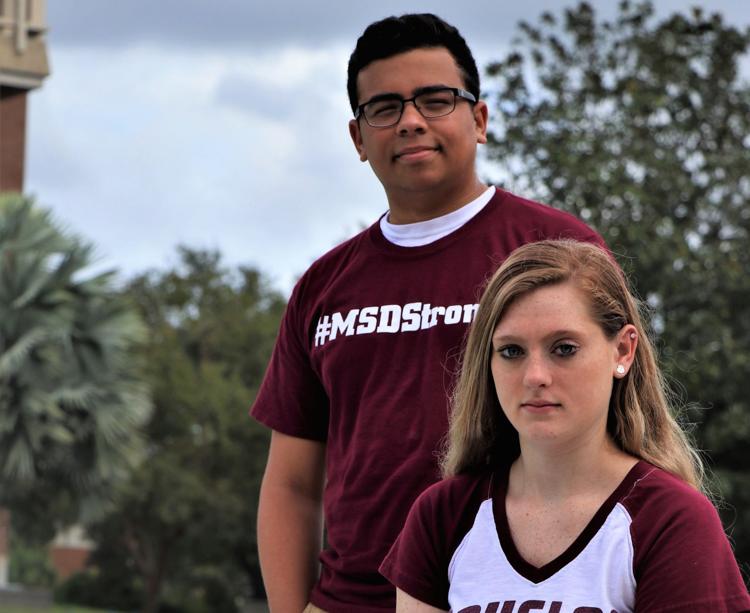 His new beginning started with a high school diploma, a three-hour road trip north and a baseball cap.
As far as school spirited apparel goes, the $22 black and gold UCF baseball cap is pretty standard for the average Knight, but for Moises Lobaton, 18, it held a much deeper significance — it marked the commencement of a journey toward a career, a future and a family.
Suddenly he was part of something bigger than before. Suddenly he was more than just a "Parkland Kid."
"That hat was definitely the first step for me," Lobaton said proudly. "I always wear it."
Lobaton joined 57,000 other UCF students this fall as they returned from a long summer, and in his case, an even longer year. Just seven months ago on Feb. 14, 2018, Lobaton was sitting in his AP psychology class at Marjory Stoneman Douglas High School, when the glass panel of his classroom door shattered in what he and his classmates initially believed was just a drill. The shooting claimed the lives of 14 of his classmates and three of his teachers.
Now, halfway through his first semester of college, the UCF freshman hospitality major is slowly but surely transitioning into what he called a "somewhat normal routine" in Orlando.
"The first few weeks were very difficult," he recalled. "But as time goes by, you realize that you're not alone."
Although things are much better, Lobaton said that leaving home is still the hardest thing he had to do. In the aftermath of the shooting, he'd grown closer to all of his friends, his family and his community. Despite how much it hurt, he said he knew that it had only made him stronger.
Wanting to pursue a degree in hospitality, he said choosing UCF was easy. It was breaking it to his friends that wasn't. Lobaton said he knew he had to put aside the past and prioritize his education.
"College is kind of a fresh start," he said. "That's what I wanted."
Also searching for her fresh start was a fellow freshman and Stoneman Douglas alumna, Erica Sparrow, 18. Sparrow didn't wait until the fall to start school — she was packed up and moved into her dorm for the summer term.
"I wanted to just get out of there and start new," the nursing major said. "It's about here and what's going on here."
Sparrow applied to four state schools, including UCF. After touring several campuses and balancing her options, she had a choice to make. In the end, Sparrow chose the campus that spoke to her the most.
"It felt like home to me," she said. "This is the school I wanted to go to."
Unlike Lobaton, who experienced the tragedy from inside building 12, Sparrow was evacuated from the other side of the school and out of harm's way. What the two share, however, is the dedication to move past their trauma and on with their lives.
"It was my high school and it's something tragic that I'll never forget," Sparrow said. "But right now I'm worried about school, my classes, graduating, getting a job and going on in my life."
Sparrow said that today, her biggest concern is passing all of her classes and maintaining a 4.0 GPA. She plans on applying to UCF's nursing program once she's finished all of her general education courses.
For Lobaton, the key to moving forward has been to keep himself busy by immersing himself in campus life. He's currently a member of the Burnett Honors College, plays for UCF's e-sport subdivision Counter Strike team and volunteers at the Arboretum. He said that once he makes the move over to the Rosen campus, he hopes to get involved with the hospitality management clubs offered there.
Although many of his close friends didn't come to Orlando with him, Lobaton said UCF has provided him with a sense of normalcy and community. He's even managed to make a few close friends through Counter Strike.
He said staying busy keeps him distracted.
"I don't try and forget about it, but I try not to think about it," he said.
The impact of the shooting was felt throughout the nation. Suddenly, Lobaton and Sparrow's tiny hometown was the birthplace of an entire movement. For months, their school made every headline on every channel. Sparrow was interviewed leaving funeral services, and Lobaton said he turned down interview after interview, to the point where he stopped answering altogether.
"Coming back from something like that is a tremendous amount of effort," he said. "When they keep asking questions, the thoughts keep coming back up."
Despite the worldwide media coverage, Lobaton said college has granted him the chance to meet new people who didn't have to know how close the massacre hit home unless he wanted them to.
"If it happens it happens, but I try to stray away from that and just make new friends," Lobaton said.
Although Lobaton said he believes what his classmates are doing nationally is amazing, he prefers to keep to himself. Lobaton's activism will come in the form of walking quietly to the polls and voting for the first time this fall.
If the occasion arises where he's asked where he's from, Lobaton said he's developed a method around the some­times uncomfortable conversation.
"When I tell people, I just say South Florida. If they ask where, I say Broward County. If they know Broward County, then I'll tell them my school," he said. "Broward County and South Florida are the safest places to say, and if they don't ask beyond that, it's better for me."
In Washington D.C., Robert Schentrup, 19, is trying to build a positive legacy from the rubble of the tragedy.
The UCF sophomore lost his younger sister, Carmen Schentrup, 16, on Valentine's Day. After taking the necessary time to process and recover, he began getting involved with causes such as the Brady Campaign and its youth initiative against gun violence, Congresswoman Stephanie Murphy's political campaign helping with voter registration, and the March for Our Lives: Road to Change tour over the summer.
Schentrup said he's found that although no amount of talking about it will ever normalize what happened, it can lessen the weight on his shoulders.
"The way I see it, trauma like this will always find a way to come out," he said. "If you let yourself have these moments, you're able to cope with it and deal with it instead of it just bursting out."
As of now, Schentrup said he doesn't see a future for himself in politics. The psychology major said he wants to get his degree and go into counseling in hopes of giving others the same life-shaping therapy he received both before and after the shooting. Right now, he's just taking full advantage of opportunities as they come.
One of those opportunities came in the form of a semes­ter-long fellowship in the nation's capital with Rise, a political campaign dedicated to helping pass legislation at a state level in order to codify basic civil rights for millions of survivors of sexual assault and violence across the U.S.
Like Lobaton and Sparrow, he said he will bring up his alma mater when he sees fit. Schentrup sees the shooting as part of his identity, but not as one of the main identifiers of who he is. He said he sympathizes with the freshmen and their struggle to reclaim who they are.
"Their identity is tied to the Parkland shooting. They're one of the 'Parkland Kids,'" he said. "They don't want to talk about it because they want their identity to be them as a person."
Out of 6,368 UCF freshmen, only 20 are from Stoneman Douglas. Though they are few, their voices will not go unheard.
"It'll define me, but I will also define myself," Lobaton said. "They're not going to label me as the 'Stoneman Douglas Kid.' I know who I am and what I've been through."
Lobaton said he wants to be known for the impact he makes through what he can offer in his major. He said one day he hopes to help out the freshman students taking his place.
"If I could act as a mentor or an adviser to someone, that would be great," he said. "Show these kids that you can definitely make an impact."
For Lobaton and Sparrow, UCF is a sanctuary, a new beginning and a gateway to their future. But it will never be their first home.
"Parkland will always be my home," Lobaton said. "I will always miss Parkland."
Sparrow wears her Douglas shirt around campus with pride. With everything they've accomplished, she said she's proud to have graduated from there.
Who knows what the future holds for Sparrow and Lobaton? For now, Sparrow said she wants to be a neonatal nurse — a career she's wanted since she was a little girl. Meanwhile, Lobaton is torn between being a general hotel manager or working in the marketing department at Disney.
As for Lobaton's hat, it's currently in its second reincarnation, since the original was lost in a trampoline park. However, the sentimentality and message remain the same.
"I can't rewrite the story," he said. "But I can start a new chapter."