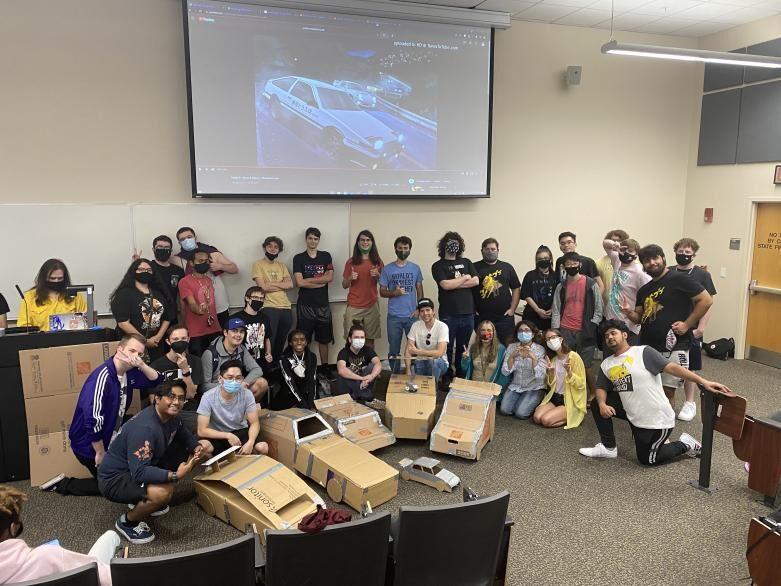 Anime Spot, the official anime club at UCF, holds meetings where students who enjoy the art can come together every week throughout the school year.
Anime is a Japanese genre of film and television animation that includes stylized and colorful art. In the first 9 months of 2020, 100 million households around the world watched at least one anime on Netflix, according to a report by Northwestern.
"A lot of people view anime, and people who watch anime, as cringe. The officers of this club work hard to help show that everyone can watch anime and we can enjoy it as a community," Anime Spot president Gwenyth Andrews said.
Andrews, who is a senior elementary education major, has been a member of the club since 2019. During her sophomore year, she wanted to join a club and meet new people, so she joined Anime Spot, Andrews said. 
"It feels comforting because even though we are different people with different opinions and lives, we can still come together and appreciate an art form that many artists and animators have put a lot of work into," Andrews said.
Anime Spot which was founded in 2006. The club has weekly meetings that each have a different theme, such as gothic night and video game night . At each of the meetings, the club's officers pick a different anime to show which matches the theme for that week. This semester, some of the meeting themes were racing night, reboot night, sci-fi night and a masquerade ball.
The meetings give students like graduate student Blake Hildreth, who enjoy anime but is introverted and didn't know people who also share the same interests, a chance to connect with new people, he said. 
Hildreth describes himself as an introvert who never joined a club or reached out to make connections, until fall 2019 when he saw an Anime Spot poster. He then decided to attend the meeting, which he said was a big party on the second floor of the student union.
"It was really fun, and I met a lot of people that night that I'll still sit with and talk to at the weekly meetings," Hildreth said. 
For students like Hildreth, Anime Spot gives them a setting where they can make lasting memories with their new friends, he said. 
"I've met countless friends that I've made great memories and experiences with," Hildreth said. "Being able to watch new shows with my friends is always a fun and relaxing experience," 
Those who are not hardcore anime fans, or who are simply interested in trying something new, are also welcomed to attend meetings. 
"I've personally had a great time in the club thus far and would recommend it to a seasoned watcher of anime or anyone who's just starting out," Narmeen Chanda, Anime Spot public relations officer said. 
Chanda, who is a sophomore and an environmental studies major, has been with the club for two months and was elected in his role in November. His one purpose for joining the club was to make new connections, Chanda said. 
"I've been into anime since I was a kid and wanted to meet people who had the same interests as me," Chanda said. " I was able to make friends and joined a community with similar interests as myself." 
Anime Spot also has a side branch called Cosplay Knights. Cosplay is the practice of dressing up as a character from a work of fiction such as a bookie, movie or show. However, cosplay is popular within Anime Spot and the club has its own events every semester. 
"From what I've seen all of the members enjoy cosplay a lot, whether it be seeing other members completed cosplays or seeing the progress that members are making on their cosplays," Andrews said. 
Anime Spot caters to a wide range of interests within the genre, in its goal to be the central hub for anime and manga fans at UCF, according to its official organization page.  
"We wanted to create a safe space and community for people on campus and around Central Florida where we can all come together and not have to worry about being looked down on or feel left out," Andrews said.