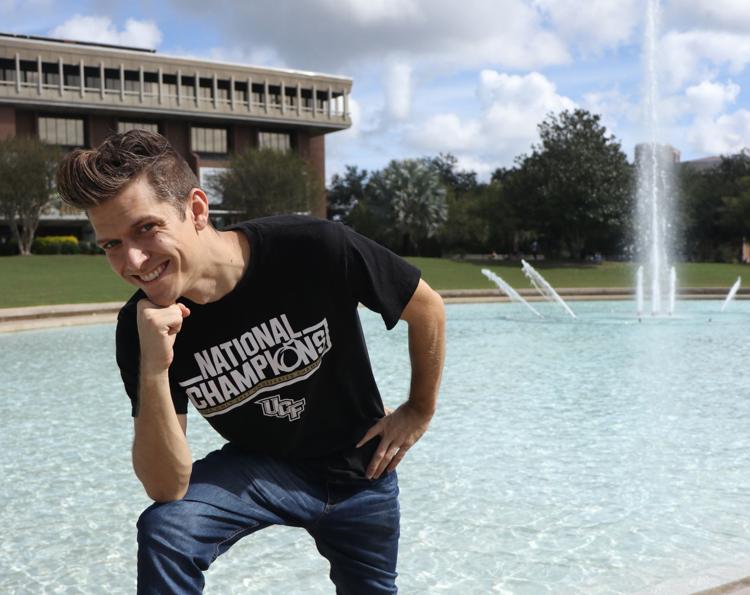 Veteran and UCF super-senior Pieter Hanson, 32, returned to Orlando in March of 2018 after serving six years in the U.S. Navy as an Arabic linguist. The plan was to return to UCF as a hospitality major with a minor in entrepreneurship and break ground on a brewery downtown.
What Hanson did not expect, however, was to go viral on Twitter and find himself at the epicenter of one of the most controversial political debates of our generation for a tweet he didn't even write.
Hanson said he was at UCF's Rosen campus early October taking an exam when his cellphone began receiving texts from friends and family around the globe.
"I thought someone was in trouble," he said. "I had no idea."
While Hanson was busy in class, his mother, who wishes to remain anonymous, took to social media to explain why her son does not go on dates. Attached to the tweet was a picture of Hanson in his Navy uniform, striking a pose. Within minutes the tweet had gathered thousands of likes, retweets and replies.
"This is MY son," the tweet said. "He graduated #1 in Boot camp. He was awarded the U.S.O. award. He was #1 in A school. He is a gentleman who respects women. He won't go on solo dates due to the current climate of false sexual accusations by radical feminists with an axe to grind. I VOTE. #HimToo."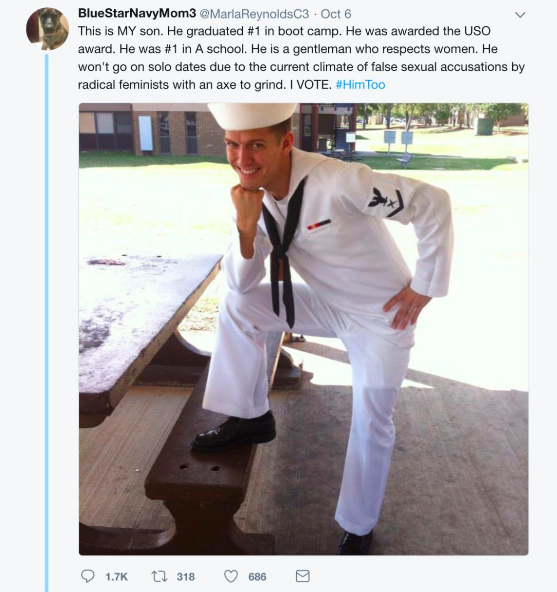 The original tweet as well as his mother's account have since been deleted.
He received screenshots and phone calls from friends, but Hanson said he didn't realize how big it had gotten. By the time he finally sat down to assess the damage with his older brother Jon Hanson, 35, and his best friend, Sarah Nich, 29, he was an internet sensation.
"She [Nich] said, 'Pete, you need to sit down,'" he recalled. "I asked her how bad and she said, 'You're a meme now.'"
It was in Nich's living room, which had since become a makeshift damage control center, that it was decided there were two courses of action: Hanson could leave it alone and hope for the best or attempt to get out in front of it while he still had time.
In the end, Hanson chose the latter and created a Twitter account of his own with the handle @Thatwasmymom.
In the height of Justice Kavanaugh's hearing, the #HimToo hashtag gained traction as a direct response to the #MeToo movement, which empowered women who had been subjected to sexual harassment or assault. The controversial #HimToo hashtag became a way for people to show their support of men who they believed had been falsely accused and who deserved justice across social media platforms.
Hanson, who said he considers himself apolitical, was left to navigate an incredibly sensitive topic on a very public stage with nothing but the support of his loved ones and 280 characters.
"I did what I thought was appropriate," he said. "I made my stance clear and just moved on from there and tried to make things positive and bring people together."
Hanson responded with a post of his own and soon he was the subject of not one, but two viral tweets. Only this time, he'd changed the narrative.
"That was my Mom," his tweet read. "Sometimes the people we love do things that hurt us without realizing it. Let's turn this around. I respect and #BelieveWomen. I never have and never will support #HimToo. I'm a proud Navy vet, Cat Dad and Ally. Also, Twitter, your meme game is on point."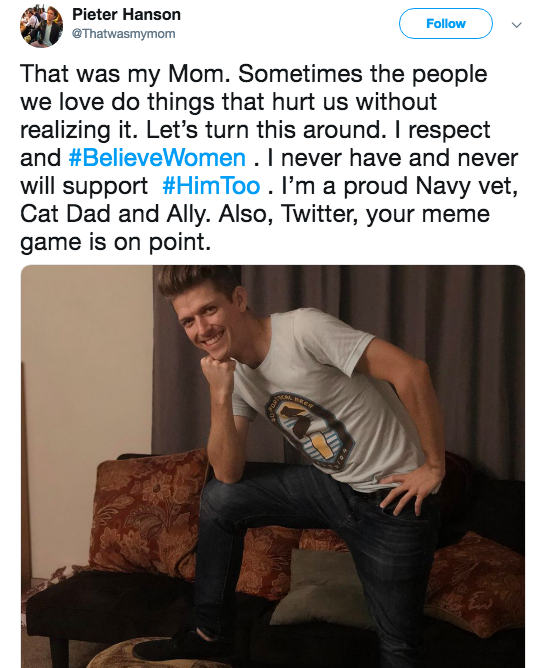 Despite the clarification, the internet can be a cruel place. Between the time the two tweets were posted, users sent Hanson and his mother harsh and angry messages. Hanson said it was the hate he received in the immediate aftermath that was the hardest part of the whole ordeal.
"To see that toxicity related to me was absolutely painful," he said. "It hurt me to my core."
Fortunately for Hanson, the internet seemed to soften after he posted several lighthearted tweets and pictures of his cats.
"The outpouring of love that came from that was just incredible," he said. "It offset all the pain and then some."
Suddenly Hanson had racked up a following of over 40,000 people on Twitter. Now strangers buy him drinks wherever he goes, and over half his tables at his job at Cowfish in City Walk recognize him. He has also received interview requests from major news publications and channels for a chance to tell his story.
Hanson said the process was very overwhelming.
"You never know how to deal with that," he said. "No one's used to that, you never know what's the right decision to make and how to handle it."
Hanson spoke to the New York Times, The Washington Post, BBC, the Today Show and was scouted by Good Morning America and NBC.
While his internet fame lasts, Hanson said he's dedicated to using his new voice to spread positivity – a feature he said he considers a defining trait within himself.
"I'm probably the best person this could have happened to," he said. "I've made it a mission to use my new platform for good and to spread good."
Hanson said he credits much of who he is today to the strong female figures in his life, including his best friend. Nich, who's been friends with Hanson since 2012, said that to this day he sits down with all of his friends and family to make sure he's staying true to himself and to those around him.
"A lot of people were skeptical at first [that he could turn it around]," she said. "But I think that over time people are starting to realize that Pieter really is just that optimistic of a guy."
Nich, an interdisciplinary studies major, is starting a brewery of her own, a Rosie the Riveter-inspired line called Riveter Brewing Co. Her brewery-in-planning is aimed at showcasing all of the amazing women within the brewing community along with the men that support them.
In Nich's own experience, one of those men has been Hanson, who she said has supported her from the get-go. So much so that when she first found out why Hanson had gone viral, she said she didn't believe it.
"It was so much of the opposite of who Pieter really is," she said. "Pieter is one of the most positive people I've ever known in my life, and to have the majority of the people on the internet vilifying him and treating him like a horrible person really broke my heart."
Nich was one of the first people Hanson reached out to after the initial tweet and has been part of the process since.
"It's been amazing," she said. "It's impossible to get that guy down."
Hanson is still recognized often at work, where he joked that his tips have gone through the roof. But otherwise, he said that his life has seemingly returned to normalcy.
His focus has since shifted back to the brewery he's a part of, Community Brewhouse, which is slated to be right next to the new UCF downtown campus. The community and education-based brewery will serve as an incubator for smaller breweries such as Nich's.
As for Hanson's relationship with his mother, that too has returned to normal. As he spoke to media outlets, he said he made sure to set the record straight while also being respectful and not throwing her under the bus. Once she realized the gravity of the situation, he said she was worried she'd ruined his life.
"I let her know, 'Hey mom, this was a goof, but I wanted to let you know that I still love you and nothing's changed,'" he said. "Moms are moms. She had good intentions, horrible execution."
Hanson said he did what he set out to do. He will not let the tweet define him; instead, he will be defined by the way he continues to handle his new platform–with positivity and an unbreakable spirit.