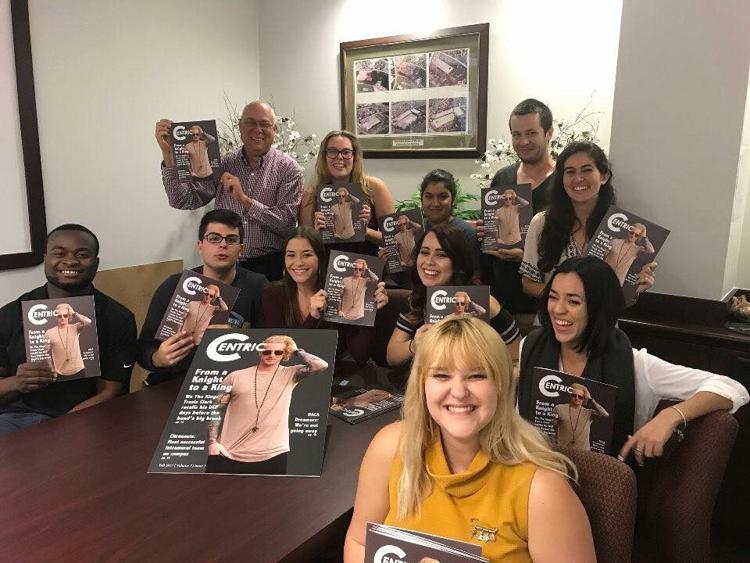 For a journalism student, there is nothing more rewarding than seeing your name in print. Feeling the smooth pages under your hands as your fingers trace every single word. A collection of human stories. This is a feeling that all students from Centric magazine have the ability to experience.
"Putting together the magazine and seeing its final product was the most rewarding feeling," said Adam Rhodes, UCF alumnus and managing editor of Centric in 2014. "Sometimes as a journalist or as a reporter we act as a silo, so it was such a unique experience to be able to bring a project together with people from all different backgrounds."
Across eight years, 12 issues and more than 200 students, the end goal has always been the same — to tell stories about people in the UCF community in a unique way.
To be more precise, Centric magazine's mission statement is to "spotlight interesting, innovative and inspiring people in the UCF community – students, faculty, staff and alumni – who are making an impact on their part of the world."
Rick Brunson, Centric advisor and associate instructor in the Nicholson School of Communication and Media, first created a class dedicated to publishing Centric magazine in 2011 with the help of Dr. Robert Chandler, former Nicholson director.
The class, titled Magazine Editing and Production, broke the students down into a staff with leadership positions and staff writers, similar to a real-life magazine or newsroom.
The hierarchy starts with the managing editor whose job is to oversee all editorial operations and production. Then comes the digital editor who is responsible for Centric's website and social media accounts, followed closely by the art director who oversees the design, photos and graphics. The remaining students consist of staff writers who would help with copy editing, writing and photography.
Brunson said he had high hopes that students would be able to create the first print product in the journalism school and wanted to engineer the class away from the traditional textbook magazine editing style and more towards the production side.
"It's true that there have been stronger issues of Centric than others but that is because each staff that comes in has such a unique style with different talents and interests," Brunson said.
According to past Centric staff members, the magazine has done so much more than create a print product — it has taught life long lessons utilized in both professional and personal relationships.
Today, Rhodes still pursues his passions in journalism as a graduate student at Northwestern University where he studies social justice and investigative journalism.
Rhodes said he originally decided to take the class because of his friends who had sung high praises of the class and because of Brunson's prestigious reputation with published work.
"Centric gave me the opportunity to spend time with my sources and get to know them over a longer period of time as opposed to covering a quick press conference or an event," Rhodes said.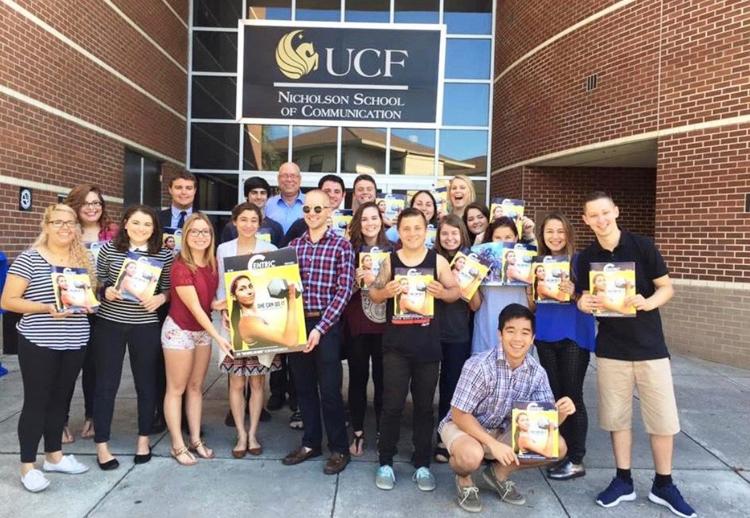 Like Rhodes, Kimberly Slichter, digital editor of Centric in spring 2015, said Centric opened up a door of new opportunities to learn.
Slichter said the class taught her the importance of leadership, which she now utilizes in her weekend daybreak producer position at WFTV Channel 9.
"As digital editor, I realized my job didn't end after I had uploaded all my web content and fulfilled my own tasks," Slichter said. "I had to remind others daily the importance of deadlines and accuracy and that this project was a team effort so it would only work if we all helped each other with our strengths and weaknesses."
As producer, Slichter said she comes into the studio for work at 11 p.m. on weekends and reads all of the content produced the day before and then assigns stories to reporters based on importance and timeliness.
"My favorite part about my job is having viewers reach out saying how glad they are to see their stories on air," Slichter said. "It reminds me of why I do what I do: to help people and create an effect on our communities."
Like Slichter, Mike Gramajo, art director for the fall 2016 Centric staff, said that the most rewarding aspect of telling people's stories is seeing how much of a difference it makes in their lives. He said it was a great class to get his feet wet in creative feature writing that touched people's hearts.
Although Gramajo said he had never developed pages before and only had minor experience working with Adobe InDesign, a page design software for print and digital media, he said that no one else had wanted to do the job of art director so he volunteered to take one for the team.
As an aspiring general assignment sports editor, he said he understood that he needed to cover all kinds of sports that may be outside his general area of expertise, like high school bowling and swimming.
His ability to think outside the box, step out of his comfort zone and gain experience in page design helped him to land a spot at the Orlando Sentinel — first as a sports clerk, and now as a sports intern.
"I think about my time in Centric the same way I think about my time as a sports intern," Gramajo said. "You have to be unconditionally committed and treat it like a real job. You get so much out of it that you forget to even worry about grades."
Gianna Doxey, managing editor in fall 2017, said that like Gramajo, she learned a variety of real world skills she couldn't learn from just sitting in a classroom. She said the most memorable and important skill for her was being a well-rounded reporter.
"I have always tried my best to be a jack of all trades in my time at Nicholson, in theater and even in my daily life," Doxey said.
Doxey has more than succeeded, taking on a job as a motivational speaker for Elevate Education, a company that gives study skills and life skills to students in all five boroughs of New York City. She even worked on her own projects in entertainment journalism and photography to eventually live out her dream job working on NBC as a producer.
Other past Centric members include Christal Hayes, a congressional reporter at USA Today; Andy Zunz, a senior editor at Scuba Diving magazine; Rachel Stuart, a photojournalist at The Villages Daily Sun; Kelli Ordonia, who works at the Kennedy Space Center as an administrative assistant and more.
UCF offers opportunities for student journalists to explore their talents, learn important life lessons and even get their work published online and in print through Centric magazine.With a circulation of 2,000 copies per issue, students have the ability to gain real world experience that spans outside of the classroom and build lifelong relationships with staff and sources.
For more information on Centric magazine or to be a part of the team, contact Rick Brunson at rick.brunson@ucf.edu or at (407) 823-3151.