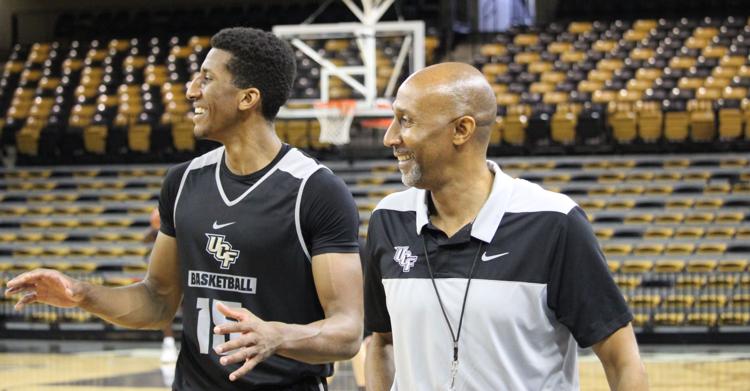 If you walk into UCF men's basketball head coach Johnny Dawkins' office, you'll see his old uniforms from his playing days at Duke University and the NBA. You'll see pictures of him working with athletes such as Kobe Bryant and LeBron James. You'll also see him breaking down film of his players' performance in practice.
UCF redshirt junior shooting guard Aubrey Dawkins is hard to miss, standing at 6 feet 6 inches tall. He is a shooting guard for the Knights and has a smooth jump shot. His basketball skill set is a little different than Johnny Dawkins, his father and the head coach.
"I think he shoots it better than I did," Johnny Dawkins said. "I know he does. I might have gotten to the basket better than he does."
The father-and-son bond between Johnny Dawkins and Aubrey Dawkins goes far beyond their shared love of the game of basketball.
Before transferring to UCF, Aubrey played for the University of Michigan from 2014 to 2016. When his father accepted the position as the head basketball coach at UCF, Aubrey decided to transfer to UCF to play for his father for the first time. Johnny admits that coaching Aubrey has been unique for them.
"I've enjoyed coaching him," he said. "Like all of my players, he's treated the same way with regard to how we do things. If anything, he's held to a higher standard in a lot of the areas. But that's a good thing. It only makes you better, and I think he's really adjusted to his father being his coach well."
Aubrey was set to play for UCF during the 2017-2018 basketball season after sitting out the previous year, per NCAA rules for players who transfer to other schools.
But before the season started, Aubrey suffered an injury that caused him to miss the entire season. Johnny, who has suffered season-ending injuries in the past, knew what Aubrey was going through.
"I'd had season injuries before, so I was able to relay those messages that he'd be fine, keep working and stay positive," he said. "But I knew mentally that it would be difficult."
As devastating as his injury was, Aubrey admits that his injury brought him and his father closer together.
"It made our relationship better," he said. "Obviously he's a guy who's been through all the ups and downs of basketball. He's seen the highs of success and the injuries, which is probably the low point of any athlete…. It was a good thing to have him around for."
One of the pieces of advice that Johnny gave Aubrey was to pour into his team while he was injured.
"I told him to really throw yourself into the team and continue to throw yourself into our players," he said. "Pour into them the things you know are right."
While being a college athlete and a college coach are time consuming, their relationship doesn't just revolve around basketball, which has changed now that they are together.
"Basketball doesn't usually leave the gym," Aubrey said. "That's one thing that's gotten better with him now. We do so much basketball during the day that now when I'm off the court, it's about doing fun stuff."
Off the court, some of the fun things that they like to do include going to the movies or playing putt-putt golf.
"We go out and talk a little junk out there," Johnny said.
Johnny, however, is not the trash talker when they play putt-putt.
"He [Aubrey] is," he said.
On the other hand, Aubrey says that he's the better putt-putt golfer.
"Well, he doesn't have any wins in putt-putt, not yet at least," he said. "I do have a win under my belt, so I'll say it's me."
The UCF Basketball team has never won a national championship. While the accomplishment would be remarkable in itself, Coach Dawkins says that winning a national championship with his team and with Aubrey would be a dream come true.
"To have a shared experience like that with your team and with your son, I don't think too many things get too much better than that."
Aubrey appreciates the man that his father is and his legacy on the court and off the court. He says that his father's life is what he wants his to look like.
"If I can live my life in any way similar and close to his, then I've done all right."