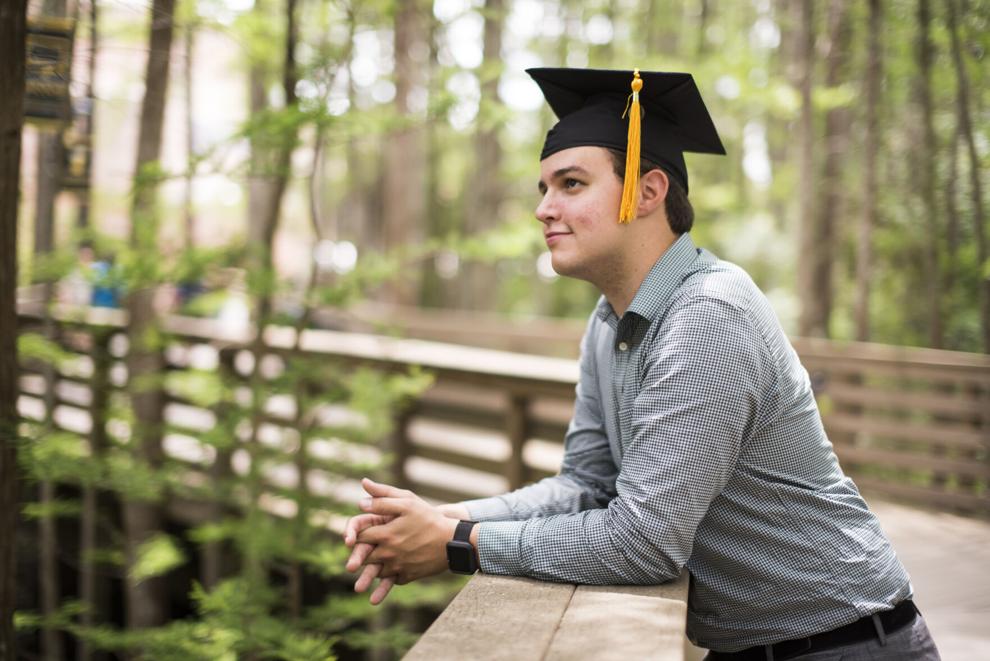 Whether you are a first-year student or a student about to graduate, taking photos on the UCF campus is a unique experience. And that goes for any type of photo. But the question is, what are the best spots on campus that represent UCF's legacy? What are the unexpected spots? UCF staff photographer Nick Leyva and UCF social media coordinator Rhiana Raymundo offered some tips and tricks for finding the best photo spots on campus. 
Check out what the UCF community had to say in our list and video.
Top photo spots on campus
1. The Reflecting Pond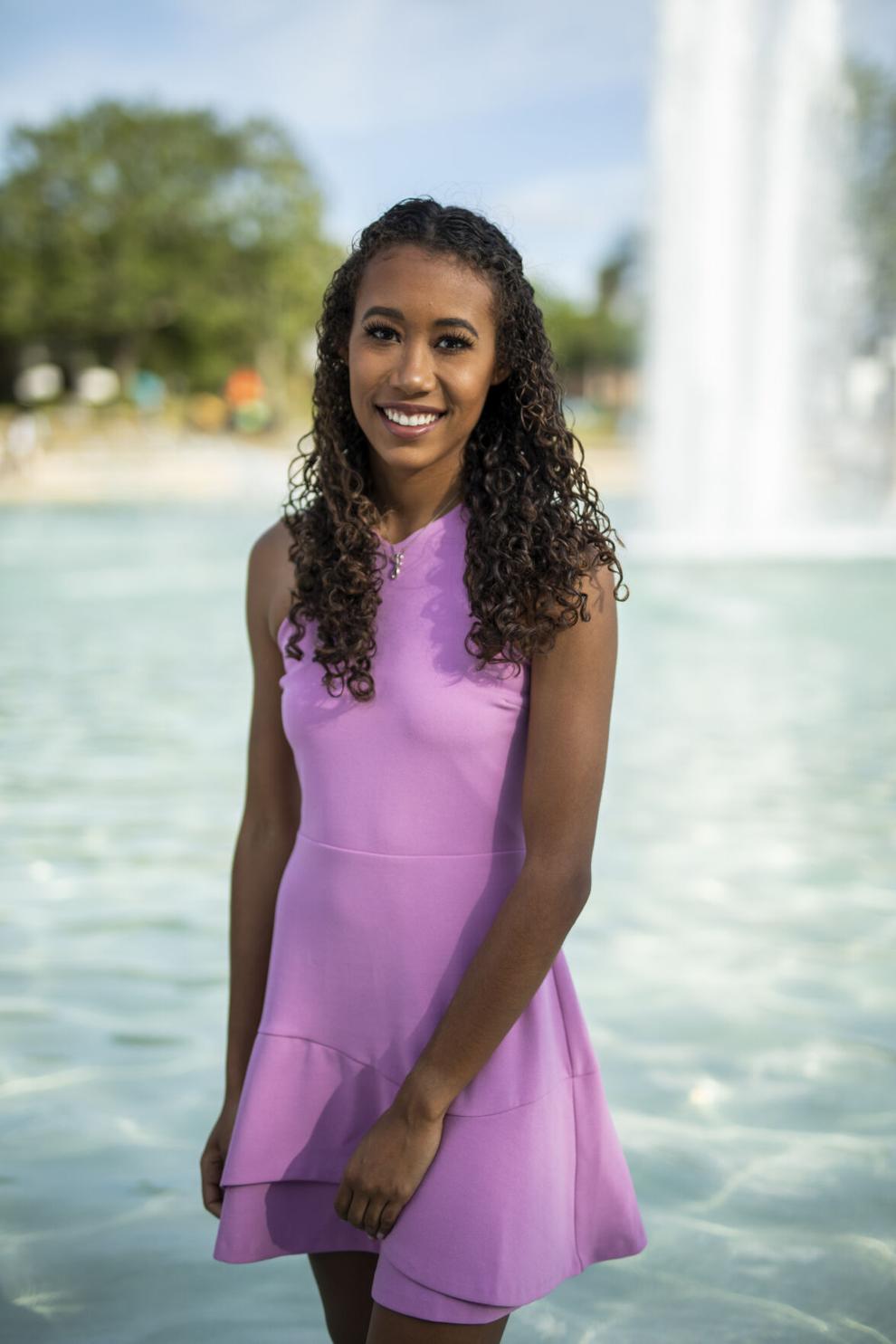 This is one of the most popular places on campus among UCF students. Leyva said it's the spot that you can't help but take a picture in front of, regardless of the occasion.
"That's the go-to spot," Leyva said. "It's one of the most beautiful spots on campus...it's so iconic."
2. The Charging Knight and the Alumni Knight statues 
These statues are well-known spots for a graduation shoot because they represent areas of campus that relate to being a Knight, said Coral Bankey, a senior pre-veterinary major.  
The Charging Knight statue, located in front of the Bounce House stadium, is a favorite for students, said UCF social media coordinator Rhiana Raymundo.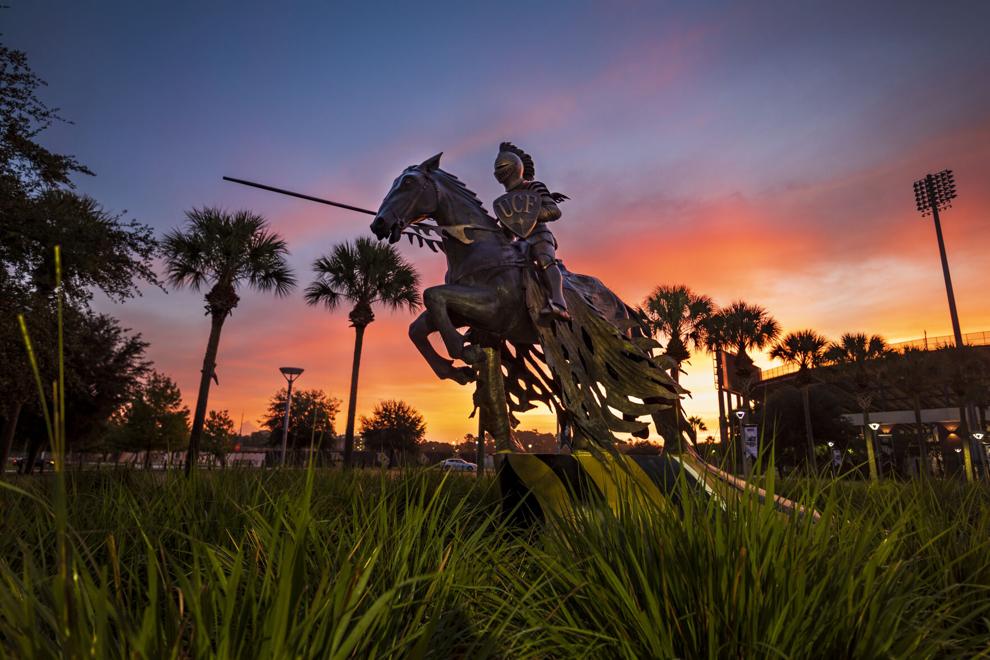 "That's the one that people tend to go on top of and do like a little "yee-haw" movement on there," Raymundo said. 
The Alumni Knight statue, located in front of the Fairwinds Alumni Center on the edge of Memory Mall, is a good one as well, since you'll soon be an "AlumKnight."
3. Memory Mall
With a big open space and the hammock islands, Leyva said Memory Mall can have amazing light for photos. 
4. Boardwalk at the Student Union
Raymundo's tip is to take a picture at this spot during golden hour, which photographers define as the best periods of time to take photos with great light, one hour before sunset and one hour after sunrise.
"It's really pretty because the sun shines through the trees and creates like this really pretty bokeh effect all around the grads," she said.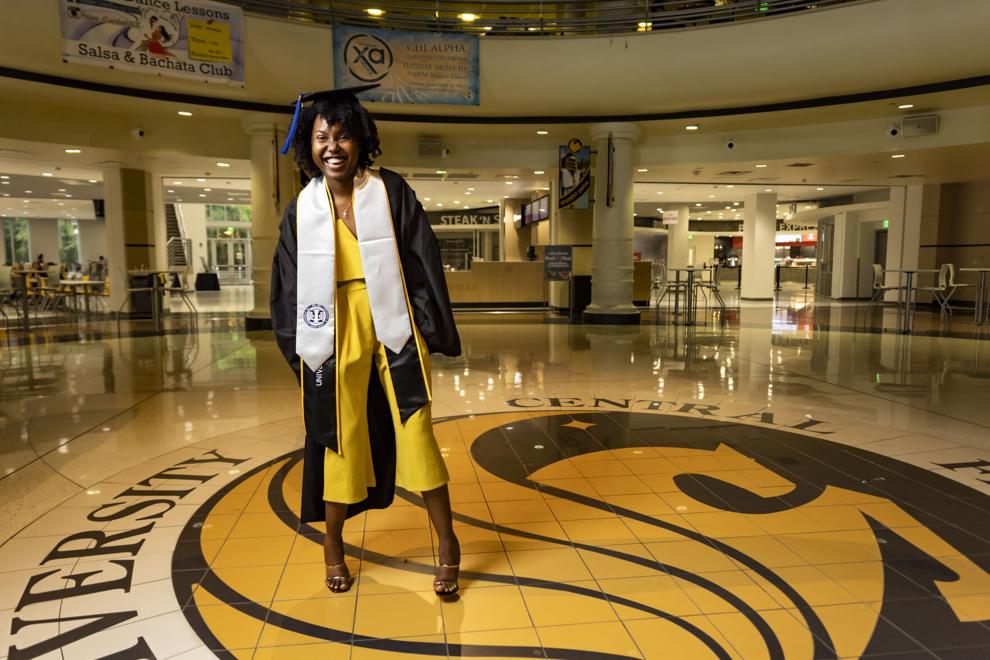 5. Student Union seal
This is an essential photo for any student who is graduating from UCF. Leyva said it's a must. In the center of the Student Union, ropes surround the famous Pegasus seal that students pass by every day. Legend has it that if you step on the seal before you graduate, you won't graduate, which gives the spot a more meaningful history, Raymundo said.
6. Murals and paintings
There are a variety of murals to choose from based on aesthetics. You have the Charging Knight mural in Knights Plaza, the John T. Washington Center mural, and the Pegasus mural by the Student Union.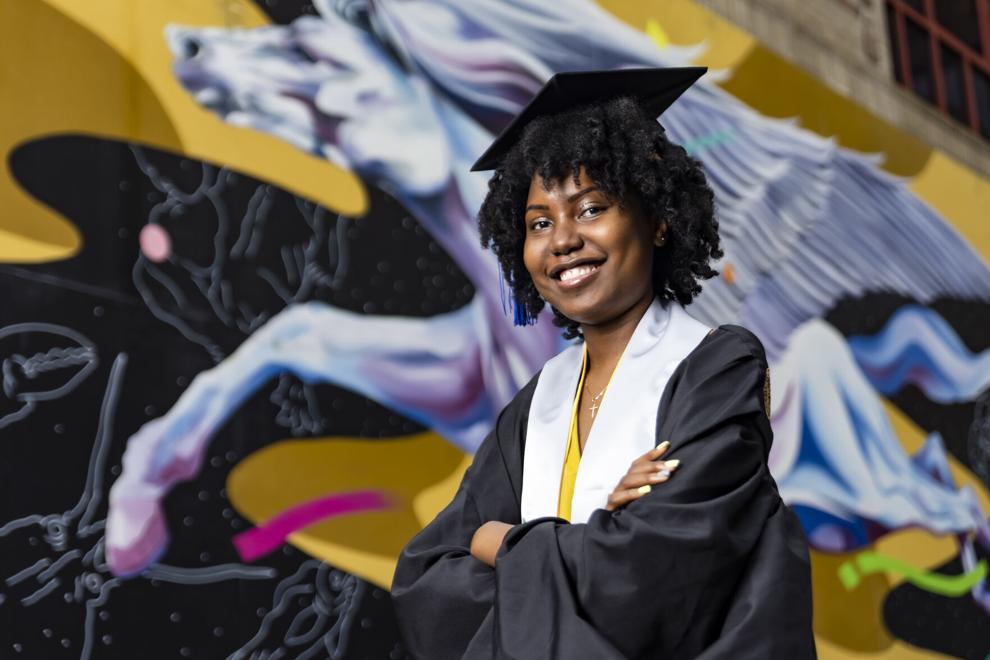 Raymundo said the Charging Knight Mural near the Addition Financial Arena and VARC is a cool spot for pictures after your graduation walk. And for others, "we've had a couple of people who got admitted to UCF [and] take pictures, like boomerangs jumping in front of it," she said.
The Pegasus mural is Raymundo's favorite because she said it's a pop of color when you get the whole mural in the shot.
7. The Arboretum
Leyva said depending on the season, the green foliage is an amazing backdrop for students wanting an outdoor shot for graduation or just a general photo. He suggested wearing a color that contrasts with the plants and trees so you'll stand out.
If you're into nature, the greenhouse is good too.
8. Major or college building
There are 13 colleges at UCF and there is probably one building that you spend most of your time at. The Engineering Building, the Visual Arts Building, the Business Administration Building... the list goes on and on.
Leyva said it's important to include this on your graduation photoshoot because you'll look back on it and remember the experiences you had in your program.
9. Parking Garages
At the top of Garage H, there is a scenic view overlooking the alumni bridge and the Addition Financial Arena. If you're willing to wake up early, a sunrise shot in this area is very pretty, Leyva said. He said you can also go to the top of Garage B with a nice shot of the UCF water tower.
10. Bounce House Stadium 
Whether you're a fan in the stands or a player on the field, this is one of the best places to take a photo because of the memories you make from going to the games throughout college, Raymundo said. 
If you're a senior, keep an eye out for when UCF opens the stadium for graduation photos. It's only open for a limited time so grab the opportunity while you can.
11. Window on the second floor of the Student Union
Students can take a silhouette-style photo at this hidden spot, Raymundo said.
12. Lake Claire
Raymundo said there is a wooden dock at Lake Claire where you can take a photo sitting on the edge and looking out over the water.
13. Duke Energy Welcome Center
"Another one that people sometimes tend to overlook is the Duke Energy Center Pegasus, which is at the front of campus," Raymundo said. "That's a great one that I really love because no matter what lighting it is outside, it's visible, like you know it's UCF." 
She said it's the first thing that people usually see on a tour of campus.
14. John C. Hitt Library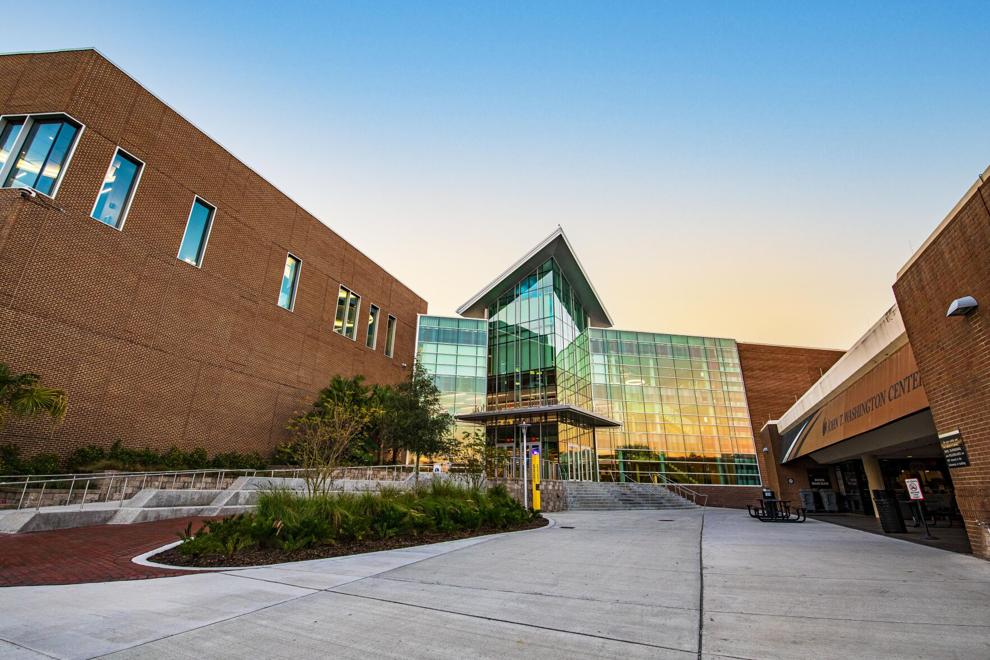 Students can bring a stack of books and take photos in between the bookcases. The bright lighting and the newly renovated section of the library are fantastic aspects of this photo spot, especially for students who spend a lot of time studying there, Raymundo said.
15. Teaching Academy Building
The big glass windows are similar to the ones at the main library, which Raymundo said helps to create a modern and clean look.
"I've had people who weren't even teaching majors that took pictures in front of that because it's the glass that kind of encompasses the entire thing and then some people sit on a giant hand statue too," Raymundo said.
16. Burnett Honors Garden
Rocks, a koi pond, and bright flowers fill the garden, right across from the student Union at the Burnett Honors College. This is actually a study space, but the atmosphere might inspire your next photo.
17. Elm trees in front of the Mathematics Building
This is a great spot, Raymundo said, as long as the trees aren't cut down. Leyva said that while the row of trees dies in December, they look cool in the spring and summer when they're full- like a tree tunnel.
18. Career Services Building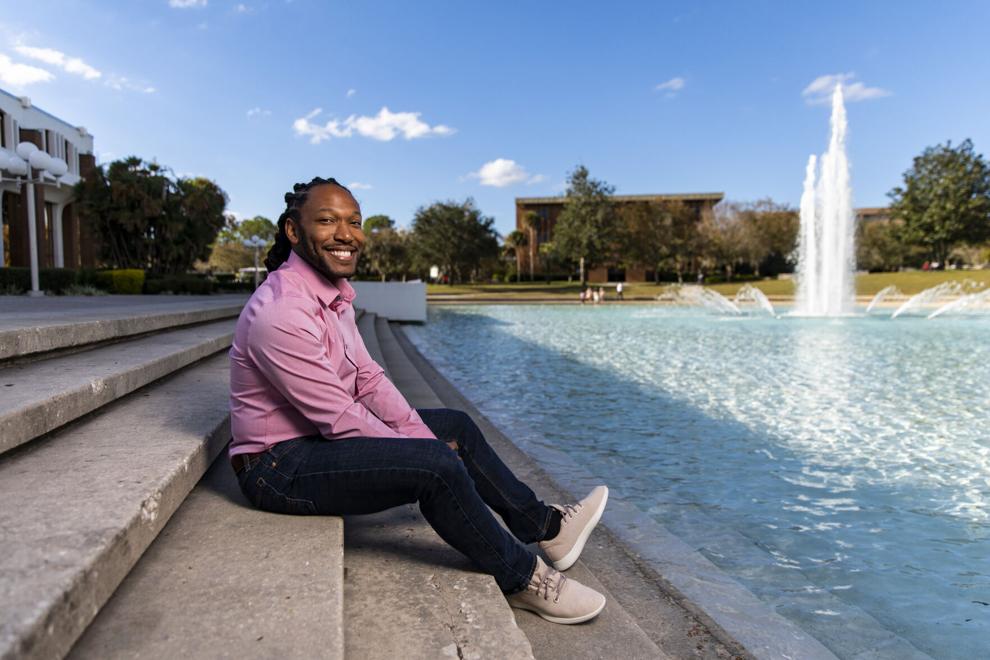 When it's open, Raymundo said you can have the perfect skyline view on the top floor balcony, which is one spot that people really don't know about.
19. Millican Hall
If you're taking a picture at the Reflecting Pond, why not stop by Millican Hall? That's what Raymundo asks her grads when they're on a shoot. And if there's sunlight reflecting off the windows, you've got a golden background.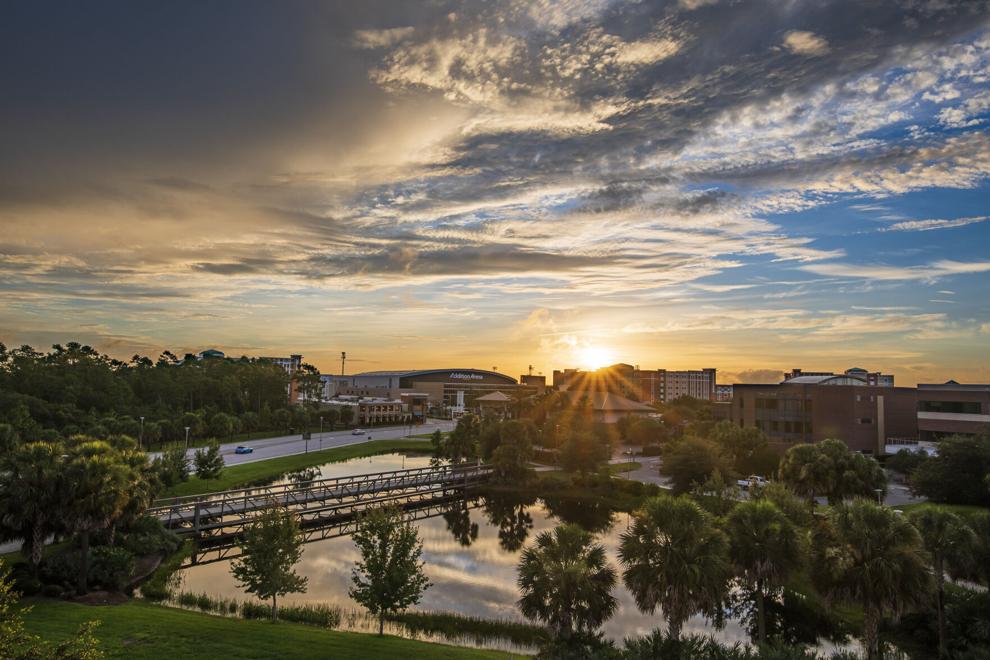 20. Alumni Bridge
The Alumni Bridge is located beside the Fairwinds Alumni Center and Garage H. Raymundo and Leyva mentioned this place as being a good spot for photos, especially in the morning.
Other photo tips from Nick Leyva:
"Minimize as much clutter in the backgrounds as possible," Leyva said.
He added that if you're doing a graduation shoot, try to schedule a time that there are less people on campus, such as doing a sunrise shoot instead of sunset one.
If you're going for a little sparkle in your photos, he advised to use biodegradable glitter or confetti.
Dogs (and other pets) are excellent photo companions.
Dress in colors that will make you stand out from your background.
Leyva used the example of the Arboretum, where you don't want to wear a dark green suit or dress.
If you have no idea where to start, hit the basic graduation spots, like the Alumni Statue and the Reflecting Pond.
Plan out your shots but also make the most of it. Being able to adapt and embracing a "happy accident" can lead to great photos, Leyva said.
Find colors on walls (especially ones that contrast) and keep your eyes open for opportunities.
But above all,
"Don't be afraid to have a little bit of fun," Leyva said.