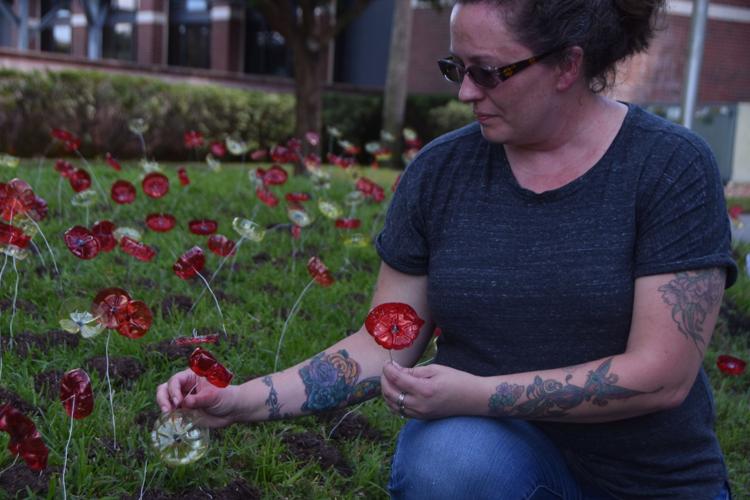 When a college graduate walks across the stage in a cap and gown to take their diploma, they are typically around 22 years old and ready to take on the world for the first time.
Unlike many UCF college students, Christina Goldstein had already had a taste of the real world before deciding to go after her bachelor's degree.
Having just turned 40 in July, Goldstein is currently a junior and full-time art student at UCF. She is also a member of SALUTE Veterans National Honor Society and Tao Sigma National Honor Society, both of which are at UCF.
Not only is she a student, but Goldstein is also a military veteran.
Goldstein enlisted in Oct. 2000 and began basic training in Fort Lewis, Washington. Shortly after, in 2001, Goldstein suffered from a spinal cord injury in a training accident. 
Goldstein said she fell out of the back of a truck with full gear on, including a rucksack of 60 pounds. She landed flat on her back, on her gear, causing damage to her neck and lower back.
The incident left her with permanent damage, which she said she monitors to this day.
During her physical therapy sessions, Goldstein said she discovered that art was the one thing that motivated her to keep going and to try to gain mobility again in her hands and neck.
"Art is one of those things you can do without realizing you're working or realizing you're healing or realizing you're forcing yourself to do something more than you weren't capable of a week ago," Goldstein said. "It was a saving grace."
Goldstein decided to pursue a bachelor's degree in art since it was the main reason she regained much of her mobility. She started attending Valencia College in 2017 and transferred to UCF in 2018.
She said she hopes to be able to show people how powerful art can be.
"The idea behind it is actually to be able to volunteer my time back to either the PA hospital or local senior citizens centers," Goldstein said. "Something where art can be used to empower people to get up and do something and enjoy what it is they're doing."
During this fall semester, Goldstein's mixed media course required her to create a project that would show people the power of numbers. She said she was required to take one thing and multiply it to see the charge and energy it brings to a piece of art.
Since the 100 year anniversary of the end of World War I had just passed, Goldstein decided to focus on poppies, which symbolize the civilians and soldiers lost in combat during WWI.
"Poppies have been a symbol for a very long time, mostly thanks to the poem 'In Flanders Fields,'" she said. "Poppies were one of the only things that could grow with all the damage to the landscape. So it's one of those hopeful feelings that we saw something grow in a devastated landscape."
Goldstein said she hoped that her project would bring about knowledge to those who stumbled upon it while walking through campus. She said that it brought about multiple conversations with other students about what the true meaning of Veteran's Day is: to honor veterans and victims of war.
Today, Goldstein's oldest son, 19-year-old Gabriel Goldstein, likes to refer to his mother as a "superhero."
"She's the greatest woman I've ever met," he said. "She actively tries to help other people, even if it kills her."
Gabriel is currently a Valencia student with an interest in studying animation.
Art, it seems, runs in the family.
In 2004, Goldstein was diagnosed with fibromyalgia, a chronic pain disorder that causes widespread discomfort and tenderness. That same year, she graduated from Pierce College with her associate's degree.
When the nerve damage in Goldstein's neck continuously got worse, she was officially medically retired from the military in 2005.
Between 2006 and 2007 Goldstein had divorced her first husband and met her current husband, Rich Goldstein, at Joint Base Lewis-McChord. The two are now married and have a child together named Arin.
After returning to Washington, Goldstein continued to work on base until 2010, when she began to develop heart issues on top of her neurological ones. She was diagnosed with cardiomyopathy with low ejection fraction.
In other words, her heart is scarred and does not pump enough blood out to the rest of her body.
Her husband recalled a particularly life-changing event that occurred one night while they were together in 2014.
"She couldn't lift her arms at dinner one day, and we had to rush her to the hospital," he said. "A spinal plate was placed at the front of her spinal cord."
It was after the event when she finally left Washington state and moved to Idaho to be closer to her family; however, her spinal plate was very sensitive to the cold, so she moved down to Florida in 2016. She then began pursuing her bachelor's degree shortly after. 
Today, Goldstein said she still feels side-effects from her injury in 2001, but she doesn't let that stop her from pursuing her dreams.
She continues to be a full-time student at UCF while taking care of her three children and running her own small business on Etsy called "Art Through the Pain," where she sells paintings.
"[Art is] a way to revitalize your soul," she said. "There's so much more to life. You've just gotta keep going."