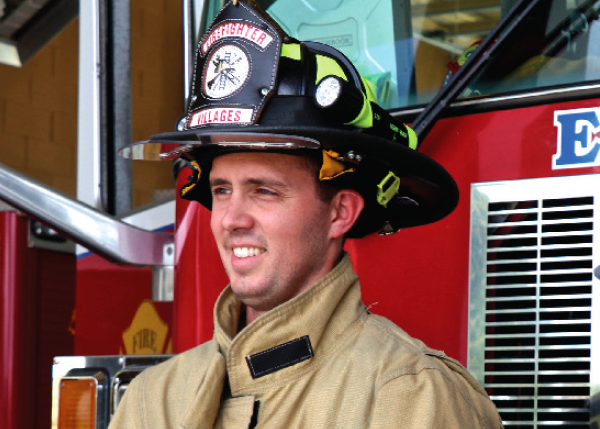 Eight years ago, Daniel Griffis helped try to bring a blonde-haired baby girl back to life, but despite CPR efforts made by him, fellow firefighters and other first responders, she lost her life.
Now 30 years old, Daniel Griffis, who was a volunteer firefighter at the time, is still haunted by the smells of the accident and the sounds of the running firetrucks. He now works in Central Florida as a firefighter.
"It was pretty detailed things I could remember because to me it was still like it happened yesterday," Daniel Griffis said.
While Daniel Griffis dealt with the inconsistencies as a volunteer firefighter and the new experience, his wife Brianne Griffis, 32, became his confidant.
"You, as a wife, carry a lot of that burden of just knowing all the gruesome details of a child's death or a burning person screaming for help that [he] couldn't get to," Brianne Griffis said.
That call was just the start of his journey, one of self-discovery, but it was not without trials and tribulations. Up until recently, he used to jolt awake at least five times a night before realizing he was at home and not at the fire station.
"I was just being on edge. It's about the transition from being on-call and being ready at any given moment, to now coming home and switching into dad and husband-mode," he said.
A culmination of traumatizing calls, smells and physical responses over the last eight years led to his diagnosis of post-traumatic stress disorder, or PTSD.
"We deal with life and death. As a firefighter, you show up and you're asked to fix everything," he said. "You're literally the catch-all on every call we show up."
His wife said she noticed him becoming a man who lacked empathy and would constantly be on edge. She was desperate to help their family life and find a way to help him.
"I was being affected, the kids were struggling. I started to think, 'There has to be an answer to this. We can't be a statistic,'" Brianne Griffis said.
Brianne Griffis spent three months convincing her husband to try out UCF Restores' PTSD clinic for at least two sessions. Each time he was startled awake throughout the night or was hypervigilant, she would point out how he needed the program. When he finally started the program, their concerns shifted to the reactions of the community around them.
"I watched a lot of fire families expose themselves to going through a program and they were no longer invited places, just really outcasted," Brianne Griffis said.
She had heard about the UCF Restores' PTSD clinic, recently renamed Rosengren Trauma Clinic at UCF Restores, from other fire wives. The wives told Brianne Griffis about their husbands going through the program and the impact it has made on their lives.
The clinic was renamed after Jim Rosengren, a UCF alumnus, who completed a $1 million donation in September. Rosengren pledged the amount because of the clinic's positive effects on his son, a military veteran, who served two tours in Iraq and returned with severe PTSD.
"It's been a long time coming. His son was here probably four years ago and the money's finally following suit," said Dr. Sandra Neer, research assistant professor at UCF Restores.
Military veteran Stephen Cotta, 29, worked as a combat engineer and returned from his last tour in 2009. By the time he accepted he needed treatment, it had been five years since his last tour and he was going through a divorce.
"I really reached rock bottom in my life. I wasn't in a very good place mentally and it was a very dark place in my life," Cotta said. " I needed to do something."
Part of the exposure therapy for military veterans is returning to a particularly stressful situation and helping retrain their physiological reaction. Quinton Smith, social work services specialist and clinician at UCF Restores, works the virtual reality equipment geared toward military veterans.
"It may not be a perfect recreation of the scene, but the idea is to put them in that moment as closely as possible," Smith said.
Smith does this by selecting a narrative that closely matches the one a patient talks through. For military veterans, Smith has a collection of visuals in his computer like a Middle Eastern market or the inside of a military vehicle that the patient can see through a VR headset.
Cotta went through the clinic's exposure therapy twice a week. He said it's helped him learn more about himself, understand his triggers and gain an understanding that this will stick with him forever.
"Exposure therapy is so scary and so difficult, but it's so beautiful at the same time. It shows you that you have the strength within you to be able to handle those situations," he said.
Cotta said the stigmas and social norms in the military pushed him away from admitting he needed help sooner.
"It's frowned upon to be the person who admits to needing help," Cotta said. "It took a long time for me to admit it, but I think I always knew."
Cotta completed the program and Daniel Griffis is now preparing to complete his treatment. He is able to sleep through the night and encourages his fellow firefighters – even the ones just starting out – to go through the program.
"Seeing how it's affected our personal life, teaching me and giving me the ability to understand and cope with stressful calls that I have," he said. "I think is just amazing."