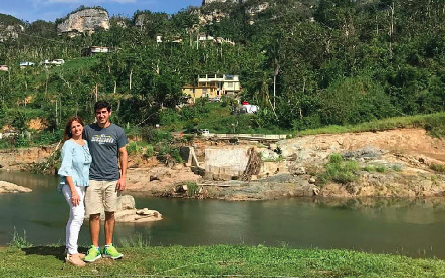 When 155 mph winds landed on Puerto Rico, more than 3 million Puerto Ricans took shelter in their homes and waited for the storm to pass.
Now, one year after Hurricane Maria tore through the Caribbean, the clouds have dissipated and the rain has stopped, but the effects felt throughout the island of Puerto Rico are still creating hardship and impacting people's lives.
After the storm, millions of people had to live without food, water, electricity or knowing whether their loved ones were safe. This included Puerto Ricans on and off the island.
When Jose Luis Rivera, a 21-year-old senior economics major, started the Puerto Rican Student Association at UCF, he simply wanted to get to know more people from Puerto Rico that had similar experiences to him.
Who was he to know that in a few short weeks he would find himself at the forefront of a movement that would bring hundreds of his fellow islanders to UCF?
"It defined our life. It restructured our lives. Puerto Rico wasn't the same the day before Maria and the day after Maria," Rivera said. "It changed everything."
The aftermath of Hurricane Maria tasked Rivera with not only building the club he'd envisioned, but finding a way to do the most good for the most people.
"It was really difficult in the sense that we weren't expecting this," Rivera said. "The situation was so devastating that people felt like they had to do anything and all that they could to help."
Rivera said that for him, it was about creating a short-term and long-term plan to ensure that whatever decisions were made, they would endure long after the hurricane was over. For him, this meant focusing all the club's structuring around what could be done both on and off the island.
"We didn't want to just collect items and just throw them and see where they go," he said. "We thought about ourselves here and how we could target students and families and create a larger community sense."
Rivera now has since stepped down in leadership from PRSA to help Mayor Buddy Dyer on his team. Although it was not an easy decision, Rivera said he knew it was necessary for the continuity of the club to have more students from the island on the executive board. However, Rivera does remain active within the club.
Today, over half the executive board are evacuated students.
It is estimated that more than 100,000 Puerto Ricans fled to Florida to start their new lives. Of those 100,000, more than 200 enrolled at UCF and received help from the PRSA.
The Federal Emergency Management Agency (FEMA) reported that one year later, 99.99% of Puerto Rico has power back. These statistics, however, do not tell the stories of families like Jennifer Tirado's, whose power will go out every two days if it rains just a little bit.
Tirado, a 21-year-old industrial engineering major and current PRSA President, spent a month in Puerto Rico over the summer and had to spend time without power on days when the weather didn't cooperate.
Some Puerto Ricans, Tirado said, came to Orlando after Maria because it was impossible to return to the island.
"A lot of people are here in Orlando because they don't have a home," Tirado said. "They can't go back to Puerto Rico because they don't have work or anywhere to go."
This was the reality for UCF seniors Paola Monzon, 22, and Elaine Rosa, 22.
"It was really overwhelming," Rosa said. "Not only the school part and the academic part but emotionally."
Both are from the island's capital, San Juan, where much of their families still reside.
Monzon said that although her home in Puerto Rico is still standing, because of the flooding and the damage it will never be the same.
"The weeks and months after were too much," Monzon said. "I don't like thinking about it."
Although it's been a year, the storm is fresh in their minds. Monzon said that even here, far from the island, too much rain or too much wind makes her nervous and that even though things might look better, they're not.
The lifestyle on the island has completely shifted. Monzon said she recalled a day where the electricity went out for two days and her family made it through using a gas stove, flashlights, solar panels and water reserves.
"Those are things we now use," Monzon said. "We're in survival mode."
Both Rivera and Tirado helped these students come to UCF while serving for PRSA. The biggest role the pair played in helping Puerto Rican students was extending the in-state tuition waivers, which were initially set to end in the spring of 2019, until spring 2023.
Rivera and Tirado did not work alone. From the Multicultural Academic and Support Services office, Dr. Cyndia Muñiz and from the Office of Financial Aid, Ric Colon worked closely with Rivera to uncover how they could make the tuition waivers a reality.
To this day Rivera continues to meet with Colon regularly and said he considers him a mentor.
The skies may be clear and the sea may be calm, but Hurricane Maria still brews in the lives of many Puerto Rican men and women, whether they're rebuilding their homes on the island or rebuilding their lives at UCF.